Top Russian Ski Jumper Dies in Car Accident
Tweet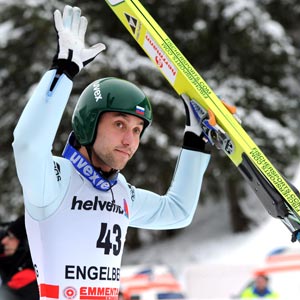 According to Russian news outlets, Russian ski jumper Pavel Karelin (21) died in a car accident early Sunday morning.
"The tragedy took place early this morning. Airbags in his car failed," Karelin's personal coach Alexander Svyatov told Russian news paper RiaNovosti. "Pavel died, his two friends are in serious condition."
Local police say the crash happened in central Russia near Nizhny Novgorod on a highway between Moscow and Ufa.
According to the RiaNovosti report, Vladimir Slavsky, deputy head of Russia's Federation of Ski Jumping and Nordic Combined, is claiming that the young athlete "either fell asleep or lost control of the vehicle" and died when his car swerved off the highway.
In just four seasons on the World Cup, Karelin reached the podium three times and represented his country at the 2010 Vancouver Olympic Games.
Alexander Uvarov, head of the Russia's national Federation of Ski Jumping and Nordic Combined, called Karelin's death "a tremendous loss not only for the discipline, but for all Russian sports."
Image by Gepa
Comments
comments