Tour de Ski: Majdic, Bauer win day seven
Tweet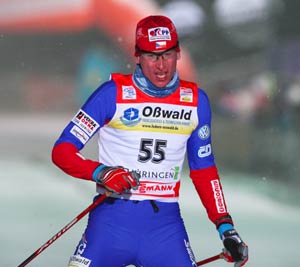 Slovenia's Petra Majdic and the Czech Republic's Lukas Bauer won distance races on the penultimate day of racing in the FIS Tour de Ski today (Jan. 9) in Val di Fiemme, Italy.
Majdic won the women's 10km classic, mass-start race in a tight finish, taking all 45 possible bonus seconds from the intermediate sprints and the finish. She got the advantage in a photo finish, just ahead of Kazakhstan's Elena Kolomina, .1 seconds behind in second. Italian Marianna Longa finished third in front of the home crowed, 1 second behind the winner.
"I am absolutely happy about my today's performance," said Majdic. "I felt very well at the start. It was fun to have bonus points in the race. My service team did excellent job. My skis were just perfect."
Canadian Sara Renner led her team today with a 14th-place finish. No Americans competed today.
Majdic is now leading the fourth FIS Tour de Ski, 31,4 seconds ahead of Poland's Justyna Kowalczyk, who crashed on the last lap of today's race and finished 23rd.
With bonus seconds secured with today's win, Majdic secured the tour sprint title with an advantage of 1.04 ahead of Italian Arianna Follis and Finn Aino Kaisa Saarinen.
"Tomorrow we have Alpe Cermis," said Majdic. "I am always nervous about the big climb. My tactics will be simple. I want to keep the same pace all the way up and ski as fast as possible."
The men's 20km mass-start race lasted more than an hour for some. Bauer took the win after fighting for 59 minutes and 3.5 seconds, ahead of tour leader, Norway's Petter Northug who finished with a time of 59:35.0. German Axel Teichmann finished third with a time of 59:35.8. Last year's tour winner, Switzerland's Dario Cologna was just off the podium in fourth place.
Alex Harvey led the Canadian team in 13th place. Teammates Devon Kershaw and Ivan Babikov finished 22nd and 25th, respectively.
Northug now has a nine-second advantage over Bauer in the overall tour standings. Teichmann is another second and a half back in third place.
The Tour de Ski is an eight-stage event that crosses three countries over ten days. The overall winner gets 400 World Cup points and 150,000 Swiss francs (147,000 dollars). Competition concludes in Val di Fiemme Sunday (Jan. 10).
Click here to go to the tour website.
Image by FIS Tour de Ski

Women's Results

Men's Results

Comments
comments