Tour de Ski: Rickardsson, Kowalczyk win day six
Tweet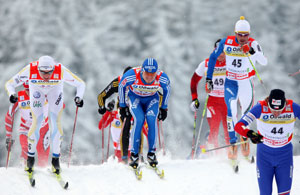 Sweden's Daniel Rickarsson and Poland's Justyna Kowalczyk won the sixth stage of the FIS Tour de Ski today (Jan .7) in Cortina/Toblach, Italy.
Rickardsson finished the 10 km individual start race in 23:14.5, 1.7 seconds ahead of the Czech Republic's Lukas Bauer in second. Bauer held the lead until the last few meters when Rickardsson overtook him. Tour leader, Norway's Petter Northug finished third, 6.2 seconds behind Rickardsson.
Bauer and Rickardsson were out front the whole race as Northug kept up in third. Fourth-place finisher, German Axel Teichmann threatened at times as he increased his speed throughout the race but didn't have enough to challenge for the win.
"I am very happy about my race today. It is my first victory on the World Cup level so it is amazing," said Rickardsson. "My tactic was to race fast in the first lap and maintain speed in the second one as well. The next race on Saturday is in classic technique too so I could be in a good shape there as well. The final climb is very tough so we will see."
Canadian Devon Kershaw had a heartbreaking day. He was in the top ten until the 7km mark when he broke his binding and finished 37th. Teammate Alex Harvey came up big with a ninth-place finish, followed by Ivan Babikov in 18th.
No Americans competed in today's races.
Northug held his lead in the overall rankings and is now 20.1 seconds ahead of Swede Markus Hellner (5th today) in second. Teichmann is in third, followed by last season's tour winner Switzerland's Dario Cologna in fourth.
"I am very satisfied with today's race," said Northug. "I started from behind so I had a good overview. In the middle of the race I was feeling a bit tired but then it was better."
The women were tested on a 5km classic course as tour leader, Poland's Justyna Kowalczyk took the win 11.6 seconds ahead of Finn Aino Kaisa Saarinen in second. Slovenia's Petra Majdic who finished third today, stands in second in the overall standings.
Former tour leader, Italian Arianna Follis, finished sixth today pushing her to third overall.
Sara Renner once again led the Canadian team in 19th place.
The Tour de Ski is an eight-stage event that crosses three countries over ten days. The overall winner gets 400 World Cup points and 150,000 Swiss francs (147,000 dollars). Competition continues Saturday as competition shifts to Val di Fiemme, Italy for the last two legs of the tour.
Click here to go to the tour website.
Men's results

Women's Results
Comments
comments