Turski defends X Games gold in women's slopestyle
Tweet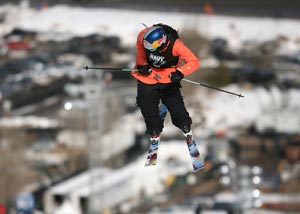 Canadian skier Kaya Turski collected her second consecutive slopestyle X Games gold medal today (Jan. 27) to kick of the skiing events of ESPN's Winter X Games 15 in Aspen, Colo.
Turski only needed the first run of the three-run format to secure the win with a 93.66-point score that held all day.
"I feel elated right now," Turski said of her back-to-back wins. "I put a lot of pressure on myself. The level of competition here is so high, all the girls killed it. I luckily had a good first run, a great cab 7 and nailed the cannon. That really eased the pressure."
Turski held off hard-charging Keri Herman, whose final run score of 93.33 earned her the silver medal.
"It was amazing, the competition, the girls were throwing it down, the most tight tricks I've ever seen," said Herman, a Breckenridge, Colo local. "It's so good that the level's up so high, it's really motivating, I really had to step up my game. It was just incredible today."
Salt Lake City's Grete Eliassen took home her second-consecutive bronze medal with a score of 93.00.
"It's awesome to win again," said Eliassen, who has been working on a film recently. "I spent most of my season focusing on "Say My Name," so it is cool to come back and progress after that."
The slopestyle discipline allows skiers to showcase their freestyle skills on a variety of obstacles including rails, kickers, jumps and gaps. Skiers are judged on creativity, trick completion and style.
Skiing competition at the X Games continues tonight with the women's SuperPipe finals.
Image by Gabriel Christus/ESPN Images

| | | | | |
| --- | --- | --- | --- | --- |
| | Name | Bib # | Hometown | Score |
| 1. | Kaya Turski | 172 | Montreal, QB, Canada | 93.66 |
| 2. | Keri Herman | 169 | Breckenridge, Colo. | 93.33 |
| 3. | Grete Eliassen | 163 | Salt Lake City, Utah | 93.00 |
| 4. | Ashley Battersby | 162 | Chicago, Ill. | 92.00 |
| 5. | Kim Lamarre | 164 | Lac-Beauport, QB, Canada | 91.33 |
| 6. | Jessica Warll | 167 | Collingwood, ON, Canada | 90.66 |
| 7. | Anna Segal | 171 | Melbourne, Australia | 80.33 |
| 8. | Meg Olenick | 165 | Aspen, Colo. | 76.33 |
| 9. | Maude Raymond | 173 | Montreal, QB, Canada | 75.00 |
| 10. | Devin Logan | 127 | West Dover, Vt. | 73.00 |
Comments
comments