U.S. combined skiers put three in Ramsau World Cup top 10
Tweet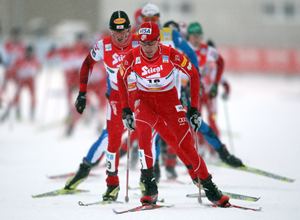 U.S. Skiers pushed three into the top ten in a World Cup Gundersen 10k Nordic Combined event at Ramsau, Austria today (Dec. 19).
In a race won by Frenchman Jason Lamp Chappius, Americans Johnny Spillane,, Todd Lodwick and Bill Demong registered placings of fourth, sixth and ninth respectively. The podium spots went to German Tino Edelmann in second and Alessandro Pittin of Italy in third.
Spillane made up time of the leaders with the eighth best cross country leg against his 16th rank in the jump. Lodwick utilized nearly the opposite approach with an eighth in the jump and 15th in the cross country leg. Demong was 23rd in the jumping and tenth on the track. All three were within 17.7 seconds of the winner with Spillane 4.2seconds out and a half second off the podium.
"I think Johnny thought there was still another group in front of him and he just kept skiing hard – in the red zone – and just didn't have it at the end," said U.S. nordic combined coach Chris Gilbertson. "We've been working with the guys on negative splits – going out slow and making each lap progressively faster. It will come around, it will just take some time."
Lamy Chappius got his second straight win by passing Felix Gottwald in the final kilometer. Gottwald tumbled to fifth.
"I really do not know what's going on, at the moment, everything works very fine for me," said Chappuis. "I do not have any problems on the hill, which give me a lot of self confidence. And in cross country, I did a great race again. It is just great being the first guy who wins two races on the same weekend. Let's hope for tomorrow."
There will be a third and final World Cup nordic combined competition tomorrow in Ramsau.
Spillane photo by GEPA
Comments
comments