U.S. Olympic Freestyle Team named
Tweet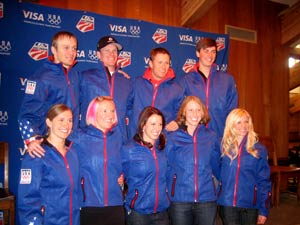 Four World Champions and an Olympic medalist were among 18 athletes announced today (Jan. 26) by the U.S. Ski and Snowboard Association (USSA) to compete on the 2010 Olympic Freestyle Ski Team.
USSA President and CEO Bill Marolt, together with the U.S. Olympic Committee and Team partner Visa, announced the roster of athletes to compete in the freestyle events at Cypress Mountain near Vancouver. The announcement was made at Deer Valley Resort in Park City, site of the 2011 International Ski Federation's Freestyle World Ski Championships.
"We have a good mix of experienced veterans and some exciting young skiers making their first Olympic appearance," said Freestyle Head Coach Jeff Wintersteen.
The moguls Team is headlined by 2009 season-long World Cup champion Hannah Kearney. Kearney, who qualified in the Olympic Trials a month ago, leads a strong group of women who all posted World Cup podium finishes. First time Olympian Heather McPhie had a win and two seconds, while 2002 Olympic silver medalist Shannon Bahrke was second and third. Michelle Roark rounds out the team based on her third in Deer Valley.
The 2009 World Champion Patrick Deneen leads the men's moguls squad following his victory in the Olympic Trials last month. Rookie Bryon Wilson took advantage of a pair of seconds in the season opener while 2005 World Champion Nate Roberts picked up a third that same weekend in Finland to make the Team. Michael Morse pieced together a fifth and two sixths to join the team. All four men are making their first Olympic experience.
"We're really excited for all the Olympians. We have a great mix of veterans and youth," Moguls Head Coach Scott Rawles said. "It's been a tough road to make it here. But, I'm really looking forward to Vancouver, so are our athletes and we want to get up there and get the job done."
Two-time Olympian Jeret "Speedy" Peterson and newcomer Lacy Schnoor head the aerials squad following their victories in the Olympic Trials in December. Veterans Ryan St. Onge, the reigning World Champion, Jana Lindsey and Emily Cook will be making return trips to the Olympics.
They will be joined by first-time Olympians including Dylan Ferguson Matt DePeters and Ashley Caldwell. Caldwell, just 16, is the first skier to come out of the USSA's Elite Air Program in Lake Placid, NY, designed to fast track talented gymnastic or acrobatic athletes and train them in freestyle aerials.
"I'm very pleased with this Team," said Aerials Head Coach Matt Christensen. "It's a really good feeling when you look at veteran athletes like Ryan, Speedy and Emily who have all won World Cups. When Ryan does his jumps the best he can, he is so far ahead of the field – same with Speedy. Emily has been on the podium many times and has a new triple-twisting double she started last year and is looking to perfect for Vancouver. And both Jana and Lacy are performing the same trick."
It has been a tough year results-wise for the aerialists, but Christensen remains optimistic. "So far our results have been less than what we would have liked. But our focus is on perfection and preparing for the perfect jumps in Vancouver."
Veteran ski racers Casey Puckett and Daron Rahlves will represent the USA in the debut of ski cross in Vancouver. It will be Puckett's fifth Olympics and the fourth trip for Rahlves, a 2001 World Champion in alpine super G. Both were former U.S. Alpine Ski Team racers who have had strong success in ski cross on the World Cup and in the X Games.
Rahlves will be competing this week in the X Games, while Puckett is resting a shoulder injury but is expected to be ready to go for Vancouver.
"I'm confident and excited for Daron and Casey," said Ski Cross Head Coach Tyler Shepherd. "We are all honored and proud to be Vancouver Bound with the first U.S. Olympic Ski Cross Team. Both Daron and Casey are skiing extremely well and there's no reason they can't challenge for the podium."
Shepherd expects an exciting debut for the newest Olympic sport. "I think the audience will be amazed at the athletes' abilities."
The moguls team will conduct a final pre-Olympic training camp in Steamboat Springs, Colo. next week while the aerials team is training in Park City. The Olympics will open with women's moguls in Vancouver Saturday, Feb. 13.
Click here to watch a video of today's announcement.
The Team is subject to final review by the U.S. Olympic Committee.

2010 U.S. OLYMPIC FREESTYLE SKI TEAM
(name, hometown, age as of opening ceremonies, birthdate, (past Olympics))
Aerials
Men
Matt DePeters, Hamburg, N.Y., 22, 8/20/87
Dylan Ferguson, Amesbury, Mass., 21, 8/10/88
Jeret "Speedy" Peterson, Boise, Idaho, 28, 12/12/81 (2002, 2006)
Ryan St. Onge, Winter Park, Colo., 26, 2/7/83 (2006)

Women
Ashley Caldwell, Hamilton, Virg., 16, 9/14/1993
Emily Cook, Belmont, Mass., 30, 7/1/79 (2006)
Jana Lindsey, Black Hawk, S.D., 25, 9/18/84 (2006)
Lacy Schnoor, Draper, Utah, 24, 6/12/85

Moguls
Men
Patrick Deneen, Cle Elum, Wash., 22, 12/25/87
Michael Morse, Duxbury, Mass., 28, 4/2/81
Nate Roberts, Park City, Utah, 27, 3/24/82
Bryon Wilson, Park City, Utah, 21, 4/7/88
Women
Shannon Bahrke, Tahoe City, Calif., 29, 11/7/80 (2002, 2006)
Hannah Kearney, Norwich, Vt, 23, 2/26/86 (2006)
Heather McPhie, Bozeman, Mont., 25, 5/28/84
Michelle Roark, Denver, 35, 11/16/74 (2006)

Ski Cross
Men
Casey Puckett, Aspen, Colo., 37, 9/22/72 (1994, 1998, 2002, 2006) *
Daron Rahlves, Sugar Bowl, Calif., 36, 6/12/73 (1998, 2002, 2006) *

* Past alpine skiing Olympians
Comments
comments