The U.S. Women's Ski Team begins training in Austria and Switzerland this week and is on the final leg of preseason preparation for the 2009-10 World Cup season.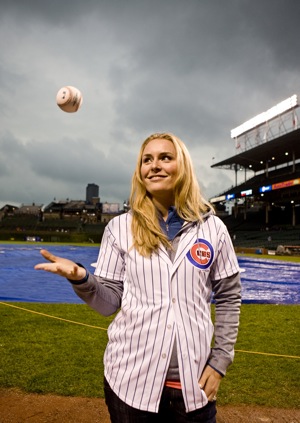 Head coach Jim Tracy arrived a couple of days early, Monday, as did Lindsey Vonn, driving to Austria's Pitztal glacier in brand new Audis – part of a sponsorship deal that provides vehicles to U.S. coaches and also to Vonn and Julia Mancuso.
The women's speed team will be stationed at Pitztal while the technical team begins training in Saas Fee, Switzerland on Friday.
"Of all the glaciers in Europe, those are the best right now," Tracy said. "We're probably about two-thirds through the progression of preseason training. When we come here, the intensity gets raised."
The women's season opening giant slalom race is Oct. 24 in Soelden, Austria, where many national teams have begun training, but there is some concern that the Soelden glacier is lacking in snow and could use a few storms before there is a significant enough base for racing. Several other teams will be training on Pitztal in the next couple of weeks and the amount of on-snow time on the limited terrain will be divided among them.
The U.S. women's speed skiers checked off a solid span of training in Portillo, Chile, before heading home for a few days and leaving for Austria, but Tracy says the team is in for some challenging terrain at Pitztal.
"Pitztal is not for the feint-hearted," he said. "It's got its steep terrain – fairly steep pitches. You really have to have a lot of focus and it can get crowded. You need to be on top of your game."
Though Tracy was not with the team in Portillo, he checked in every day and said he is very happy with where his athletes are at, particularly Mancuso.
"Julia had a really good camp – it was one of her best camps with the speed team, which is encouraging," Tracy said. "She's feeling really good. Stacey skied really well, Chelsea did a good job, Leanne Smith's return to snow looked really good. The D Team girls – Julia Ford and Alice McKennis, they had a good camp. Their eyes get opened when they start training with the more experienced girls."
Tracy is also heartened by Vonn's quick transition from Rossignol to Head. Vonn has expressed enthusiasm with Head's tech skis, which she trained on for the first time at the New Zealand camp in August, and also with the speed skis, which she put to the test in Portillo.
"It's a little bit of a scary switch for an Olympic year, but it's pretty encouraging so far," Tracy said. "If anyone can make a switch at this point, dialing the stuff in, it's Lindsey. She's definitely fast when she needs to be and wants to be. You want to be able to train and work on the technical and tactical things getting the equipment dialed in. So far everything is good."
Though it is a speed camp in Pitztal, the team will start out with some GS and slalom training for a few days because there isn't enough snow to run super G training. Tracy said if the weather doesn't cooperate, the speed team may move over to Switzerland as well before heading to Soelden on Oct. 18.
"The speed group has gotten in a lot of volume, speed-wise, in South America," Tracy said. "Between New Zealand and South America, the girls were tired. But it was a good tired. They got a lot of miles in. We're in a good spot now. The weather is always a test. The weather will dictate the mental part of the game. Whatever we train, we'll go make the best of it."
by Shauna Farnell

Cover photo: Julia Mancuso training in Portillo by Jonathan Selkowitz.
Inside photo: Lindsey Vonn throws the first pitch at the Cubs game in Chicago before heading to Austria. By Jack Affleck, Vail Resorts.