US women strong, men not, in XC Openers
Tweet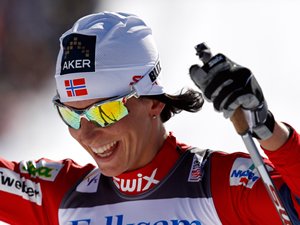 The U.S. cross country team kicked off its season with some impressive and promising results from it's women's team and a decided lack of same among the men.
The opening races of the 2012 season were moved to Sjusjoen, Norway when Beitostoelen didn't have enough snow. A set of relays and a 10k for women and 15 for men was the agenda. In a suprise to no one Norway's Marit Bjoergen – winner of four gold medals at last season's World Championships – got the women's win. Swede Charlotte Kalla was second and the next five finishers were Norwegian.
In eighth place was Kikkan Randall. It was the American's best result in a Cup race of 10k or longer serving as an indicator she will not be known strictly as a sprint specialist going forward. Equally exciting for the U.S. group was Elizabeth Stephen in 18th, matching her career best at the distance.
Randall said her plan had been to start the race on a fast pace and try to maintain it. "I did end up starting my first lap pretty aggressively," she said. "The course was deceptively hard because although the hills weren't so long, there really wasn't a lot of rest out there, you had to be working the whole time. The snow was really fast and I think our skis were incredible today. A little icy and hard to balance in places but overall the snow was in great shape considering the lack of natural stuff.
"Results wise I wanted to be close to or a little ahead of where I was at this point last season, knowing that I usually get stronger as I race. So it's nice to be ahead of that goal, and right in where I would like to be racing the whole season."
The men's race went to Johan Olsson of Sweden who said he was just hoping to make the top 10. Norway's Petter Northug was second and Italy's Roland Clara third. You'd have to flip through some pages to find the U.S. guys. Kris Freeman led the team in 55th. Tad Elliott was 60th, Andy Newell 63rd.
Norway's women should not be expected to give up too much in the near future to the Americans or any other nation. They claimed first, second, sixth and seventh in the relay. The U.S. was ninth.
Gepa photo of Marit Bjoergen
Place
Sjusjoen (NOR)
Discipline
10 km F
Date
19.11.2011
Category
World Cup
Race codex
2659
Gender
L
Valid for FIS Points
NO – Waiting reports
TD Name
Prykaeri Jussi (FIN)
| | | | | | | | |
| --- | --- | --- | --- | --- | --- | --- | --- |
| Rank | Bib | FIS Code | Name | Year | Nation | Time | FIS Points |
| 1 | 69 | 1303777 | BJOERGEN Marit | 1980 | NOR | 24:22.3 | 0.00 |
| 2 | 65 | 3505217 | KALLA Charlotte | 1987 | SWE | 24:49.4 | 14.83 |
| 3 | 47 | 1305426 | SKOFTERUD Vibeke W | 1980 | NOR | 24:51.3 | 15.87 |
| 4 | 28 | 3425046 | BERGER Tora | 1981 | NOR | 25:05.3 | 23.52 |
| 5 | 45 | 3425003 | STEIRA Kristin Stoermer | 1981 | NOR | 25:05.9 | 23.85 |
| 6 | 57 | 3425349 | KRISTOFFERSEN Marthe | 1989 | NOR | 25:12.3 | 27.35 |
| 7 | 67 | 3425301 | JOHAUG Therese | 1988 | NOR | 25:20.4 | 31.79 |
| 8 | 39 | 1365857 | RANDALL Kikkan | 1982 | USA | 25:20.5 | 31.84 |
| 9 | 31 | 3425410 | OESTBERG Ingvild Flugstad | 1990 | NOR | 25:33.4 | 38.90 |
| 10 | 71 | 3435001 | KOWALCZYK Justyna | 1983 | POL | 25:34.6 | 39.55 |
| 11 | 53 | 3185256 | LAHTEENMAKI Krista | 1990 | FIN | 25:36.0 | 40.32 |
| 12 | 55 | 3425183 | JACOBSEN Astrid Uhrenholdt | 1987 | NOR | 25:40.0 | 42.51 |
| 13 | 25 | 3425499 | WENG Heidi | 1991 | NOR | 25:40.1 | 42.56 |
| 14 | 41 | 3505003 | RYDQVIST Maria | 1983 | SWE | 25:48.0 | 46.89 |
| 15 | 61 | 3505183 | HAAG Anna | 1986 | SWE | 25:48.1 | 46.94 |
| 16 | 38 | 3295000 | BROCARD Elisa | 1984 | ITA | 25:51.2 | 48.64 |
| 17 | 49 | 1142563 | SHEVCHENKO Valentina | 1975 | UKR | 25:51.7 | 48.91 |
| 18 | 5 | 3535261 | STEPHEN Elizabeth | 1987 | USA | 25:52.3 | 49.24 |
| 19 | 29 | 3295015 | RUPIL Silvia | 1985 | ITA | 25:53.6 | 49.95 |
| 20 | 37 | 3185004 | SARASOJA-LILJA Riikka | 1982 | FIN | 25:57.5 | 52.08 |
| 21 | 59 | 1255374 | ROPONEN Riitta-Liisa | 1978 | FIN | 26:01.3 | 54.16 |
| 22 | 23 | 3425315 | LAUVHAUG Hilde | 1989 | NOR | 26:01.9 | 54.49 |
| 23 | 35 | 3195059 | BARTHELEMY Laure | 1988 | FRA | 26:03.3 | 55.26 |
| 24 | 52 | 3425365 | FALLA Maiken Caspersen | 1990 | NOR | 26:06.0 | 56.73 |
| 25 | 22 | 3425350 | SLIND Astrid Oeyre | 1988 | NOR | 26:10.1 | 58.98 |
| 26 | 70 | 3295141 | AGREITER Debora | 1991 | ITA | 26:10.5 | 59.19 |
| 27 | 63 | 1255665 | SAARINEN Aino- Kaisa | 1979 | FIN | 26:12.3 | 60.18 |
| 28 | 20 | 3565014 | JEZERSEK Barbara | 1986 | SLO | 26:15.4 | 61.88 |
| 29 | 16 | 1319976 | KOLOMINA Yelena | 1981 | KAZ | 26:15.9 | 62.15 |
| 30 | 51 | 1247226 | ZELLER Katrin | 1979 | GER | 26:16.9 | 62.70 |
| 31 | 13 | 3195040 | FAIVRE PICON Anouk | 1986 | FRA | 26:18.2 | 63.41 |
| 32 | 60 | 3425355 | SLIND Silje Oeyre | 1988 | NOR | 26:18.5 | 63.57 |
| 33 | 33 | 3505090 | INGEMARSDOTTER Ida | 1985 | SWE | 26:21.2 | 65.05 |
| 34 | 48 | 3505481 | BRODIN Hanna | 1990 | SWE | 26:21.9 | 65.43 |
| 35 | 15 | 3425483 | HAGEN Martine Ek | 1991 | NOR | 26:23.9 | 66.53 |
| 36 | 11 | 3535142 | BROOKS Holly | 1982 | USA | 26:25.5 | 67.40 |
| 37 | 18 | 3425421 | HAGA Ragnhild | 1991 | NOR | 26:25.8 | 67.56 |
| 38 | 19 | 3185114 | AHERVO Laura | 1984 | FIN | 26:30.6 | 70.19 |
| 39 | 7 | 3485283 | NIKOLAEVA Svetlana | 1987 | RUS | 26:30.7 | 70.25 |
| 40 | 26 | 3485013 | NOVIKOVA Valentina | 1984 | RUS | 26:31.4 | 70.63 |
| 41 | 6 | 3295088 | DE MARTIN TOPRANIN Virginia | 1987 | ITA | 26:33.1 | 71.56 |
| 42 | 34 | 3425275 | BRUN-LIE Celine | 1988 | NOR | 26:34.2 | 72.16 |
| 43 | 21 | 3425394 | STAVER Tuva Toftdahl | 1990 | NOR | 26:40.1 | 75.39 |
| 44 | 27 | 3485193 | KHAZOVA Irina | 1984 | RUS | 26:45.6 | 78.40 |
| 45 | 12 | 3205124 | SIEGEL Monique | 1989 | GER | 26:47.5 | 79.44 |
| 46 | 9 | 3485342 | DOTSENKO Anastasia | 1986 | RUS | 26:47.9 | 79.66 |
| 47 | 43 | 1373617 | FESSEL Nicole | 1983 | GER | 26:48.2 | 79.82 |
| 48 | 4 | 3205176 | RINGWALD Sandra | 1990 | GER | 26:48.7 | 80.09 |
| 49 | 68 | 3295013 | PILLER Marina | 1984 | ITA | 26:48.9 | 80.20 |
| 50 | 3 | 3435031 | MACIUSZEK Paulina | 1985 | POL | 26:50.0 | 80.80 |
| 51 | 8 | 3485491 | TANYGINA Alevtina | 1989 | RUS | 26:51.4 | 81.57 |
| 52 | 14 | 3205075 | HERRMANN Denise | 1988 | GER | 26:53.5 | 82.72 |
| 53 | 24 | 3485198 | IVANOVA Julia | 1985 | RUS | 26:54.3 | 83.16 |
| 54 | 54 | 3535320 | BJORNSEN Sadie | 1989 | USA | 27:01.5 | 87.10 |
| 55 | 1 | 3565034 | CEBASEK Alenka | 1989 | SLO | 27:08.3 | 90.82 |
| 56 | 62 | 3495008 | ORGUE Laura | 1986 | SPA | 27:13.6 | 93.72 |
| 57 | 17 | 1293107 | BOEHLER Stefanie | 1981 | GER | 27:15.0 | 94.48 |
| 58 | 58 | 3195056 | JEAN Aurore | 1985 | FRA | 27:18.1 | 96.18 |
| 59 | 2 | 3505018 | HANSSON Jenny | 1980 | SWE | 27:20.1 | 97.27 |
| 60 | 50 | 3675019 | SLONOVA Anastasia | 1991 | KAZ | 27:28.7 | 101.98 |
| 61 | 10 | 3195010 | HUGUE Coraline | 1984 | FRA | 27:31.3 | 103.40 |
| 62 | 36 | 3675018 | MATROSSOVA Marina | 1990 | KAZ | 27:35.0 | 105.42 |
| 63 | 66 | 3565002 | FABJAN Vesna | 1985 | SLO | 27:37.5 | 106.79 |
| 64 | 32 | 3435004 | SZYMANCZAK Agnieszka | 1984 | POL | 27:41.7 | 109.09 |
| 65 | 64 | 3425287 | MONRAD-HANSEN Marte | 1987 | NOR | 27:44.3 | 110.51 |
| 66 | 40 | 3535124 | SARGENT Ida | 1988 | USA | 27:55.9 | 116.86 |
| 67 | 56 | 3565000 | COSSETTINI Mirjam | 1983 | SLO | 27:57.4 | 117.68 |
| 68 | 44 | 3695016 | ANTSYBOR Maryna | 1987 | UKR | 27:58.5 | 118.28 |
| 69 | 46 | 1354799 | GYORGY Monika | 1982 | ROU | 28:00.2 | 119.21 |
| 70 | 42 | 3435098 | MARCISZ Ewelina | 1991 | POL | 28:15.6 | 127.63 |
| 71 | 30 | 3095010 | GRIGOROVA-BURGOVA Antoniya | 1986 | BUL | 28:56.5 | 150.01 |
Place
Sjusjoen (NOR)
Discipline
15 km F
Date
19.11.2011
Category
World Cup
Race codex
2660
Gender
M
Valid for FIS Points
NO – Waiting reports
TD Name
Prykaeri Jussi (FIN)
Rank
Bib
FIS Code
Name
Year
Nation
Time
FIS Points
1
41
1283892
OLSSON Johan
1980
SWE
32:40.9
0.00
2
89
3420239
NORTHUG Petter jr.
1986
NOR
33:12.1
12.73
3
69
3290016
CLARA Roland
1982
ITA
33:12.3
12.81
4
19
3500664
HALFVARSSON Calle
1989
SWE
33:19.5
15.75
5
57
3100110
HARVEY Alex
1988
CAN
33:21.5
16.56
6
33
1363141
FISCHER Remo
1981
SUI
33:22.1
16.81
7
93
3510023
COLOGNA Dario
1986
SUI
33:22.6
17.01
8
42
3420076
BERGER Lars
1979
NOR
33:24.6
17.83
9
83
3500139
HELLNER Marcus
1985
SWE
33:24.7
17.87
10
25
3670007
POLTORANIN Alexey
1987
KAZ
33:30.2
20.11
11
87
3480016
LEGKOV Alexander
1983
RUS
33:39.3
23.83
12
17
3290007
HOFER David
1983
ITA
33:39.4
23.87
13
59
3420228
JOHNSRUD SUNDBY Martin
1984
NOR
33:39.9
24.07
14
45
1178162
ANGERER Tobias
1977
GER
33:44.1
25.78
15
60
3420405
SVENDSEN Emil Hegle
1985
NOR
33:45.7
26.44
16
85
3480013
VYLEGZHANIN Maxim
1982
RUS
33:47.8
27.29
17
77
3190111
MANIFICAT Maurice
1986
FRA
33:50.5
28.40
18
29
3180054
NOUSIAINEN Ville
1983
FIN
33:52.3
29.13
19
34
3420961
KROGH Finn Haagen
1990
NOR
33:53.2
29.50
20
56
3420574
BOE Tarjei
1988
NOR
33:54.0
29.82
20
18
3180301
LEHTONEN Lari
1987
FIN
33:54.0
29.82
22
23
1106867
BAJCICAK Martin
1976
SVK
33:57.5
31.25
23
27
3420009
JESPERSEN Chris Andre
1983
NOR
33:59.8
32.19
24
30
3480317
TURYCHEV Sergey
1985
RUS
34:00.3
32.39
25
49
1248293
SOEDERGREN Anders
1977
SWE
34:02.4
33.25
26
67
3150069
JAKS Martin
1986
CZE
34:04.1
33.94
27
65
1067291
DI CENTA Giorgio
1972
ITA
34:04.4
34.07
28
20
1362656
LIVERS Toni
1983
SUI
34:05.9
34.68
29
4
1175155
MAGAL Jiri
1977
CZE
34:06.3
34.84
30
91
3500015
RICKARDSSON Daniel
1982
SWE
34:07.6
35.37
31
21
3200121
KUEHNE Andy
1987
GER
34:09.8
36.27
32
26
3420160
EILIFSEN Morten
1984
NOR
34:10.5
36.55
33
24
3190029
DUVILLARD Robin
1983
FRA
34:12.4
37.33
34
35
1139459
PILLER COTTRER Pietro
1974
ITA
34:13.0
37.57
35
7
1323468
REHEMAA Aivar
1982
EST
34:14.9
38.35
36
39
3420605
ROETHE Sjur
1988
NOR
34:16.0
38.80
37
73
3100006
KERSHAW Devon
1982
CAN
34:18.0
39.61
38
48
3420283
HAFSAAS Ronny Andre
1985
NOR
34:18.9
39.98
39
37
3200015
REICHELT Tom
1982
GER
34:19.9
40.39
40
61
3180053
HEIKKINEN Matti
1983
FIN
34:21.5
41.04
41
6
3200127
MARSCHALL Philipp
1988
GER
34:21.9
41.21
42
40
3100190
BABIKOV Ivan
1980
CAN
34:22.2
41.33
43
38
1223849
CHECCHI Valerio
1980
ITA
34:22.4
41.41
44
9
3420468
EINARSSON Snorri
1986
NOR
34:22.9
41.61
45
63
1362947
PERL Curdin
1984
SUI
34:23.8
41.98
46
13
3420822
BACH Ole-marius
1988
NOR
34:25.3
42.59
47
43
1221327
TEICHMANN Axel
1979
GER
34:25.7
42.76
48
81
1345875
GAILLARD Jean Marc
1980
FRA
34:26.0
42.88
49
70
3510351
FURGER Roman
1990
SUI
34:27.1
43.33
50
22
1286608
PERRILLAT Christophe
1979
FRA
34:27.3
43.41
51
15
3390103
TAMMJARV Karel
1989
EST
34:29.0
44.10
52
51
3481161
BELOV Evgeniy
1990
RUS
34:29.1
44.14
53
28
3670000
CHEBOTKO Nikolay
1982
KAZ
34:31.1
44.96
54
84
3190125
POIRRIER Bastien
1988
FRA
34:34.9
46.51
55
55
1285347
FREEMAN Kris
1980
USA
34:35.9
46.92
56
53
3420023
GJERDALEN Tord Asle
1983
NOR
34:39.0
48.18
57
52
3670026
STAROSTIN Mark
1990
KAZ
34:41.7
49.28
58
14
1066224
FREDRIKSSON Mathias
1973
SWE
34:43.1
49.85
59
71
3480832
SEDOV Petr
1990
RUS
34:44.6
50.47
60
11
3530492
ELLIOTT Tad
1988
USA
34:48.3
51.98
61
75
3420036
ROENNING Eldar
1982
NOR
34:50.4
52.83
62
90
3420002
DAHL John Kristian
1981
NOR
34:50.6
52.91
63
2
3530005
NEWELL Andrew
1983
USA
34:51.2
53.16
64
62
3100097
VALJAS Len
1988
CAN
34:52.0
53.49
65
8
1196883
FLORA Lars
1978
USA
34:52.1
53.53
66
86
3670022
VELICHKO Yevgeniy
1987
KAZ
34:54.4
54.46
67
47
1344711
JAUHOJAERVI Sami
1981
FIN
34:58.7
56.22
68
12
3460018
PEPENE Paul Constantin
1988
ROU
35:00.5
56.95
69
78
3050098
DUERR Johannes
1987
AUT
35:03.1
58.01
70
36
1223558
FRASNELLI Loris
1979
ITA
35:08.0
60.01
71
16
3100034
NISHIKAWA Graham
1983
CAN
35:08.5
60.22
72
88
1310470
KRECZMER Maciej
1981
POL
35:09.3
60.54
73
74
3390074
VAHTRA Eeri
1988
EST
35:16.0
63.28
74
3
3220002
MUSGRAVE Andrew
1990
GBR
35:16.2
63.36
75
1
3150105
HORYNA Ondrej
1987
CZE
35:19.6
64.75
76
64
3180200
HARKONEN Teemu
1983
FIN
35:23.0
66.13
77
76
3050025
HIRNER Manuel
1985
AUT
35:27.3
67.89
78
5
3420317
RENNEMO Kristian Tettli
1984
NOR
35:29.1
68.62
79
10
3530489
HOFFMAN Noah
1989
USA
35:33.1
70.25
80
31
3420199
OESTENSEN Simen
1984
NOR
35:36.6
71.68
81
68
3390101
RANKEL Raido
1990
EST
35:45.6
75.35
82
32
3200001
GOERING Franz
1984
GER
35:50.3
77.27
83
92
1311925
VILARRUBLA Vicenc
1981
SPA
35:50.8
77.47
84
54
3700049
MLYNAR Peter
1988
SVK
35:52.4
78.13
85
79
3480314
CHERNOUSOV Ilia
1986
RUS
35:59.1
80.86
86
72
3090024
TSINZOV Veselin
1986
BUL
36:17.6
88.41
87
80
3150035
KOZISEK Dusan
1983
CZE
36:25.2
91.51
88
66
3490026
GUTIERREZ Javier
1985
SPA
36:29.7
93.34
89
50
3430056
MICHALEK Mariusz
1987
POL
37:07.1
108.60
90
44
3040084
ALMOUKOV Alex
1990
AUS
37:19.6
113.70
91
58
3200096
HEUN Daniel
1986
GER
37:39.6
121.86
92
46
1291070
THOR OLSEN Jonas
1978
DAN
38:33.8
143.97
Did not start
82
3530120
HAMILTON Simeon
1987
USA
Place
Sjusjoen (NOR)
Discipline
Rel 4×5 km M
Date
20.11.2011
Category
World Cup
Race codex
2661
Gender
L
Valid for FIS Points
NO – Waiting reports
TD Name
Prykaeri Jussi (FIN)
Rank
Bib
Name
Nation
Time
FIS Points
1
NORWAY I
NOR
51:50.1
SKOFTERUD Vibeke W
13:11.7
JOHAUG Therese
13:25.9
STEIRA Kristin Stoermer
12:34.5
BJOERGEN Marit
12:38.0
2
NORWAY II
NOR
52:16.1
JACOBSEN Astrid Uhrenholdt
13:24.4
OESTBERG Ingvild Flugstad
13:30.0
BERGER Tora
12:33.2
KRISTOFFERSEN Marthe
12:48.5
3
FINLAND
FIN
52:29.2
LAHTEENMAKI Krista
13:25.8
SAARINEN Aino- Kaisa
13:26.3
ROPONEN Riitta-Liisa
12:39.3
SARASOJA-LILJA Riikka
12:57.8
4
SWEDEN
SWE
52:41.7
INGEMARSDOTTER Ida
13:54.1
HAAG Anna
13:38.5
RYDQVIST Maria
12:40.3
KALLA Charlotte
12:28.8
5
FRANCE
FRA
53:17.7
JEAN Aurore
13:17.8
BARTHELEMY Laure
14:17.4
FAIVRE PICON Anouk
12:37.2
HUGUE Coraline
13:05.3
6
NORWAY III
NOR
53:19.3
FALLA Maiken Caspersen
13:21.3
WENG Heidi
13:43.5
LAUVHAUG Hilde
12:53.1
SLIND Astrid Oeyre
13:21.4
7
NORWAY IV
NOR
53:30.2
BRUN-LIE Celine
13:25.7
HAGEN Martine Ek
13:59.1
HAGA Ragnhild
12:48.4
SLIND Silje Oeyre
13:17.0
8
GERMANY I
GER
53:44.7
BOEHLER Stefanie
13:53.5
ZELLER Katrin
13:58.9
FESSEL Nicole
12:50.1
SIEGEL Monique
13:02.2
9
UNITED STATES OF AMERICA
USA
53:44.8
SARGENT Ida
14:29.4
RANDALL Kikkan
13:23.3
STEPHEN Elizabeth
12:41.4
BROOKS Holly
13:10.7
10
RUSSIA I
RUS
53:44.9
DOTSENKO Anastasia
13:58.1
NOVIKOVA Valentina
13:46.4
KHAZOVA Irina
12:51.3
NIKOLAEVA Svetlana
13:09.1
11
POLAND
POL
53:46.3
MARCISZ Ewelina
14:12.4
KOWALCZYK Justyna
13:09.8
MACIUSZEK Paulina
13:00.4
JASKOWIEC Sylwia
13:23.7
12
ITALY
ITA
53:47.4
GORRA Melissa
13:52.6
DE MARTIN TOPRANIN Virginia
13:43.0
AGREITER Debora
12:58.9
RUPIL Silvia
13:12.9
13
RUSSIA II
RUS
54:04.9
MATVEEVA Natalia
13:58.9
IKSANOVA Alija
13:54.3
IVANOVA Julia
12:41.4
TANYGINA Alevtina
13:30.3
14
SLOVENIA
SLO
54:48.8
VISNAR Katja
14:11.2
ERZEN Anja
14:11.8
FABJAN Vesna
12:52.9
JEZERSEK Barbara
13:32.9
15
KAZAKHSTAN
KAZ
54:57.0
KOLOMINA Elena
13:42.4
JATSKAJA Oxana
14:22.2
MATROSOVA Marina
13:15.9
SLONOVA Anastasia
13:36.5
16
GERMANY II
GER
55:25.0
HERRMANN Denise
13:58.4
RINGWALD Sandra
13:58.0
ANGER Lucia
13:46.1
KOLB Hanna
13:42.5
Place
Sjusjoen (NOR)
Discipline
Rel 4×10 km M
Date
20.11.2011
Category
World Cup
Race codex
2662
Gender
M
Valid for FIS Points
NO – Waiting reports
TD Name
Prykaeri Jussi (FIN)
Rank
Bib
Name
Nation
Time
FIS Points
1
NORWAY I
NOR
1:35:24.8
ROENNING Eldar
24:11.5
KROGH Finn Haagen
24:31.4
BERGER Lars
22:26.8
NORTHUG Petter
24:15.1
2
NORWAY III
NOR
1:35:25.6
DAHL John Kristian
24:19.5
ANSNES Ronny Fredrik
24:49.2
EILIFSEN Morten
22:45.9
ROETHE Sjur
23:31.0
3
SWEDEN
SWE
1:35:25.9
HELLNER Marcus
24:16.6
RICKARDSSON Daniel
24:26.8
OLSSON Johan
22:26.9
HALFVARSSON Calle
24:15.6
4
FRANCE
FRA
1:35:26.2
GAILLARD Jean Marc
24:12.0
MANIFICAT Maurice
24:27.1
DUVILLARD Robin
22:31.2
PERRILLAT Christophe
24:15.9
5
RUSSIA I
RUS
1:35:26.3
BELOV Evgeniy
24:11.9
VYLEGZHANIN Maxim
24:27.1
TURYCHEV Sergey
22:35.3
LEGKOV Alexander
24:12.0
6
FINLAND
FIN
1:35:28.9
LEHTONEN Lari
24:22.8
JAUHOJAERVI Sami
24:19.4
HEIKKINEN Matti
22:28.6
NOUSIAINEN Ville
24:18.1
7
NORWAY II
NOR
1:35:29.0
DYRHAUG Niklas
24:29.1
JESPERSEN Chris Andre
25:23.1
BOE Tarjei
23:05.7
SVENDSEN Emil Hegle
22:31.1
8
SWITZERLAND
SUI
1:35:30.7
LIVERS Toni
24:57.9
COLOGNA Dario
24:03.3
FISCHER Remo
22:53.0
PERL Curdin
23:36.5
9
ITALY
ITA
1:35:54.5
PILLER COTTRER Pietro
24:26.7
DI CENTA Giorgio
24:17.0
CLARA Roland
22:26.3
HOFER David
24:44.5
10
RUSSIA II
RUS
1:36:10.3
JAPAROV Dmitriy
24:14.7
NOVIKOV Sergey
25:05.0
SEDOV Petr
23:06.3
CHERNOUSOV Ilia
23:44.3
11
UNITED STATES OF AMERICA
USA
1:36:23.6
NEWELL Andrew
24:26.9
FREEMAN Kris
24:42.9
ELLIOTT Tad
22:53.6
HAMILTON Simeon
24:20.2
12
CZECH REPUBLIC
CZE
1:36:46.0
MAGAL Jiri
24:26.3
JAKS Martin
24:38.3
HORYNA Ondrej
23:44.5
KOZISEK Dusan
23:56.9
13
NORWAY IV
NOR
1:36:48.7
RENNEMO Kristian Tettli
25:20.8
GJERDALEN Tord Asle
25:27.4
EINARSSON Snorri
22:41.2
BACH Ole-Marius
23:19.3
14
KAZAKHSTAN
KAZ
1:36:58.4
CHEREPANOV Sergey
25:39.7
POLTORANIN Alexey
25:00.3
CHEBOTKO Nikolay
22:49.7
STAROSTIN Mark
23:28.7
15
GERMANY I
GER
1:37:09.6
KUEHNE Andy
25:45.8
TEICHMANN Axel
24:53.7
ANGERER Tobias
22:53.1
REICHELT Tom
23:37.0
16
GERMANY II
GER
1:39:15.7
GOERING Franz
24:24.3
KATZ Andreas
26:11.1
MARSCHALL Philipp
23:53.6
WENZL Josef
24:46.7
Comments
comments