USSA Names Inaugural U.S. Freeskiing Team
Tweet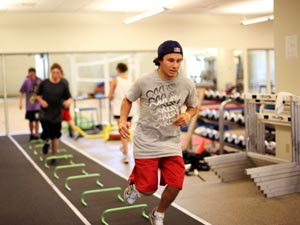 The U.S. Ski and Snowboard Association (USSA) announced today (June 15) the formation of the first ever U.S. Freeskiing national team. The formal plans were announced this week to nine invited athletes during a dryland training camp at the USSA Center of Excellence in Park City, Utah.
The announcement follows a decision by the International Olympic Committee (IOC) to add halfpipe skiing to the 2014 Olympic Winter Games.
Athletes invited to the first U.S. Freeskiing Pro Halfpipe Team for the 2011-12 season include some of America's greatest stars of the newest Olympic sport including X Games champions Jen Hudak and Simon Dumont. Nine athletes were invited based on competition results from the past season. The selection process for the inaugural Olympic team will be determined over the next two years with that team being named just prior to the 2014 Olympics in Sochi, Russia.
"These are the best American athletes competing in the sport today," said U.S. Snowboarding and U.S. Freeskiing Director Jeremy Forster. "They have played a key role in the formation of their sport and helped influence the IOC decision to include halfpipe skiing through their skills as athletes."
Under the new Pro Team program, U.S. Freeskiing will provide support for the athletes at both dryland and on-snow camps, plus competition programs including the U.S. Halfpipe Grand Prix, X Games and other events. Athletes will also have access for training at the USSA Center of Excellence.
In addition, USSA also announced that veteran Head Halfpipe Coach Mike Jankowski will provide support for U.S. Freeskiing halfpipe athletes just as he does for the U.S. Snowboarding Pro Team.
"Mike is one of the most knowledgeable halfpipe coaches in the sport and has a long track record of athletic success," said Forster. "His knowledge and leadership will be an asset for our U.S. Freeskiing Pro Team athletes as an adjunct to the programs some of them already have in place on their own."
The U.S. Freeskiing sport program and brand was strategically developed over the past two years with anticipation of the IOC decision to include halfpipe skiing and slopestyle skiing (decision pending) in the Winter Olympics. The program was announced in concept in January, with the IOC selecting halfpipe skiing in April.
"Freeskiing is a rapidly growing segment of the skiing market worldwide," said USSA's Chief Revenue and Marketing Officer Andrew Judelson. "It provides us an opportunity to build further scale in our sport to attract partners to support athletes and to grow the overall base of skiers in America, as well."
The Pro Team nominations were announced during the first dryland camp at the USSA Center of Excellence. Athletes underwent physical training and testing sessions, as well as trampoline work and an orientation to the USSA.
The season will kick off with the U.S. Halfpipe Grand Prix this December at Copper Mountain, CO.
2011-12 Nominated U.S. Freeskiing Halfpipe Pro Team
(Athlete, Hometown)
Simon Dumont, Bethel, ME
David Wise, Reno, NV
Torin Yater-Wallace, Basalt, CO
Tucker Perkins, North Hampton, NH
Gus Kenworthy, Telluride, CO
Devin Logan, West Dover, VT
Jen Hudak, Salt Lake City, UT
Jess Cumming, Beaver Creek, CO
Brita Sigourney, Carmel, CA
Photo by Sarah Ely/U.S. Ski Team
Comments
comments