USSA Newbies learn the Ropes at Rookie Camp
Tweet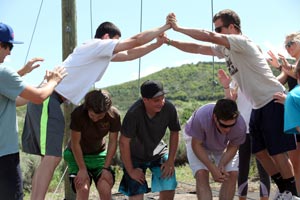 The U.S. Ski and Snowboard Association's (USSA) Center of Excellence welcomed 42 new recruits over the weekend at the 2011 USSA Rookie Camp.
Recently nominated young athletes from across all of the organization's regions and disciplines gathered at USSA headquarters in Park City, Utah for three days of training and familiarization with each other and the association.
"Rookie Camp, now in its fifth year, is a time where newly nominated National Team athletes across all sports get together to learn about the organization and understand the expectations related to being a Team member," said USSA Vice President of Athletics Luke Bodensteiner. "The camp gives rookies a chance to get to know each other, build relationships though ropes courses and activities and orient themselves with USSA staff and procedures."
The three-day camp, themed "Got Gold?", was a crash course in everything the sport's national governing body has to offer athletes from scholarships and training to diet plans and equipment support.
"This year we hosted the largest group ever with 42 athletes, marking a true testament to our focus on high performance and development for the future," said Bodensteiner. "We have a promising group coming up the pipeline."
The rookies were tutored in the organization's values by CEO and president Bill Marolt and got to know their individual sport directors. Of course, not all of the camp was spent in conference rooms. The athletes put the center's cutting-edge gym, trampolines and foam pit to use and enjoyed the sunny Utah weather at a nearby elevated ropes course before facing off in a coed soccer game.
"I loved getting to know the rest of the rookies and getting to see more of the Center of Excellence, I haven't been there so I am excited to see all of the facilities and know all the staff," said alpine racer Mikaela Shiffrin on the first day of camp.
Olympians including Steven Nyman, Noah Hoffman and Bryon Wilson imparted some of their experienced wisdom with their new teammates as part of an athlete panel to close the camp.
"It is cool to know how everything is working," said moguls skier KC Oakley. "I am an organized person so I like to know everything that is going on."
Images by Sarah Ely/USSA
Comments
comments