USSA Unveils U.S. Freeskiing Brand Identity
Tweet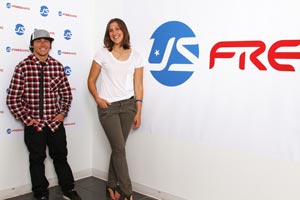 Three months after the U.S. Ski and Snowboard Association announced the creation of its new brand, U.S. Freeskiing, the USSA today (May 2) unveiled the new organization's visual identity.
U.S. Freeskiing, which includes the recently named Olympic sport of ski halfpipe as well as ski slopestyle and ski cross, will join the organization's well established U.S. Ski Team and U.S. Snowboarding family of brands.
U.S. Freesking athletes teamed with DraftFCB – a global marketing communications agency – to create the organization's brand identity, shown to the public for the first time today at the agency's New York offices. Ski halfpipe athletes Simon Dumont and Jen Hudak, both X Games gold medalists, were on hand for the announcement.
"We are an athletic organization and it was important that the athletes in this sport be integrally involved in the development of the new brand identity," said USSA President and CEO Bill Marolt. "Freeskiing athletes have taken great pride in advancing their sport to the Olympics and showcasing it through the millions of youth who ski in halfpipes and terrain parks at resorts across America."
Dumont and Hudak, along with thousands of American freeskiers, learned in April that they will have a shot at Olympic gold as the IOC (International Olympic Committee) voted to add ski halfpipe to the schedule for the 2014 Sochi Games. A decision on ski slopestyle's inclusion in the 2014 games is expected from the IOC later this month. Ski cross made its Olympic debut at the 2010 Games.



Athletes and DraftFCB designers collaborated to create an image that represents the sport's creativity and progression. "The design represents how we feel about ourselves in our sport," said Hudak. "There's a feeling of independence – there are no rules, you can see that in the letters. As athletes, we've pushed for our unique U.S. Freeskiing brand and we're proud to be a part of this highly respected family of programs."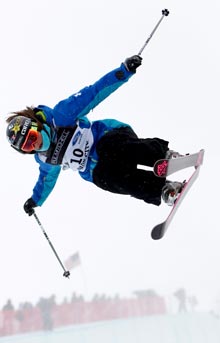 The addition of the U.S. Freeskiing program marks the continued growth of USSA as the national governing body of the sport. The organization introduced the first U.S. Ski Team in 1965 then embraced the growing sport of snowboarding with the launch of U.S. Snowboarding in May of 2002.
"This brand is for the athletes by the athletes," said USSA Chief Revenue and Marketing Officer Andrew Judelson. "When we embarked on this endeavor, we wanted to make sure that we engaged all the stakeholders involved, specifically athletes, coaches, suppliers and media. It was a very collaborative process, we had a number of athletes directly involved throughout the process with focus groups and testing and it's something that we are very proud of."
"In brand development, you have to be true to the core and that is something we did. We also made sure to tie back to our family of brands with U.S. Ski Team and U.S. Snowboarding because they all need to work together," continued Judelson.
According to Judelson, U.S. Freeskiing has already been successful in partnering with companies including The North Face, Delta Airlines and High Sierra.
"There is proof in these examples of partners signing on or extending their agreements to show the value proposition of freeskiing," said Judelson. "We will be designing product with our partners to get that brand out there through licensors. We are also going to be broadcasting U.S. Freeskiing events next year as independent events outside of our alpine and snowboarding events. Most importantly, the mission in charge of this organization, is that we are going to be supporting our athletes and providing them with the resources by which they can continue to be the best in the world.
"The opportunity for these athletes now to go shoulder-to-shoulder with our other athletes in training, access and funding is something they are unbelievably excited about," said Judelson. "Our organization has done a wonderful job on the FIS and IOC levels of being builders to get these disciplines considered with ski halfpipe awarded the Olympic games through years and years of hard work. This shows that we are grounded in who we are but we are willing to innovate."
Top image of Dumont and Hudak by Ian Smith
Lower image of Hudak skiing by Gepa
Comments
comments