Lindsey Vonn surprised herself – and many other people – with her success in slalom last season, beginning with a victory in Levi that came even after she nearly came to a complete stop on course in her second run.
Coming into this Saturday's race, Vonn has reached a mindset of readiness following several days of training on her own personal, injected slalom course on Vail's Golden Peak. Following a preseason in Europe that was spent seeking snow for training, Vonn finally caught up with testing on her new Head slalom skis and boots in Vail and left for Finland feeling pleased with her slalom training.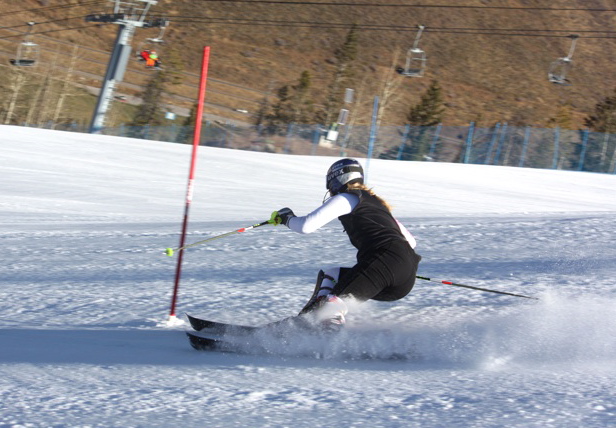 "When she came here, it was basically to test skis," U.S. Coach Jim Tracy said from Copper Mountain, where Vonn and others on the U.S. Team had been training the last few days in addition to training at Vail, Vonn sharing her private course with her teammates.
"She didn't get that training and testing done in Europe … we didn't have the weather to do it," Tracy said. "Usually you have the base to go off of, but she just didn't have that base with the material – with the skis and the boots. But every day they figured out something a little bit more, narrowed things down a little bit more. And (Monday before Vonn left for Finland) her five runs were … those would win races. She left very, very happy."
Though Vonn learned to race slalom before any other discipline as a small child on Minnesota's Buck Hill, last season's win in Levi marked her first World Cup slalom victory, after which she said, "I'm a downhill skier, not a slalom skier, but maybe things are changing a little bit."
Sure enough, Vonn went on to win the slalom in Garmisch Partenkirchen and podiumed in Semmering and La Molina, narrowly missing the podium with fourth places in Aspen and Maribor. She was also poised in great position at the world champion slalom event in Val d'Isere, the fastest racer going into the second run despite having a torn ligament in her thumb, but crashed in the second run and the gold medal went to Germany's Maria Riesch.
The rest of the U.S. starters in Saturday's slalom include Resi Stiegler, Sarah Schleper, Hailey Duke, Sterling Grant and Kaylin Richardson.
Julia Mancuso, who has a handful of top 10s in World Cup slalom events but whose best slalom finish last season was a 16th in Semmering, will join the speed team at Copper for training this weekend rather than racing in Levi.
"To go over there for one race, she's not fully a contender right now," Tracy said. "Slalom is not the No. 1 event for her right now."
As for the other starters, Duke sustained an ankle injury when she hit a gate straight on training in Switzerland in September but is reportedly on the mend and training well. Schleper, who earned her first World Cup points in a year with a 24th place finish in the Soelden giant slalom season opener a couple weeks ago, is very fast in slalom training and Stiegler, who raced at Soelden in her first GS in 22 months, is looking solid in her signature discipline (slalom).
While Vonn has been training in Vail to prepare for Levi, the other U.S. slalom skiers have been in Austria's Haus im Enstaal, also training on an injected course.
"The coaches did our water magic on the hill and the girls were ripping it," said U.S. tech coach Trevor Wagner, who has overseen training at Haus. "The race hill is going to be incredibly hard and slick, for sure. But we're ready for that. There's a lot of terrain on this hill. You get up to speed in a hurry, but then it's all about carrying that momentum all the way through the finish – you have to have stamina for this race."
Tracy describes the race hill at Levi as very similar to Vail's Golden Peak.
"It's a lot like Vail, actually. It's got a steep that's about like Afterthought (a part of the slope on Golden Peak). Linds skied really well in Levi last year," he said. "She'll feel a lot of pressure from the slaloms last year, but the most importat thing is she goes out and does her best. There's plenty of races all year. If she can finish in the top 10, that would be awesome."
Tracy pointed out that the World Cup women's tech season wraps up early in 2009-10, thus, tech racers have a short amount of time to shine before the Olympics.
"The tech season is pretty much going to be over with by the end of January. So they really need to take advantage of these opportunities," he said.
Watch the results of the Levi race come in live at www.fis-ski.com, with the first run starting at 4 a.m. ET on Saturday and the second run at 7 a.m. Universal Sports will broadcast the race at 10 a.m. ET on Saturday.
by Shauna Farnell
PHOTO: Lindsey Vonn trains slalom at Vail to prepare for this Saturday's race in Levi. (Shauna Farnell)