Haus im Ennstal, Austria – An injured hand didn't stop Lindsey Vonn from winning another downhill Friday, this time in Haus im Ennstal, Austria.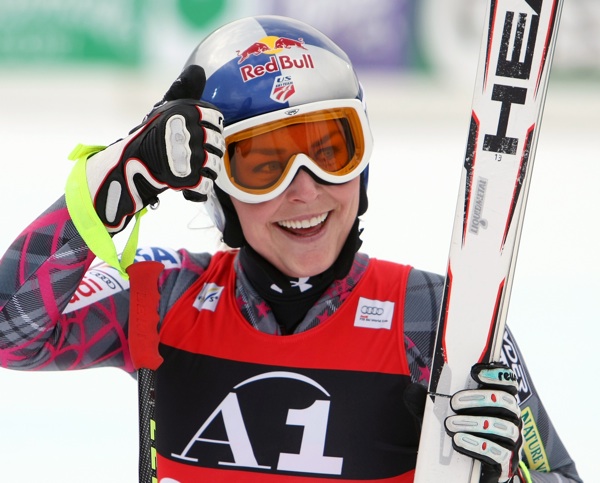 Vonn has now won every downhill race this season – three straight, in addition to the World Cup final downhill race in Are last season. In fact, save last season's race in Bansko, Vonn has been on every downhill podium since February 2008.
On Friday, she made it down the twisty, relatively flat course in 1 minute, 38.84 seconds, beating Anja Paerson by .35 seconds and former Haus champion (from 2004) Maria Riesch in .39 seconds.
"I needed this win today to get my confidence back on track and to feel like I could ski well again," said Vonn, who has had a string of bad luck in the last couple of races, crashing and injuring her left arm in the Lienz giant slalom on Dec. 28, then skiing in pain for the following two slaloms in Lienz and Zagreb, where she said the only thing worse for her arm than smacking slalom gates was "running into a wall."
"I'm just thankful that it doesn't hurt as badly in downhill as it does in slalom," Vonn said of her arm. Hopefully this self confidence will transfer over into the technical events, too."
After several centimeters of snow fell during the first half Thursday's training run and skies cleared and sun shined on the latter half, conditions were mild and dry throughout the race Friday and some racers' times were five seconds faster than in the previous day's training run, when the top finisher was the 63rd racer down the course.
"The problem yesterday was that I went in a complete snowstorm," Vonn said. "Today was a totally different track. Everything feels different. All the jumps are farther, all the turns are faster and everything feels different when you have more speed. It was a little bit shocking on some of the turns … how fast they were today."
Compared to other downhill tracks on the circuit, the Haus course in not particularly fast, thus, every small move affects a racer's finish time.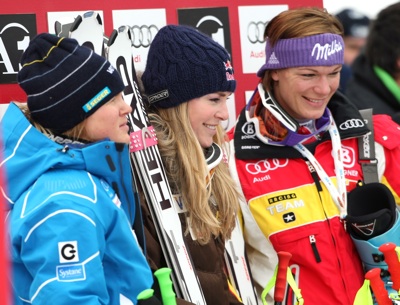 "This course is not so difficult, but it's difficult to be fast," said Reisch, who earned her first World Cup victory in the last downhill in Haus im Ennstal in 2004 then went on to tie Carole Montillet for the super G win two days later. "You need to take speed everywhere, wherever you can. Every little mistake is costing lots of time, so it's hard to make the run without mistakes and with good time. But I'm happy with my podium today. Tomorrow is another day and another race."
The second place was Anja Paerson's first World Cup podium since last February and she said it feels good for her results to once again reflect the effort she puts into her races.
"For myself, I always know what I can do, but it's 100,000 people who really want to know why I'm not winning races," Paerson said. "The only thing I know is that I'm 100 percent and sometimes just half a decimeter is on the wrong side and then you don't win the races. Hopefully I can gain on it with this podium. I've been on the circuit for a long time and you really have to be humble to everything and you really have to be on point the whole time. I know if I work really hard it will come back to me. I know I can get through the hard times and come back strong."
It was a good day for North American racers, with Emily Brydon representing her downsized Canadian team with a 10th place (1:40.39) and Stacey Cook the next fastest American in 13th (1:40.43).
Cook was the second racer down the course and had the joy of standing in the leader's box for the next five racers, joined briefly by Julia Mancuso, who was just .01 seconds behind her and ended up 14th.
"I think I executed my plan," Cook said. "The light was pretty flat when I went, but … luck of the draw. I think I did one of the best runs I could have for the conditions."
Alice Mckennis, who was the third starter on Friday, tied for 21st, and pointed out that her time was five seconds faster than in Thursday's training on the same course.
"It was definitely a different situation," she said. "The track was really smooth and slicked down a lot. And it's race day. You definitely tighten the screws down, tuck as much as you can and really go for it. I had a few little mistakes but I can change that for tomorrow."
Another racer looking forward to another chance in Saturday's downhill and Sunday's super G is Leanne Smith. After jetting up from the back field for two fast training runs, Smith crashed on the course Friday, but is unscathed and ready to pull it together again in the two days of racing. Chelsea Marshall was 33rd Friday and Keely Kelleher 48th.
There were three crashes Friday, the worst of which was probably Swiss racer Dominique Gisin's, who walked away limping. The saddest news of the day was that of Austrian Maria Holaus. One of the local favorites, Holaus fractured her right ankle warming up before the race.
- Shauna Farnell
Photos by GEPA
The SCOOP
By Hank McKee
Equipment
Women's Downhill, Haus im Ennstal, Austria, Jan. 8, 2010
Skier, skis/boots/bindings
1 Vonn, Head/Head/Head
2 Paerson, Head/Head/Head
3 Riesch, Head/Lange/Tyrolia
4 Fanchini, Dynastar/Lange/Look
5 Rolland, Rossignol/Rossignol/Rossignol
6 Marchand-Arvier, Rossignol/Rossignol/Rossignol
6 Merighetti, Salomon/Salomon/Salomon
8 Fischbacher, Atomic/Atomic/Atomic
9 Kamer, Voelkl/Tecnica/Marker
10 Brydon, Salomon/Salomon/Salomon
Women's Downhill, Haus im Ennstal, Austria, Jan. 8, 2010. … It is the 15th of 32 scheduled women's World Cup races for the 2010 season. … It is the third of eight slated women's downhills. … It is a make-up race originally scheduled at Val d'Isere Dec. 19 and called because of wind and fog. … That is the only race of the season postponed to date. … It is the 18th World Cup race held at Haus. … the eighth downhill and the first since 2004. … Prior to today's race Canadian Gerry Sorensen is the only North American to win a DH (Feb. 8, 1981) at the site. … Haus has only hosted women's World Cup races. … It is overcast with no wind and just below freezing.
It is the 26th career World Cup victory for Lindsey Vonn. … Her 15th in DH. … It is her fourth win of the season, third in DH. … She has won four consecutive DH's going back to last season. … It is the 202nd U.S. Cup win. … She matches Hermann Maier and Franz Heinzer mark for Cup DH wins. … For the women's DH win record she trails only Anne-Marie Moser-Proell (36) Renate Goetschl (24), Michaela Figini (17) and Katja Seizinger (16). … It is her sixth podium of the season.
It is the 86th career World Cup podium for Anja Paerson. … Her 11th in DH. … It is her first podium of the season after finishing fourth three times in three different disciplines.
It is the 34th career World cup podium for Maria Riesch. … Her tenth in DH. … It is her sixth podium of the season and her third in DH in three races.
It is the 37th time Emily Brydon has been top 10 in a World Cup race. … The fourth time this season. … Stacey Cook matches her sixth best career Cup result. … It is her fifth best all time in DH. … and her second best of the season having placed 11th in the second DH at Lake Louise Dec. 5. … Julia Mancuso matches her 90th best World Cup result. … It is her fourth best of the season. … She has finished six races this season placing between 10th and 16th in all of them without recording the same finish number in any two races. … It is the third best of four career scoring results for Alice
McKennis, all coming this season. … It is the 70th career Cup scoring result for Britt Janyk. … Her fifth of the season.
The top seven skiers were within the same second. … Top 22 within two seconds.
Vonn regains the lead of the World Cup overall standings 694-659 over Riesch. … Kathrin Zettel (did not race) is third at 569. … Brydon leads the Canadians in 11th place with 221pts. … Vonn leads the downhill standings with a perfect 300pts. … Riesch is second at 200. … Paerson third at 170. … Janyk leads the Canadians in seventh with 82pts.
Place
Haus
im Ennstal (AUT)
Discipline
Downhill
Date
08.01.2010
Category
FIS World Cup
Race codex
5546
Gender
L
Valid for FIS Points
YES
TD Name
Zingerle Josef (ITA)
Rank
Bib
FIS Code
Name
Year
Nation
Total Time
FIS Points
1
16
537544
VONN Lindsey
1984
USA
1:38.84
0.00
2
22
505483
PAERSON Anja
1981
SWE
1:39.19
4.67
3
21
206001
RIESCH Maria
1984
GER
1:39.23
5.21
4
17
296729
FANCHINI Nadia
1986
ITA
1:39.68
11.22
5
10
195983
ROLLAND Marion
1982
FRA
1:39.78
12.55
6
11
196460
MARCHAND-ARVIER Marie
1985
FRA
1:39.80
12.82
6
9
296008
MERIGHETTI Daniela
1981
ITA
1:39.80
12.82
8
18
55750
FISCHBACHER Andrea
1985
AUT
1:40.05
16.16
9
25
515806
KAMER Nadja
1986
SUI
1:40.10
16.83
10
19
105997
BRYDON Emily
1980
CAN
1:40.39
20.70
11
8
515766
SUTER Fabienne
1985
SUI
1:40.41
20.97
12
23
515170
STYGER Nadia
1978
SUI
1:40.42
21.10
13
2
537582
COOK Stacey
1984
USA
1:40.43
21.23
14
6
537545
MANCUSO Julia
1984
USA
1:40.44
21.37
15
5
515560
SCHILD Martina
1981
SUI
1:40.46
21.63
16
62
205218
REBENSBURG Viktoria
1989
GER
1:40.52
22.44
17
1
55947
FENNINGER Anna
1989
AUT
1:40.58
23.24
18
26
296472
FANCHINI Elena
1985
ITA
1:40.64
24.04
19
14
206175
STECHERT Gina
1987
GER
1:40.71
24.97
20
12
565243
MAZE Tina
1983
SLO
1:40.82
26.44
21
7
515849
DETTLING Andrea
1987
SUI
1:40.83
26.58
21
3
538685
MCKENNIS Alice
1989
USA
1:40.83
26.58
23
4
195671
JACQUEMOD Ingrid
1978
FRA
1:40.88
27.24
24
15
55576
GOERGL Elisabeth
1981
AUT
1:40.89
27.38
25
32
295533
RECCHIA Lucia
1980
ITA
1:40.90
27.51
26
51
355050
WEIRATHER Tina
1989
LIE
1:40.99
28.71
27
33
505632
LINDELL-VIKARBY Jessica
1984
SWE
1:41.00
28.85
28
30
515429
DUMERMUTH Monika
1977
SUI
1:41.01
28.98
29
50
55766
MADER Regina
1985
AUT
1:41.03
29.25
30
47
505886
KLING Kajsa
1988
SWE
1:41.05
29.51
31
27
106022
JANYK Britt
1980
CAN
1:41.08
29.92
32
34
55759
KIRCHGASSER Michaela
1985
AUT
1:41.09
30.05
33
42
538038
MARSHALL Chelsea
1986
USA
1:41.10
30.18
34
36
296427
SCHNARF Johanna
1984
ITA
1:41.25
32.19
35
40
296431
STUFFER Verena
1984
ITA
1:41.28
32.59
36
29
495318
RUIZ CASTILLO Carolina
1981
SPA
1:41.40
34.19
37
46
55970
SCHMIDHOFER Nicole
1989
AUT
1:41.41
34.32
38
24
296473
SIORPAES Wendy
1985
ITA
1:41.47
35.12
39
60
106666
RUBENS Shona
1986
CAN
1:41.51
35.66
40
13
196573
REVILLET Aurelie
1986
FRA
1:41.53
35.92
41
43
225206
ALCOTT Chemmy
1982
GBR
1:41.61
36.99
42
55
565320
FERK Marusa
1988
SLO
1:41.72
38.46
43
52
55882
STAUDINGER Christina
1987
AUT
1:41.74
38.73
44
37
55913
MOSER Stefanie
1988
AUT
1:41.93
41.27
45
58
425880
SEJERSTED Lotte Smiseth
1991
NOR
1:41.99
42.07
46
39
375018
COLETTI Alexandra
1983
MON
1:42.10
43.54
47
56
465059
MIKLOS Edith
1988
ROU
1:42.31
46.34
48
44
537565
KELLEHER Keely
1984
USA
1:42.35
46.88
49
57
155563
KRIZOVA Klara
1989
CZE
1:42.55
49.55
50
53
55806
ALTACHER Margret
1986
AUT
1:42.70
51.55
51
48
297702
MARSAGLIA Francesca
1990
ITA
1:42.87
53.82
51
45
105920
SIMMERLING Georgia
1989
CAN
1:42.87
53.82
53
41
297153
CIPRIANI Enrica
1988
ITA
1:43.15
57.56
54
61
55952
HACKL Karin
1989
AUT
1:43.25
58.90
55
35
196812
PELLISSIER Marion
1988
FRA
1:43.49
62.10
56
49
485563
PROSTEVA Elena
1990
RUS
1:43.50
62.23
57
54
515937
FUHRER Kathrin
1988
SUI
1:43.60
63.57
58
59
225308
THORBURN Pamela
1986
GBR
1:44.15
70.91
Did not start 1st run
55669
HOLAUS Maria
1983
AUT
Did not finish 1st run
515573
AUFDENBLATTEN Fraenzi
1981
SUI
538305
SMITH Leanne
1987
USA
515747
GISIN Dominique
1985
SUI