Women ski jumpers lose appeal's court battle
Tweet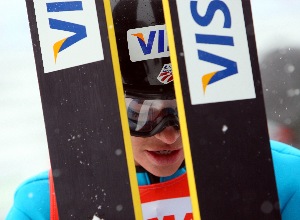 VANCOUVER,BC– In an ironic day on the calendar, Friday, November 13 seemed to live up to its bleak reputation. It seems a day for many that will not be soon forgotten.
Following a three year effort to allow women ski jumpers to take part in the 2010 Olympic Winter Games in Vancouver, a verdict was rendered, and it didn't go the jumpers' way. In the ruling released yesterday afternoon, The British Columbia Court of Appeal dismissed an appeal of a ruling by the BC Supreme Court regarding women's ski jumping at the 2010 Games. 15 women jumpers were part of the legal action.
The decision was unanimous amongst the three judges. Speaking on behalf of the other two judges, BC appeal court Justice Ann Rowles said written reasons would be handed down next week.
Of course, as it so often is the case, the arguments raised in court were centered on fine legal and technical arguments on both sides.
Last July the first round of legal action was in another British Columbia courtroom, in front of Justice Lauri Ann Fenlon. Attorney for the plaintiffs in the action known as Sagen vs The Vancouver Olympic Organizing Committee, Ross Clark said that Justice Fenlon had erred when she ruled that while VANOC was covered by the Charter of Rights, that the IOC is not and thusly could not be ordered to hold an event for women in ski jumping.
Following the ruling, VANOC's Chief Executive officer told CTV Sports, " We appreciate the court's time and careful consideration of these complex issues, with 91 days remaining until the start of the 2010 Olympic Winter Games, we must remain focused on our preparations to stage the 2010 sport program set out by the IOC…we remain supportive of these remarkable young women and of having women's ski jumping added to the roster of future Olympic Winter Games."
No comments were received, despite phone calls and emails to representatives of Women's Ski Jumping-USA, at this hour.
By: Peter Graves
Image: World Champion ski jumper Lindsey Van (USA) is among the 15 women jumpers who lost thier battle to compete in the 2010 Games.
Comments
comments