X Games: Hudek wins women's skiing superpipe
Tweet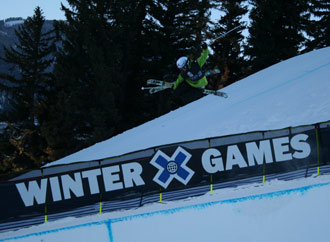 ASPEN, Colo. (Jan. 29) – Up against three Canadians, a Swiss and a Frenchwoman, hometown girl Jen Hudak prevailed in the women's skiing superpipe at X Games 14 tonight.
The Aspen native landed a huge 900 and a an alley-oop 500 on the skiers left wall, a trick Hudak has been working on for years, to seal her first X Games gold. "It terrifies me every time I do it but it worked out tonight so I'm stoked," said Hudak who blew her knee only a year ago at a World Cup competition in Park City, Utah.
"It's the best feeling I could ever imagine," said Hudak, last year's silver medalists, of accomplishing a goal she held for six year. "This is the best night of my life."
Calgary's Megan Gunning earned a silver medal at her first X Games at 17 years old. Roz Groenewoud, also from Calgary, rounded out the podium in third.
Whistler native and three-time winner here, Sarah Burke couldn't make it four in a row as she fell to sixth place.
Defending Olmypic and X Games gold medalists Shaun White will have have his turn in the pipe later tonight in the men's snowboard superpipe competition.
For a complete list of this weekend's competition and TV schedule click here.
Look for more in-depth X-Games coverage, images and video in the next digital issue of Ski Racing.
Story and image by Eric Williams
Results
Name Bib No. Hometown Score
1. Jen Hudak 583 Aspen, Colo. 92.33
2. Megan Gunning 521 Calgary, AB, Canada 90.66
3. Roz Groenewoud 585 Calgary, AB, Canada 86.00
4. Mirjam Jaeger 553 Zurich, Switzerland 80.33
5. Anais Caradeux 518 La Clusaz, France 76.33
6. Sarah Burke 570 Whistler, BC, Canada 73.66
Comments
comments