X Games: White wins superpipe, Brown takes ski big air
Tweet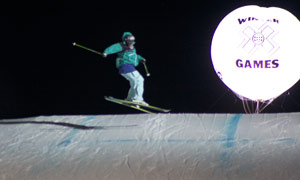 ASPEN, Colo. (Jan. 20) – The crowd was big, but the superpipe was bigger at tonight's men's snowboarder superpipe finals at the Winter X Games 14.
During a practice session only an hour before the final round of competition, defending Olympic and X Games gold medalist Shaun White smacked his face on the edge of the 22-foot-tall pipe. The blow knocked of the nine-time X Games gold medalist's helmet and drew and gasps groan from the capacity crowd. After X Games docs checked him over twice, White was cleared for competition and went on to win his third consecutive superpipe gold.
With a score of 95.33, White bested Swiss rider Iouri Podladtchikov in second and Japan's Kazuhiro Kokubo in third. White clenched the win in his first run with a 180 double cork, a 540 stalefish, a double McTwist and an alley-oop rodeo.
"I am pumped to have made that first run as that trick is a beast of its own," said White. "I am excited to be headed to the Olympics with these guys. Its good company to be in. Everyone here killed it tonight."
Earlier in the evening Breckenridge, Colo. native Bobby Brown won the skiing big air gold medal ahead of Canadian TJ Schiller in second and 17-year old Swiss skier Elias Ambuhl in third.
The five finalists were given 20 minutes to pull in the highest scoring trick they could over an 85-foot step-up gap. Brown made X Games history with two 50 point tricks and a perfect 100-point overall score.
"My winning trick was a switch double misty 1440. I'd never done it before but I saw TJ [Schiller] just stomp the most ridiculous trick I'd ever seen in my life so I was just like 'ok I got to try something new," said Brown. "I don't even know how I landed on my feet. I'm beyond stoked right now."

"It is so exciting to see how good everyone is," said Schiller. "I couldn't believe Bobby had a perfect score. No one has ever done that, ever."

Last year's winner Simon Dumont pulled out of the big air event after falling hard during superpipe training. He is expected to compete in the ski superpipe event.


For a complete list of this weekend's competition and TV schedule click here.
Look for more in-depth X-Games coverage, images and video in the next digital issue of Ski Racing.
Image: Bobby Brown looking perfect. (Eric Williams)
Snowboard SuperPipe Men's
Final Results from Aspen/Snowmass on Friday, January 29, 2010

Name Bib # Hometown Score
1. Shaun White 319 Carlsbad, Calif. 95.33
2. Iouri Podladtchikov 385 Zurich, Switzerland 93.66
3. Kazuhiro Kokubo 349 Ishikari City, Japan 91.00
4. Greg Bretz 348 Mammoth Lakes, Calif. 89.66
5. J.J. Thomas 351 Breckenridge, Colo. 82.33
6. Steve Fisher 352 Breckenridge, Colo. 74.66
7. Luke Mitrani 317 Mammoth Lakes, Calif. 57.00
8. Louie Vito 384 Bellefontaine, Ohio 46.66
Skiing Big Air
Final Results from Aspen/Snowmass on Friday, January 29, 2010


Name Bib No. Hometown Score
1. Bobby Brown 592 Breckenridge, Colo. 100
2. TJ Schiller 510 &
nbsp; Vernon, BC, Canada 95
3. Elias Ambuhl 561 Laax, Switzerland 90
4. Russ Henshaw 540 Jindabyne, Australia 89
5. Jossi Wells 536 Wanaka, New Zealand 89
Comments
comments