The biggest race on the women's World Cup race circuit is about to be underway in Zagreb, Croatia, but rainy, sloppy weather is making things difficult for organizers.
"The situation has been extreme and we still have a lot of work to do to be successful tomorrow," said FIS director Atle Skaardal at the team captain's meeting Saturday evening, referring to temperatures that went from -15 to 18 celsius in Zagreb's city center in a matter of days.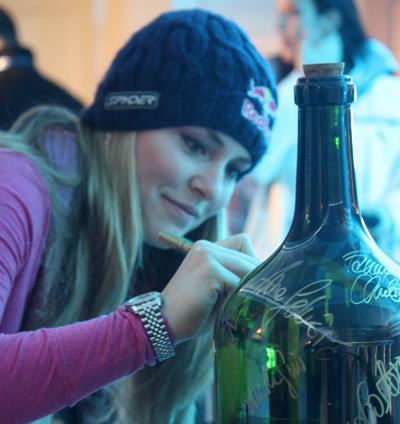 Snowmaking has been challenging and organizers said they will work all night to make sure the finish area has snow in it.
Nonetheless, the race will go on, and the women's World Cup's biggest prize purse (135,000 euros to split among the top 30 racers) awaits, as do thousands upon thousands of excited Croatians.
Lindsey Vonn was donning a pink brace on her left arm at the bib draw ceremony, joking that she has reached new heights in duct tape fashion but saying that her hand is still in considerable pain.
"It still hurts quite a bit when I ski," she said. "There's not much I can do besides try my best and hope that it feels better."
She will be wearing bib No. 3 in the first run of Sunday's race, which begins at 3:35 a.m. EST time and can be viewed on universalsports.com.
Other U.S. starters include Hailey Duke (35), Sterling Grant (37), Sarah Schleper (38) and Kaylin Richardson (72).
There are a record 82 starters in the sixth running of the Snow Queen event.
Last year's Snow Queen, Maria Riesch, is starting No. 4, and, when asked how she was feeling at the bib draw, said she's ready to defend her throne.
"I think it will be tough, but I'll do my best," she said.
Race organizers were praying that the humid rain in the city would turn to snow up on the Sljeme race course, located a few hundred meters above town.
Kathrin Zettel will be the first racer down the hill tomorrow, followed by teammate Marlies Schild, fresh off her slalom victory in Lienz earlier this week.
by Shauna Farnell
PHOTO: Lindsey Vonn adds her signature to the Zagreb bottle before the bib ceremony on Saturday (SF).