MARIBOR, Slovenia – Kathrin Zettel reached the clouds in Maribor on Sunday. After claiming her first win of the season in Saturday's World Cup giant slalom, the Austrian landed the first slalom victory of her Cup career, finishing with a two-run combined time of 1 minute, 42.98 seconds.
It looked as if Zettel's teammate Marlies Schild was poised for another slalom victory. Schild led the first run by more than a second but straddled a gate in the second. Tina Maze, ninth after the first run and almost two seconds back, prompted a roar from the massive home crowd when she skied into first place in her second run, then held on to take the second step of the podium, .72 seconds behind Zettel.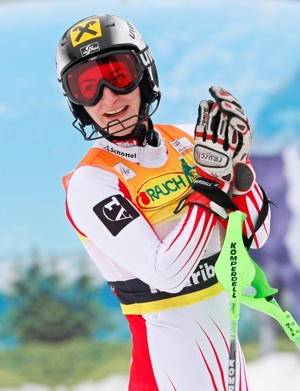 World Cup slalom leader Maria Riesch, who has now finished on the podium in the last three races, including a second place Saturday for the first podium of her GS career, was third, 1.28 seconds back, and now leads Lindsey Vonn in the overall standings with 922 points to Vonn's 894.
Vonn had a tough first run, never finding speed in the turny course set and making a couple of mistakes to finish out of the flip for the second run.
"She just needs a break," U.S. women's head coach Jim Tracy said of Vonn, who took a huge emotional blow on Saturday when she was sitting in second place after the first GS run in Maribor then crashed just before the finish line in the second run. "Mentally, these races really take their toll. Also, this course doesn't necessarily suit her style of skiing."
The gate set for the second run was considerably more open than the first and several racers capitalized on the space to find their speed while others – like Schild – met with bad luck. Zettel's luck – not to mention her talent for adjusting to the conditions – was as good as it gets.
"It's an amazing day," Zettel said. "I can't believe it. After the lead from Marlies in the first run, I didn't believe [it could happen]. It's wonderful. I'm flying now on cloud seven. I'll take it to the Olympics."
The race was the last slalom before the Olympics … the only one remaining after that will be at World Cup finals in March in Garmisch.
Racers said the course set for the first run at Maribor was one of the turniest they've seen on the slalom circuit this season. Schild was surprised to come down more than a second in the lead … especially considering the flat light and heavy snowfall. Conditions were bumpy for late racers in the second run, in which Maze (48.52 seconds) and Zettel (48.60 seconds) put down the fastest times.
"I can't believe it because Marlies was in front of me the first run. I had to take full risk and ski well," said Zettel, who, with her ninth podium of the season – her fifth in slalom – now trails Riesch in the slalom standings with 410 points to Riesch's 433. "I'm very proud today. [In] slalom [it] was a big wish for my heart to win one time."
Maze, who was disappointed with her 13th place in Saturday's GS after winning last year's race, said she didn't feel much pressure going into the second slalom run after finishing ninth in the first.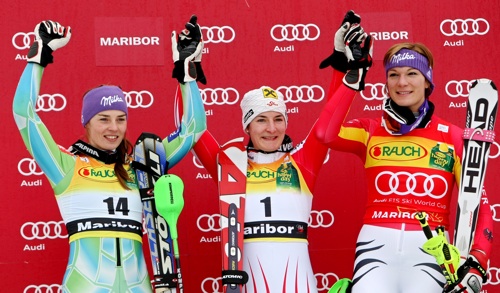 "The times were quite tight to the fourth place, [it] was only three tenths," Maze said. "I thought I could improve to there with my good run. I was just trying to have fun on the slope and ski like I can."
Maze said that eight buses full of fans came from her nearby village – Crna – and she was clearly the star of the venue, with members of her family selling "Tina Maze" scarves outside of the stadium and the entire place chanting her name when it became clear that she would finish on the podium.
"I'm happy that I made home happy," Maze said. "It was a special race after yesterday's disappointment. I'm happy I could do that today."
Riesch, who now has three back-to-back podium finishes in tech events, was quick to remind everyone that a series of speed races are coming up and Vonn will be back on her game.
"Of course it's nice to be the leader but it's not the end of the season," Riesch said. "I think Lindsey could be hard to beat again in Cortina and St. Moritz. I took my chance here and made good results, but it's not the end of the season yet, so it's not good to think too much about [winning the overall] already."
As for slalom, Riesch said that the field is much more competitive this season and the battle for the slalom globe will a be a close one.
"In slalom I'm a little bit away from my performance last year because last year at this time I was winning four races in a row," Riesch said. "The fact that Marlies is back and back strong makes it more competitive. It's also Kathrin Zettel, Sandrine Aubert, my sister … lots of people giving me a hard time. I'm a little bit away from my best performance ever. It's a tight race against Kathrin now. I hope I can still win the slalom globe."
The only North Americans to finish Sunday's race were Canadians Brigitte Acton and Marie-Michele Gagnon, who finished 23rd and 28th, respectively.
Tracy said that Vonn started and ended her race on the wrong foot after her emotionally exhausting day on Saturday and is struggling to find the right equipment setup and her stride in tech events. He said while there were a few shining seconds, the rest of the team just didn't pull it together. Sarah Schleper was putting down a fast run but straddled a gate in the middle of the course, while Megan McJames and Julia Mancuso also DNFed in the first run and Hailey Duke, Sterling Grant, Kiley Staples and Kaylin Richardson finished way down the line.
"It just wasn't the best day," Tracy said. "There were some good things. Sarah was charging away and just made a silly mistake. Hailey did some good things, Sterling did some good things … but it was an off day."
The FIS Audi women's World Cup continues this weekend in Cortina d'Ampezzo, Italy, with downhill, super G and GS races.
- by Shauna Farnell
Photos by GEPA
The SCOOP
By Hank McKee
Equipment
Women's Slalom, Maribor, Slovenia, Jan. 17, 2010
Skier, skis/boots/bindings
1 Zettel, Atomic/Atomic/Atomic
2 Maze, Stoeckli/Lange/Rossignol
3 Riesch, Head/Lange/Head
4 Riesch, Head/Lange/Head
5 Aubert, Fischer/Fischer/Fischer
6 Pietilae-Holmner, Rossignol/Rossignol/Rossignol
7 Leinonen, Fischer/Fischer/Fischer
8 Chmelar, Head/Lange/Head
9 Zahrobska, Head/Head/Head
10 Geiger, Rossignol/Rossignol/Rossignol

Women's slalom, Maribor, Slovenia, Jan. 17, 2010. … It is the 20th race of the women's 33 race 2010 World Cup schedule. … It is the seventh of eight scheduled slaloms. … It is the 61st World Cup race held at Maribor. … the 34th slalom.
It is the eighth career World Cup win for Kathrin Zettel. … Her first in slalom, the remaining seven all coming in GS. … It is her second straight win having also won yesterday's GS. … It is her second win of the season, but ninth podium. … It is her 14th career slalom podium. … Her third at Maribor in two seasons.
It is the 19th career World Cup podium for Tina Maze. … Her first in slalom. … It is her second Cup podium of the season, the other, also a second, coming in GS at Are Dec. 12. … She has four career podium results from Maribor including two GS wins from 2005 and last season.
It is the 37th career World Cup podium for Maria Riesch. … Her 13th in slalom. … It is her ninth Cup podium of the season. … Her fourth in slalom. … It is the fourth time this season Maria and her sister Susanne have finished a Cup race in consecutive positions.
It is the 21st best of 29 ca
reer scoring efforts for Brigitte Acton. …her 15th score in slalom. … It is her sixth score of the season all of them coming in slalom. … It is the fifth career Cup scoring result for Marie-Michele Gagnon. … third in slalom. … Her second score of the season,, the other a 14th place finish at Levi Nov. 14.
Maria Riesch regains the lead of the World Cup overall standings 922-894 over Lindsey Vonn (DNQ). … Zettel holds third at 829pts. … Emily Brydon (did not race) is the top Canadian on the overall list in 18th place with 231pts. … Riesch maintains the lead of the slalom standings 433-410 over Zettel. … Sandrine Aubert (5th in race) sits in third with 361pts. … Vonn is the top North American in 13th place with 125ots. … Acton the top Canadian in 22nd placce with 66pts. … Austria leads the women's Nations Cup 2510-2385 over Germany. … France is third at 1620. … The U.S. fourth at 1442 and Canada eighth at 648.
Results: