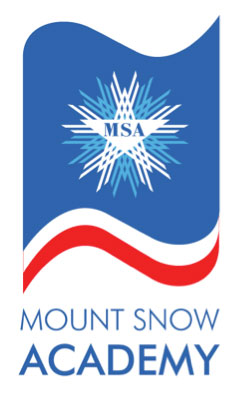 Founded: 1980
Sports: Alpine, freeski, snowboard
Grades: 6 to 12
Program Length: November to early April
Application Period: May 1, then rolling admissions according to discipline. Admission to Mount Snow Academy is based on the applicant's character and potential as a student, athlete and member of the community. Applicants are expected to be strong skiers and riders, although former competitive experience is not necessary. The strongest applicants are self-directed and motivated, both in the classroom and on the mountain. It is strongly recommended that applicants visit during the season prior to matriculation and interview with both the director and the head coach of their particular discipline. In the absence of previous competition experience and results, our head coach determines the applicant's athletic potential.
Staff/Student Ratio: 1:1 student/teacher ratio; 5:1 student/coach ratio
Cost: Boarding $28,900 (full season), $26,600 (post-Thanksgiving); Day $22,100 (full season), $20,900 (post-Thanksgiving)
Scholarships: Financial assistance (in the form of tuition relief) is effectively a confidential gift from MSA to the student. It does not need to be repaid. Applicants seeking financial assistance should request a financial aid application that is submitted to the School & Student Services for Financial Aid by NAIS (SSS) in Princeton, N.J. MSA's scholarship committee allots available funds using SSS as a factor in determining the family's contribution. Financial need is a strong determiner of financial aid, although the following criteria are taken into consideration: demonstrated excellence in academic, athletic, or extracurricular performance, grade level, and personal conduct.
Head of School: Lynne Sullivan, Director, Mount Snow Academy
Academics and Overview
Mount Snow Academy is a full-time winter academy for ski and snowboard competitors in grades 6 to 12. Whether aspirations are Olympic or collegiate, MSA offers an environment in which young people can work to achieve their personal best in each area of their lives. MSA staff, coaches, and teachers work together to balance a focused academic life with a rigorous training and competition program. This strong presence of both on-slope and classroom instruction develops a solid sense of self among students.
Our student athletes are taught in the respective curricula of their sending schools on a one-to-one basis, a different teacher for each subject. Through our uniquely individual academic instruction, our students learn self-discipline, time management, and the importance of setting and achieving goals. Every class is interactive. These same attributes are translated to their lives on the slopes. Our coaching staff is deeply experienced and dedicated to the success of their athletes, focusing on their integrity as they embrace the new challenges that come with being a serious athlete.
The Mount Snow Academy house is located one half mile from the Training Center and the base of Mount Snow. The House is not a typical dorm per se, and is conducive to the atmosphere one might find in a home rather than a dormitory. Students live with one another as siblings might: the respect, privacy, and trust one would accord a family member is what Mount Snow Academy expects and what the Academy House engenders. The House Parents work with the Director to set and maintain the guidelines of the household.
Coaching
Head Coaches: Alpine: Ben Sullivan; freeski: Robby Sullivan; snowboard: Steve Kwasniewski
Coaching Staff: Working alongside our head coaches are Andrew Norton (alpine), Joe Vanacore (freeski) and Tommy Burke (snowboard)
Notable Alumni
Four-time Olympian, three-time medalist Kelly Clark (gold in 2002, bronze in 2010 and 2014), 2014 Olympic silver medalist Devin Logan, 2014 Olympian Eliza Outtrim, and multiple NCAA and USCSA skiers
Training Facilities
At Mount Snow Academy, the students' classes are held in our 10,000-plus square-foot Training Center, just 200 feet from the main base of Mount Snow. MSA alpiners are not limited to a particular trail or type of terrain for training, which allows coaches to customize daily training according to the competition schedule. Our freeski and snowboard programs train at Mount Snow's Carinthia mountain face, the only one of its kind in the East. Skiers and riders can train on 125 freestyle features scattered around 12 full terrain parks. An 18-foot superpipe and an 8-foot wall mini-pipe along with a big air site are featured. New this year is a state-of-the art workout facility that will benefit all MSA athletes.