A groundbreaking new study reveals whether early achievers or late bloomers find greater success
If you started racing before you could ride the school bus — or if you're a parent considering swapping the Baby Bjorn for a pair of race boots — you're not alone. It's long been thought that the earlier ski racers start, the greater their chances at success.
But what if we told you that success in ski racing at an early age may actually hurt long term success and development? Well, that's exactly what research suggests.
The Background
When it comes to a racer's development, many speculations abound. Some coaches and parents maintain that racers must be competitive and reach success at a young age in order to maximize their chances of competing at high levels. Others believe racers can't be competitive if initial success is achieved at an older age. But these speculations bring up plenty of questions:
Do racers who attain initial success at an early age still race at later ages?
Are racers who don't attain initial success until later ages less likely to become national or international level racers?
At a time during which the average age of a male U.S. Olympic Alpine Ski Team racer is 28 (such as at the Sochi 2014 Games), at what age should athletes begin to focus on success and winning over fun and development?
The Study
In an effort to provide more concrete evidence to these speculations, we completed a study of 2,210 male USSA and FIS skiers. Racers were placed into three groups based on the age of their first top-20 USSA race result. These age groups were: under 13 years old, 13-17, and older than 17. Racers achieving their first top-20 success in the under-13 category could be considered "early achievers," while athletes achieving their first top-20 result after age 17 could be considered late bloomers. These groups were then examined for the following three parameters: 1. Age of athlete at last recorded race, 2. Lowest FIS rank achieved, and 3. Total years ski racing.
The Results
Age of first USSA top-20 race result
| | | | |
| --- | --- | --- | --- |
| | 12yrs & younger | 13-17yr old | 18yrs & older |
| Age of athlete at last recorded race | 17.6 years | 19 years | 20.4 years |
| Lowest FIS rank achieved | 1,118 | 1,090 | 1,518 |
| Total years ski racing | 6.4 years | 4.5 years | 1.9 years |
The most striking result of this study: those racers in the under-13 year group quit racing, on average, about two years earlier than racers who achieved a top-20 race result after age 13.
These findings also indicate that athletes are more likely to continue racing at older ages if they achieve their success during the 13-17-year-old phase. This does not imply that participation in training and racing should be delayed — but that the intensity at which racing is pursued should be kept in check. The gradual progression of physical and mental development throughout the 13-17-year-old phase may increase the odds of racing at later ages. This is supported by the fact that athletes achieved their lowest FIS ranking when the age of the first top-20 race result occurred during the 13-17 year old window.
Finally, racers who attained their first USSA top 20-race result when they were younger than 13 raced for more total years than those older than 13 years of age. This only makes sense since they presumably started racing at an earlier age.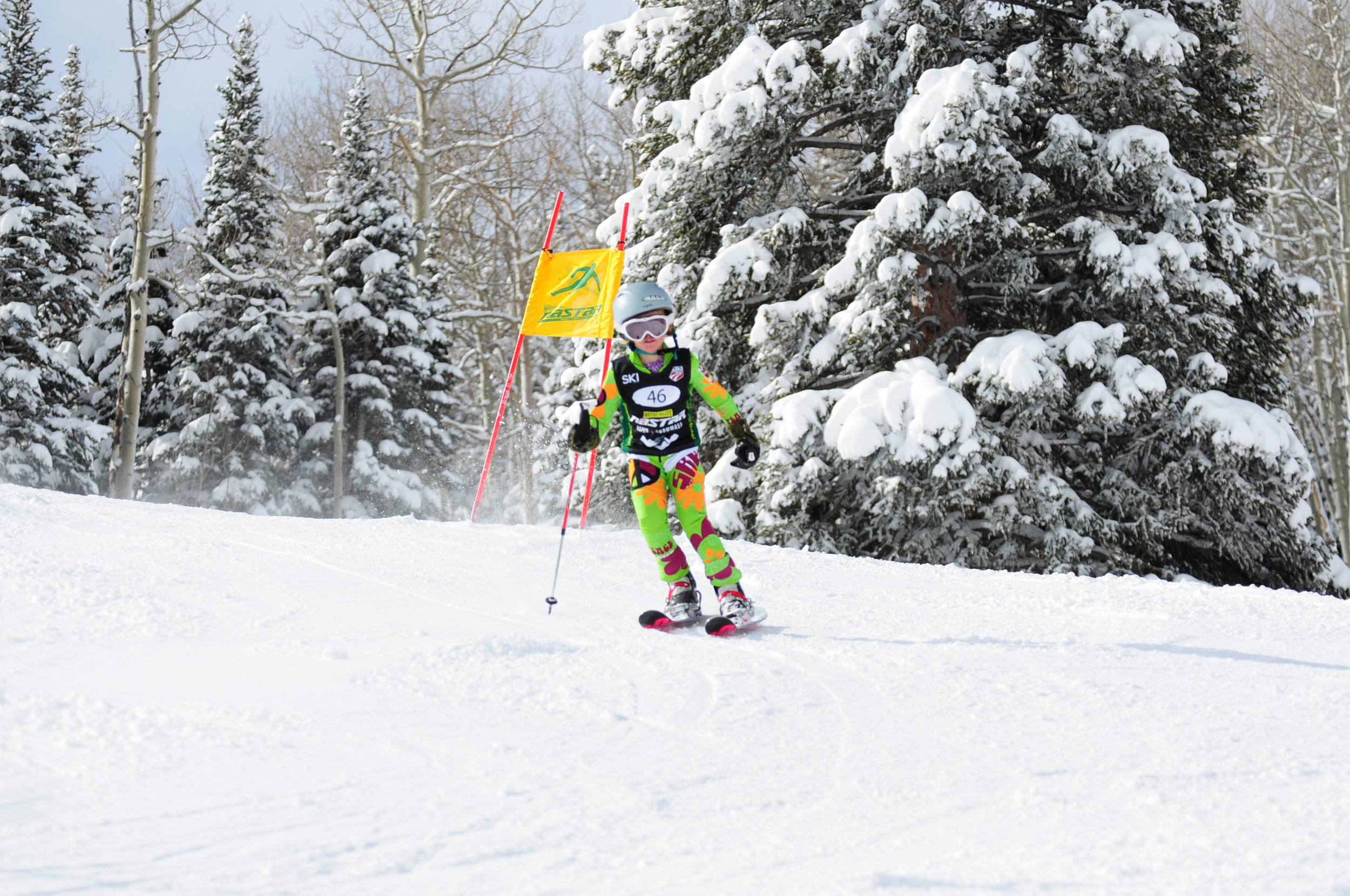 Credit: Sharpshooters
Practical Application
So as a coach, or parent, you wonder, what does this mean for the athlete?
Most importantly, know your athlete and be aware of what developmental stage they are in. Allow for skill acquisition and development so that the young racer has a sense of accomplishment.
Young athletes don't need to run gates for an entire training session. In fact, USSA recommends that roughly 80 to 90 percent of the day should be spent in freeskiing and skill development for athletes under age 13. An example would be USSA's SkillsQuest, which focuses on skill progression and development while providing a low-key, competitive atmosphere. These skills provide a foundation that will be used throughout their skiing career. SkillsQuest tasks can give an athlete incremental goals and confidence.
In short, think games and freeskiing while introducing and refining skills — and maximizing skiing volume.
Although an expectation of winning is often introduced during the 13-17-year-old phase, winning should not be the sole purpose. Instead, athletes should be introduced to the broad concept of success. Numerous small personal successes will add up to big gains for the racer over time.
Racers getting their first top-20 race result during the 13-17-year-old phase were more likely to score a lower FIS ranking. How coaches and parents present these goals to athletes will impact their future success in the sport of ski racing. Getting serious about ski racing during this phase will typically result in a ski racing career that's about two years longer, and with a lower FIS ranking, than when success is met during at an early age.
Once a racer is older than 17, success can finally be the major focus. Many racers, especially those who reached success early in their development, will drop out before this stage. But others won't achieve their first USSA top-20 ranking until they enter this later phase.
As a coach or parent, you shouldn't ever give up on your athlete; they may just be a late bloomer. Recognize the potential for all athletes to achieve success in alpine ski racing at any age. A perfect example is that of the Sochi 2014 Olympic men's alpine team. All of these men achieved their first top-20 USSA finish between 13 years and 17 years of age. Furthermore, none of these skiers could be found in the top 100 FIS rankings before they turned 20 years old.
Take-Home Message
Our analysis of race results from more than 2,200 USSA male ski racers supports the recommendations of USSA's Alpine Training System. Elite racers are equipped with a big bag of skills that they have developed over many years of skiing. If athletes are pushed too hard and too early, they are more apt to drop out at an early age. Finding that balance among skill development, having fun, and attaining success with your ski racers is important to their long-term development. There should be a mix of fun, learning, and the athletes' view of what is serious. Reducing athlete burnout, increasing athlete participation and creating a lifelong love of skiing should be high on the priority list when working with young athletes.