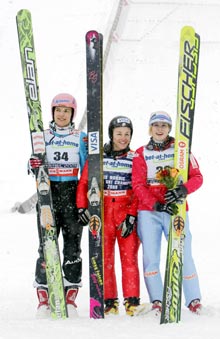 The International Ski Federation (FIS) has voted to create a women's ski jumping World Cup circuit starting with the 2011-12 season.
During the FIS Congress in Antalya, Turkey, last week, members unanimously agreed to start a women's ski jumping World Cup circuit — providing a significant boost to the jumpers' bid for inclusion in the Sochi 2014 Olympic Winter Games program. Ski jumping is the only discipline in the Winter Games that does not allow women to compete.
FIS cited the success of the Continental Cup circuit — which started in 2005 — as its reasoning for approving the new top-tier event. FIS also is asking the International Olympic Committee to add women's ski jumping to the 2014 Sochi Games.
"This is a major step forward for women's ski jumping," said Women's Ski Jumping USA President Deedee Corradini. "One of the reasons the IOC has used in the past to justify not allowing the women into Vancouver 2010 is that the women didn't have a World Cup to date. Having a World Cup in 2011-2012 and our second World Championship in 2011 opens the door wide for our inclusion in Sochi 2014."
Lindsey Van, of Park City, Utah, won the inaugural women's ski jumping World Championship in 2009 in Liberec, Czech Republic, becoming only the second American in history to win a World Championship ski jumping medal. Ulrike Graessler, of Germany, was second and Anette Sagen, of Norway, was third.
Women ski jumpers will compete again on the 90-meter normal hill in the 2011 Worlds in Oslo, Norway, though FIS has yet to add a team event to the line-up. FIS did, however, add a team event to the Junior World Ski Championships in 2010-2011.
While the World Cup news is positive, Corradini said it's been a huge challenge for the U.S. Women's Ski Jumping Team to gain financial traction. The U.S. Ski and Snowboard Association dropped all funding to the team in May 2009 because it wasn't included in the Olympic program. Women's Ski Jumping USA, the team's foundation, has since taken over financial and administrative support of the team, which is ranked second in the world.
"We're literally broke," Corradini said. "But we're working diligently this summer to raise money to help these talented and skilled athletes travel, compete and prepare for Worlds in 2011 and hopefully the 2014 Games."
Image by Gepa