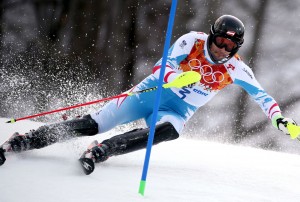 ROSA KHUTOR, Russia – Austrian veteran Mario Matt threw down a clutch second run at a most opportune moment, on an extremely tough course (more on that later), and captured the gold medal in men's slalom on Saturday night, the final alpine event of the Sochi Winter Olympic Games.
Matt, twice a gold medalist at the World Championships (in Are in 2007 and St. Anton in 2001), had never before won a medal at the Olympics. He stood in the start with his teammate, Marcel Hirscher, in first place.
Under the lights at the Rosa Khutor Alpine Center, Matt had 1.28 seconds to spare, his lead over Hirscher after the first run. And he gave almost all of it back, losing time, particularly on the difficult bottom pitch. But he had just enough cushion to wind up with the gold medal, by 0.28 seconds. His two-run time was 1:41.84, to 1:42.12 for Hirscher.
In third behind the two Austrians was Henrik Kristofferson of Norway, who finished the first run in 15th place, but had a brave second run to claim the bronze medal, in 1:42.67.
"You can tell yourself this is just a training run," Matt said in the finish, "but when it works out like this it is incredible. A massive goal has come through for me today. … (To win an Olympic medal) everything has to fit together, and I was lucky in this case. I thought that today I would just ski and just see what happens. I approached the course with that attitude and it worked out."
The medals for Matt and Hirscher gave Austria four in the past two nights; Austria's Marlies Schild and Kathrin Zettel finished second and third behind Mikaela Shiffrin in the women's slalom on Friday. Austria ended the Games with nine medals in alpine skiing, three gold, four silver and two bronze. The U.S. was the runner-up in the alpine medal count, with five, two gold, a silver and two bronze.
On Saturday night, the top, and only, finisher for the U.S. was Nolan Kasper, who had a solid second run and moved up from 18th to 13th place. "I knew the course was falling apart," he said, "and everybody was watching guy after guy fall or blow out. You've just got to keep fighting."
As it happened, the second run featured another devilish Ante Kostelic course set – the Croatian coach whose son, Ivica, was in the mix Saturday night. Ante Kostelic caught some flak for a tough slalom set in the men's super combined. And this slalom course caught quite a few skiers, including the U.S. team's Ted Ligety, who was within range of the leaders after the first run, in sixth place, just 0.86 seconds out. But he skied out halfway down the course. And afterwards, he had quite a bit to say about the quality of the set.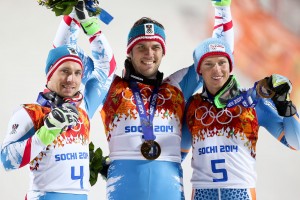 "The snow was really bad," Ligety said, "and Ante set a really difficult, typical Ante course, which is borderline unsportsmanlike to set that kind of course on this kind of hill, but that's how it goes. Everybody has to ski it. Not all the best guys had a chance to make it down, unfortunately. I wasn't one of the medal favorites here so it's not too frustrating for me."
Ligety said the second run became "a battle of attrition. So many guys went out — really difficult snow conditions, not really the best venue for having a course that was not the most fair thing in the world. I had somewhat of a buffer on Hirscher. Given he had a great run, it would have been hard to come down ahead of him, but anything is possible. I don't think anyone had a good feeling or a super clean run on this course. I knew there was a chance, but it's slalom. I knew I was really going to have to lay it down in order to have any chance at all."
While acknowledging that the course set was within the rules, Ligety said, "I think it draws an ethical question when you have a dad setting for a son — not that Ivica ever does well when his dad sets — but this is an Olympics. We're trying to showcase our sport to the rest of the world, and I don't think this does us any favors, especially when you have 12 guys in the top 30 go out. [10 DNFs, two DSQs] That's not the ideal setting for that kind of stuff, especially when the snow is bad.
"(Ante Kostelic) has really variable distance," Ligety said. "He sets into the cross-ruts from the run before. He sets really awkward rhythm changes. You saw up there, there's a hairpin to a hairpin, but one was really straight going into another one that was super, super turny. That was what took out most of the field right there. It's just not a course set you can ski in a typical, modern technique."
While he didn't care for the course, Ligety had nothing but praise for gold medalist Matt. "Mario is one of the best slalom skiers in history," said Ligety. "He's had a long career, a lot of ups and downs, but he's come through in a lot of major events, so no big surprise there. He especially excels when it's not great snow conditions."
As he had after his father's combined slalom course was criticized, Ivica Kostelic defended the set. "We will hear a lot about this course," he said. "Even if it is negative, it was a spectacle for spectators. At the Olympic Games the course should be challenging. The guys on the podium deserve to be there. Skiers who train in tough conditions appreciate hard courses. They train hard and appreciate conditions like this. … There are always many critics because there are few of them that are good. The winners that are here are not here accidentally."
Ligety, however, was not the only one criticizing the course set. Alexis Pinturault of France, one of the top slalom skiers in the world, was given the bum's rush by Ante Kostelic courses twice in these Olympics, in the combined slalom, and Saturday night.
"I think it is not normal that the same person designs the course twice," Pinturault said. "A slalom is a slalom. At some point you had to go uphill. We are supposed to go downhill. … It is not good for the image of skiing. I wanted to take risks and finished on my back, but I have a medal (bronze in giant slalom) and it is still okay."
View more photos from this race in our gallery here.
THE SCOOP
By Hank McKee
Men's Olympic slalom, Sochi, Russia, Feb. 22, 2014. … It is the tenth and final alpine event of the 22nd Winter Olympics at the Rosa Khutor facility. … It is the 36th Olympic slalom, the 18th for men. … Austrians have won seven, Germany three, Canada one, Croatia one, France four, Italy four, Liechtenstein one, Norway two, Spain one, Switzerland three, Sweden two, U.S. five. It is 45 degrees Fahrenheit at the start and 50 at the bottom for first run. It is a night race and there are 117 starters.
It is the second Olympic result for Mario Matt, the first medal and his first finish in slalom. … It is his second win and third podium of the season, all in slalom. … It is the 34th Olympic gold medal for Austria… the ninth alpine medal and third gold of these Games.
It is the first Olympic medal for Marcel Hirscher who had finished fourth in two Olympic GS's. … It is his 13th podium result of the season.
It is the first Olympic medal for Henrik Kristoffersen. … It is his fifth podium result of the season. … He is the 17th Norwegian to earn an alpine Olympic medal.
It is the best of two Olympic results for Nolan Kasper. … He was 24th in slalom in 2010. … It is the second best Olympic result for Michael Janyk after a 13th in slalom in 2010. … It is a career-best Olympic finish for Philip Brown.
Final alpine medal count: Austria 3 gold, 4 silver, 2 bronze; Canada 1 bronze; Croatia 1 silver; France 1 silver, 1 bronze; Germany 1 gold, 1 silver, 1 bronze; Italy 1 silver, 1 bronze; Norway 1 gold, 2 bronze; Slovenia 2 gold; Switzerland 2 gold, 1 bronze; U.S. 2 gold, 1 silver, 2 bronze.
RESULTS