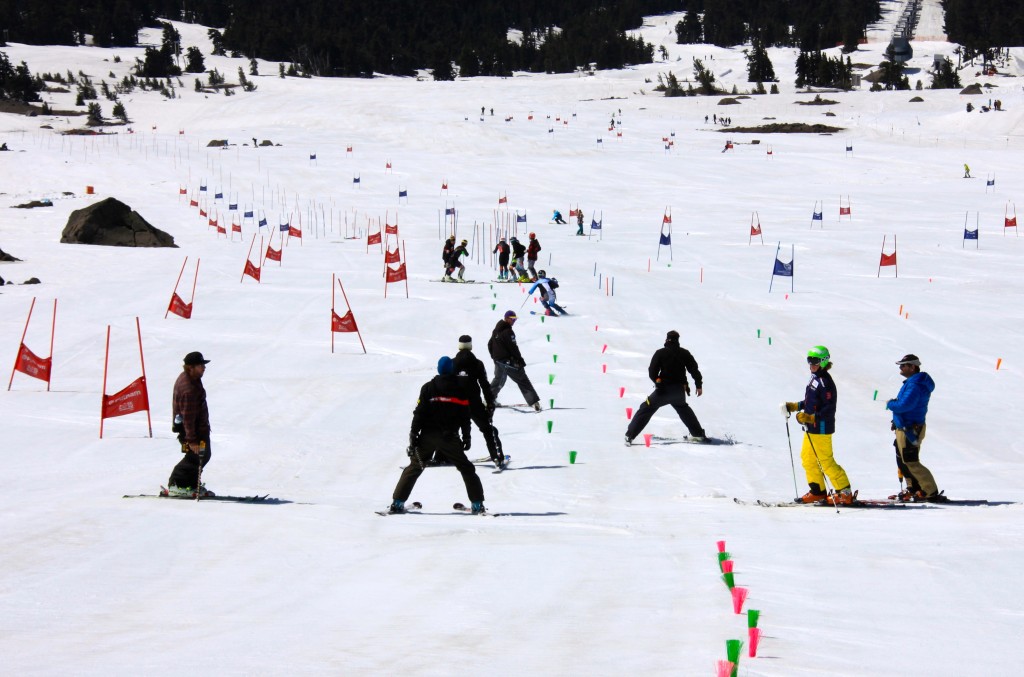 GOVERNMENT CAMP, Ore. — In an effort to elevate technical skiing in the United States, the best male slalom skiers from the U14 through World Cup levels gathered in Mt. Hood, Ore. for a week-long project that concluded on Wednesday. Under the direction of U.S. Ski Team Head Alpine Men's Coach Sasha Rearick, World Cup skiers David Chodounsky, Nolan Kasper, and Bryce Bennett as well as Europa Cup and development team skiers integrated into groups with NTG, U18, U16, and U14 athletes in free skiing and gate drills.
"We've fallen off the mark in the technical disciplines, slalom and GS, without a doubt. The 1993s to 1997s in terms of world ranks and peer group were off the mark. So I asked, 'Why are we there? What's going on?' I watched the skiing at Nationals and fundamentally, in the tech disciplines, we're not where we need to be," said Rearick. "I chose slalom because it's where we're probably farther off but it's also where the fundamentals can be built more easily (than GS). … In slalom, the type of exercises we're doing here are much more athletic and are easier to focus on. Without a doubt, the skills that we're learning here will transfer to GS."
The first task of the project was to identify the six fundamentals of slalom skiing: balance and position, outside ski to outside ski (independent feet), upper body stabilization, early lower leg activation, snow contact, and pole plant.
"The pole plant was something that was emphasized a couple years ago, and we are going better with that. More kids know how to pole plant. Not everybody, but we're making progress there," noted Rearick. "But we need to be in much better balance on the skis. That's the foundation. If you don't have that, the rest doesn't make any sense. And upper body stabilization is the one that here we've re-identified that there is slight separation. There's too much of the concept of following your skis, and we've lost this upper body stability… to be able to do it in any condition and at any time."
The camp included headlining national team athletes plus development team skiers, NTG participants, and six additional athletes from each region distributed among U18s, U16s, and U14s.
"Also what's going on in America is we're not skiing enough volume in slalom, and we're not skiing variety in slalom. When athletes free ski now, they don't make short swing turns anymore, and short swing turns are where you learn independent feet, to have some separation, how to have tempo, how to make quick direction changes, and we don't do that anymore."
As Rearick evaluated the slalom training in the country, he noticed that there was a distinct lack of variety in sets. For the most part, skiers have been consistently training 9-11 meter courses instead of sets that will develop more skills and give athletes the ability to adapt.
"We've been setting everything from one meter brushes (picket fences) where they're doing it on GS skis or slalom skis—with poles or without poles—one ski, two skis—to 18 meter really turny slalom or paneled slalom, and training the entire gamut in between on very short courses with a maximum of 20 turns."
The benefit for the younger skiers was to integrate with elite level athletes, but even the national team members demonstrated vast improvement over the course of the week. Rearick cited Chodounsky, Kasper, Bennett, Kieffer Christianson and Drew Duffy as some of the top athletes who made major positive changes in their skiing over the course of the project.
"For me personally it was a great opportunity to see the next generation of skiers coming up in the country. Being able to work with them was really rewarding, and I think for some of the athletes they were able to see the guys who they've looked up to or are maybe going to have to chase down in the future. Everyone is working together to try to make skiing in the U.S. better," said Kasper. "Even when I was on the development team I never really had the opportunity to ski with the best slalom skiers. … I remember the first time I trained with Ted and Bode was when I qualified for the World Cup. Now we're doing a lot more integration between the teams and working with younger athletes."
The original idea for the project was to hold it in April at Copper Mountain in Colorado, but the regions and clubs had a tough time getting junior athletes to commit at that time. World Cup speed team athletes were unable to attend this camp in June because the timing interfered with a critical conditioning block. However, if the project was held earlier in the spring in the future, they would likely be able to participate.
"The idea of not skiing in April is strong in America, but we have to change that. April is the cheapest time to ski. All the hotels would love our business, and ski areas would love our business. You could ski on every trail on the mountain," reasoned Rearick. "You're in ski shape at that time, so you can come in and ski volume and work on fundamentals. In the future, I'd hope to do this again but in April."