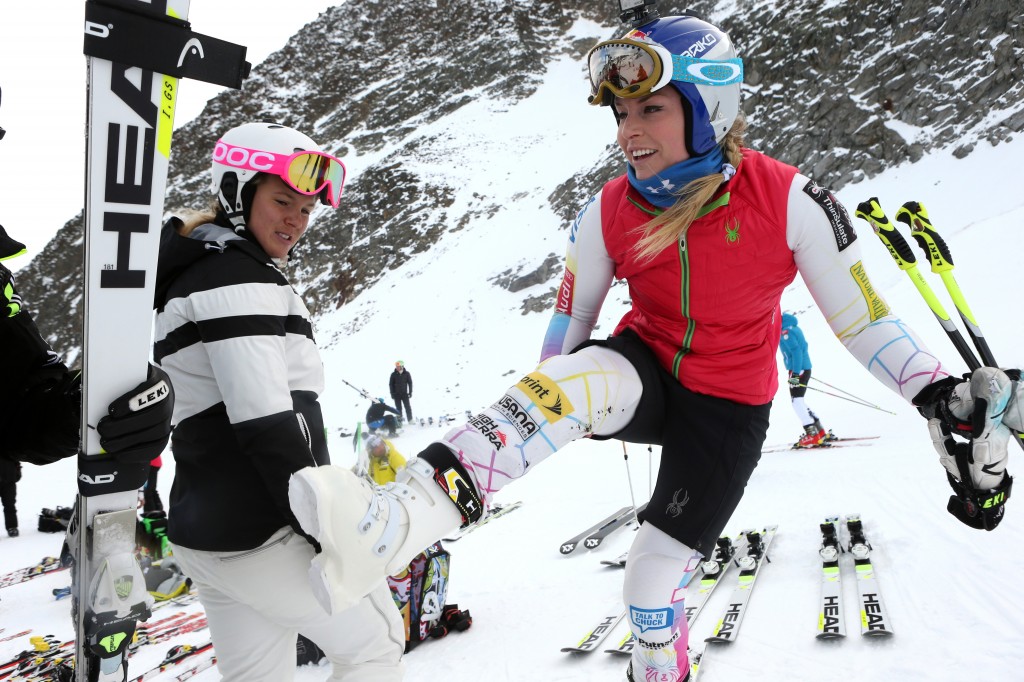 Lindsey Vonn clicked into her skis today on the Rettenbach Glacier in Soelden, Austria for the first time since skiing off course in a World Cup downhill race in Val d'Isere, France on Dec. 21, 2013. According to USSA Alpine Director Patrick Riml, everything went as planned during her initial return to snow, which is being overseen by U.S. Ski Team assistant coach Pascal Hasler.
"The conditions in Soelden are very good, but the visibility was not so easy today," Riml said. "Still, I am told that things went well."
Vonn underwent surgery in January to repair her ACL that she re-injured in a crash during training on Nov. 19, 2013 at Copper Mountain, Colo. After a fifth-place finish in a super G at Lake Louise, she appeared well on her way to staging a successful comeback to defend her Olympic gold medal at the Sochi Olympics. Vonn then aggravated the injury in Val d'Isere when her knee buckled landing off of a jump, making the instability of the joint all the more apparent.
The Olympic gold medalist and four-time overall champion originally injured her knee in a horrific crash at the World Championships super G in Schladming, Austria in 2013, tearing her ACL, MCL, and fracturing her tibial plateau. She ambitiously returned to snow on Aug. 31 of that year in Portillo, Chile and appeared strong and healthy until the crash in Copper pushed back her return. She ultimately decided to undergo surgery to repair her already reconstructed ACL.
Vonn has taken a more conservative approach in her recovery this time around and recently was given the green light to return to snow by renowned surgeon Dr. James Andrews, after 10 months away from snow. Fans may recall that this time last year, Vonn was flirting with the idea of possibly racing in the Soelden opener, but her return to competition this time around will be more steady and intentional.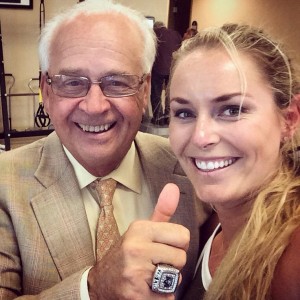 "Great checkup today. Knee looks great and I'm cleared to ski!" posted a smiling Vonn on Instagram with Andrews. "Thanks Dr. Andrews and Lindsay Winninger for fixing my knee and getting me back out there :)."
Her approach on snow will follow a similar path to her dryland training, and she will continue to be careful and conservative with her progression because of additional damage to both the medial and lateral meniscus in her knee with the second injury.
"I won't be skiing gates for a while this time, and I'm not going to be excited about that," Vonn said with a laugh in a recent interview with Bill Pennington of The New York Times. "That's not my nature to wait, but it's the best thing for my knee."
Vonn hopes to be ready to race by the time the Lake Louise World Cup speed races roll in Dec. 5-7. It is a track that has seen her come away with 14 victories over the course of her career.
"I feel like that's enough time to get ready," Vonn told The New York Times. "But you never know. If I'm not ready, I can back off. I don't have to push myself into anything. I have time."
Riml agrees that Vonn should only return to racing once she is fully ready.
"There is no need to hurry," he added, indicating that she wanted to start where she has had some of her greatest results."If she is ready, fine, but if not, better she wait."
While she may be forced to take things easy in the early stages of her comeback, Vonn is not lacking self-confidence in her abilities to return strong. She is taking a very realistic approach to the season.
"A lot of people don't think I will be back," Vonn told the newspaper. "That's fine. The other girls are probably feeling pretty comfortable without me out there. When I do come back, I think they'll see that they can't be comfortable anymore.
"I'd like to get four more victories this year and hopefully some medals in the world championships, especially since they're going to be in my hometown of Vail," Vonn said. "But I don't have anything to prove right now. I have four years to break those records. If that means going slower this year to be ready next year, that's what I'm going to do."
Vonn, at 59 World Cup victories, is three wins shy of tying the women's World Cup record of 62 wins held by Austrian Annemarie Moser-Proell and has plans to ski through the next Olympics in 2018 in PyeongChang, South Korea.
"I need to have another chance to defend my Olympic gold medal in the downhill," Vonn acknowledged to The New York Times. "I knew that in January as soon as I mentally accepted that I couldn't race in the Sochi Olympics. I want another chance to compete."