As the 2015 USSA Congress meetings wrapped up over the weekend, there were several new announcements and a few that stood above the rest. Here are some of the takeaways from the meetings that will have an immediate impact on USSA and its members.
Membership Model
In perhaps one of the biggest changes seen in recent years, USSA announced a revamped membership plan for 2015-16 that will help to reduce membership costs associated with participation in USSA sport programs. It has been close to 20 years since USSA has proposed a membership category change of such magnitude.
For starters, the biggest change is among the breakdown of age classes. In the past there were two options for alpine competitors: Youth (non-scored, ages 13 and under) for $80 and Competitor (scored, ages 12 and over) for $150. Now only U16 ages and above will have to pay the $150 fee and the remaining age groups are tiered – the younger the group, the lower the cost. This model applies across all USSA sports. USSA has also added a new category of General Member for a $15 fee, which takes over for last season's Club Participant with a $10 decrease in cost. Club Volunteer is also reduced from $60 last year to $45 for 2015-16.
Another significant change is the stipulation that an individual only needs to purchase one membership, with the higher priced category encompassing all areas. This applies to coaches or officials who still want to compete, an athlete who participates in multiple disciplines (ex: freestyle and alpine), or anyone who found themselves in the tight position of having to purchase two USSA memberships in the past. USSA has also implemented a family cap at $400, regardless of the number of family members requiring memberships. There is also now an option for short term memberships with per-day pricing, allowing individuals to try out one or multiple events without having to purchase a full competitor license.
The general takeaway from these membership changes is that the USSA wants to reach a broader audience and therefore generate higher membership numbers across all platforms.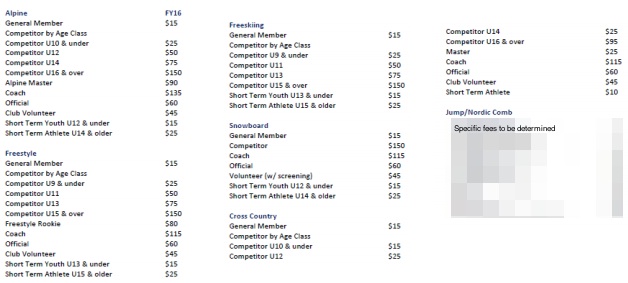 NASTAR
Although the NASTAR/USSA partnership and agreement was first announced prior to the Congress, it was still a popular topic of discussion throughout the week. USSA President and CEO Tiger Shaw addressed the partnership during his keynote address Friday morning.
"We're taking on a historic endeavor to expand our impact and visibility in alpine, while at the same time supporting our clubs with direct connectivity to a recruiting tool as we assume operational management of NASTAR," Shaw noted. "This will allow us to reach up to 200,000 new prospects for our sports at well over 100 resorts nationwide."
The goal will be to incorporate more crossover between NASTAR racing and USSA, with the hope of recruiting any number of the 61,000 participants NASTAR boasts into USSA memberships as well as building stronger relationships with the 115 resorts that host NASTAR events.
It is a step into unchartered territory for the USSA and is one that is still in the planning and organizational phase. But in the end, it is an area where big returns are quite feasible in terms of growing overall membership and increasing both interest and participation in the sport throughout the country.
Board of Directors
USSA Chairman Dexter Paine welcomed four new members to the USSA Board of Directors at its annual meeting on Sunday during the final day of Congress. Dan Leever, Grete Eliassen, Chris Seemann and Martina Lussi were added as board members, each bringing a wealth of knowledge and experience in sport and leadership.
Leever, who also sits on the U.S. Ski and Snowboard Team Foundation Board of Trustees, has been involved with Ski and Snowboard Club Vail for over 15 years and is an avid supporter of the USSA's alpine racing programs. He is also the founder and chairman of the Vail Snow Sports Foundation and the TA Foundation, organizations dedicated to promoting youth snow sports through the financial support of young athletes.
Eliassen is a U.S. freeskiing alum who will be representing the United States Olympic Committee Athletes' Advisory Council ex-officio position. Eliassen grew up ski racing then transitioned to freeskiing during her teenage years. She won six X Games medals in halfpipe and slopestyle skiing during her career and is the only female skier to medal in both the first halfpipe and slopestyle X Games events.
Seemann has been involved with freestyle skiing for over 20 years. He began as an aerials athlete and has transitioned into a variety of roles with the national team, including coach and technical advisor. Seeman is also the current Chairman of USSA's freestyle and freeskiing sport committee.
Lussi steps in as the jumping/Nordic combined representative. She has volunteered at a number of events, including the 2014 Sochi Olympics. Lussi currently sits on the board for Women's Ski Jumping USA.
USSA Board of Directors
Chairman: Dexter Paine, New York, NY (FIS)
Vice Chairman: Greg Boester, Rye, NY (Foundation)
Treasurer: John Bucksbaum, Chicago, IL (Foundation)
Tricia Byrnes, Aspen, CO (Snowboarding Athlete)
Jon Casson, Salt Lake City, UT (Snowboarding)
Charles Christianson, Anchorage (Alpine Athlete)
Emily Cook, Park City, UT (Freestyle Athlete)
Bryan Fletcher, Steamboat Springs, CO (Jumping/Nordic Combined Athlete)
Cami Thompson Graves, East Thetford, VT (Cross-Country)
Jeanne Jackson, Portland, OR (Foundation)
Lisa Kosglow, Hood River, OR (At-Large)
Darryl Landstrom, Minneapolis, MN (Alpine)
Dan Leever, Palm Beach, FL/ Vail, CO (At-Large)
Martina Lussi (Jumping/Nordic Combined)
Andy McLane, Weston, MA (Foundation)
Kipp Nelson, Ketchum, ID (Foundation)
Erik Resnick, Vail, CO (Foundation)
Chris Seemann, Winter Park, CO (Freestyle)
Tiger Shaw, Park City, UT (CEO)
James Southam, Anchorage, AK (Cross-Country Athlete)
Ex-Officio
Michael Berry, Lakewood, CO (National Ski Areas Association)
Grete Eliassen, Salt Lake City, UT (USOC Athletes' Advisory Council)
David Ingemie, McLean, VA (SnowSports Industries America)
Bill Marolt, Park City, UT (USOC)
Hank Tauber, Park City, UT (FIS)
Keynote Address
Watch Tiger Shaw's entire keynote address here:
Points of Interest
Shaw's keynote address to kick off Friday morning was followed by an open Q&A session with Shaw, Executive Vice President Luke Bodensteiner, newly-appointed Development Director Chip Knight, and Vice President of Athlete Career and Education Jory Macomber. All in all the takeaway and feeling from those in attendance was very positive. Shaw did not shy away from addressing the lack of funding for most athletes not named to the A-teams and acknowledged that attempting to close the $2 million funding gap is one major goal they have moving forward.
Sharing complete information on how elite teams are funded will become part of a new sport allocation model that is in the developing stages. Shaw also talked about the need to review the vision, mission, values, and goals of USSA and used public input in the form of a brainstorming session where anyone could add the values they viewed as important to a bulletboard. Individuals could then add colored stickers to any value they agreed with. All input was received and will be reviewed at a later date by USSA to develop their new core values. This is all in an attempt to become more transparent as an organization on the daily operations of USSA.
The entire Q&A session can be seen here:
Look for more 2015 USSA Congress updates on SkiRacing.com next week as we acknowledge those who were honored with annual awards and provide a recap of alpine equipment and rule changes coming down the line for the 2015-16 season.