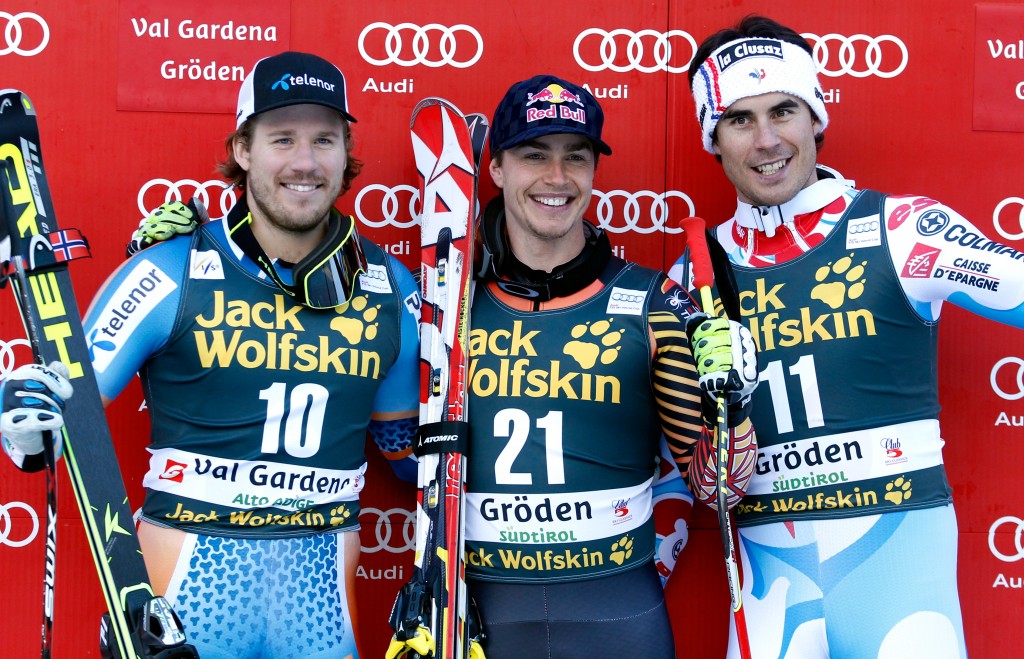 There was no miracle from the back of the pack Saturday (Dec. 21) in Val Gardena, and so Canada's Erik Guay, the leader a year ago when a change of weather offered Steven Nyman in bib 39 the opportunity to ski to victory, held on for the win the. Guay also lead two additional teammates into the top 10 while crushing the hopes of Norway's Kjetil Jansrud, forced to watch his first downhill win evaporate.
"It was sweet revenge to come back in this fashion. I'm kind of on cloud nine right now," Guay said. "I wish Sochi was tomorrow."
Tour downhill leader and winner of the super G on this same hill Friday, Aksel Lund Svindal posted fourth maintaining his lead in both the overall and downhill World Cup standings. American Bode Miller gave up a touch too much in the upper gliding sections but still posted fifth thanks to an exquisite effort through the challenging Caislat section that brought grief to many of the top competitors.
"I've been skiing well. Any section of any course where it's technical and I'm able to do my thing I'm pulling back time on everybody pretty much," said Miller. "There's not a whole lot more we can do. I have Chris Krause, I think he's the best technician in the business. I know he's working hard. There's so many details, you never know what it is that's really causing the problem. The fact is we just don't have the whole thing together right now. We're close, and we're getting there."
It was just cold enough at Val Gardena that the snow crystals rounded off, speeding up the track considerably from the training runs early in the week and even from Friday's super G. The result included some of the biggest air off a jump-laden Saslong track. Racers reported they were airborne as much as 32 times during their runs.
Nyman was among those struggling with the Saslong this season, managing one big recovery before being tossed back onto his rear. He survived and managed to regain control, but he ultimately failed to finish the course. The next skier, Brice Rogers, hurtled into the nets. David Poisson was launched into the nets as he missed the entry to the Caislat.
Fact of the matter is the race was a battle of recoveries. Those without recoveries were taking too conservative a line and were not competitive.
One of the first to hit the right balance of risk and clean lines was Jan Hudec. With his start delayed by net repairs after Rogers' mishap, he moved quickly into his tuck after landing the multiple airs and executed the Canadian line choice well. It was a brave run with minimal errors in the Caislat.
Norway's Jansrud was well ahead early, skiing clean and controlled through the jumps and bumps at speed. He took risks, but remained stable and tight while doing so, skiing into the lead easily at 1:56.77. That lead held through 11 skiers until Guay. The Canadian star had a long clean flight off the infamous Camel Humps, and from there down was magnificent, nailing the tricky Caislat to edge Jansrud by .12 of a second down the two mile course.
"Jansrud had a great run and the light was good for him so I knew I had to do something exceptional and that's exactly what I did," noted Guay. "I skied as well as I could at the top with the light and then picked it up from half way down to the finish. I knew the lines I could take and I was right on the borderline in terms of risk."
Guay underwent microfracture surgery on his knee in July and only returned to on-snow training in November, but he has made an impressive return to competition. "I understand the reason why I'm fast right now," he reasoned. "The coaches, servicemen, everyone is working hard and Manny and Jan are skiing fast, too. It almost seems like the Canadian team of old."
The Norwegian and Canadian teams have an agreement where the coaching staffs work together at speed races and athletes share course reports. It certainly paid off for Nor-Can today, as the two teams combined for three out of the top-4 finishes while placing five athletes in the top 10.
Guay jumps to second in the downhill standings moving past Dominik Paris who sat out of the race after a training crash earlier in the week.
And the Yankees lost — the Austrians, winners of 17 World Cup races at Val Gardena, had its best placed finisher, Max Franz, in 11th.
See more photos from today's race in our gallery.
The Scoop
Men's World Cup Downhill, Val Gardena, Italy, Dec. 21, 2013
Equipment – Skier, skis/boots/bindings
1 Guay, Atomic/Atomic/Atomic
6 Kueng, Salomon/Salomon/Salomon
7 Osborne-Paradis, Rossignol/Rossignol/Rossignol
8 Heel, Atomic/Atomic/Atomic
9 Hudec, Rossignol/Rossignol/Rossignol
10 Fill, Atomic/Atomic/Atomic
Men's World Cup Downhill, Val Gardena, Italy, Dec. 21, 2013.
… It is the 11th of 34 races on the men's World Cup schedule. … the third of nine scheduled downhills. … It is the 75th World Cup race hosted by Val Gardena. … the 51st DH. … Steven Nyman is the defending champion.
It is the fourth career World Cup victory for Erik Guay, his second in downhill, the previous coming at Garmisch Feb. 24, 2007. … It is his first win since the 2010 season when he won two super G's. … It is his fifth World Cup podium result at Val Gardena. He joins Jan Hudec and Manuel Osborne-Paradis with two DH wins, just behind Todd Brooker and Rob Boyd's three DH wins for third on the all-time list for Canadian men.
It is the 12th career World Cup podium placing for Kjetil Jansrud and his career-best DH finish.
It is the second career World Cup podium result for Johan Clarey, both scored in DH at Val Gardena (he was also third Dec. 19, 2009).
It is the second best result of the season for Bode Miller. … matching his sixth best result at Val Gardena. … It is his second best DH result at the site. … Manuel Osborne-Paradis matches his sixth best result at Val Gardena. … It is his second best placing of the season. … Jan Hudec matches his second best Val Gardena finish and tallies his third top 10 of the season. … It is the fourth best career World Cup finish for Erik Fisher. … It is the sixth best World Cup finish at Val Gardena for Marco Sullivan. … It is the tenth best World Cup result for Travis Ganong's career and his second best at Val Gardena.
Aksel Lund Svindal (fourth in race) boosts his lead in the World Cup overall standings to 510-335 over Marcel Hirscher (did not race). … Ted Ligety (did not race) maintains third at 269pts. … Bode Miller is fifth with 230pts and Erik Guay eighth with 201pts.
Svindal also leads the downhill standings 200-147 over Guay. … Dominik Paris (did not race) is third with 129pts. Miller is top U.S. skier in 13th with 80pts.
Austria leads the men's Nations Cup 1814-1151 over France. … Italy is third with 1081. … The U.S. is sixth wih 696pts and Canada seventh with 562pts.
Results