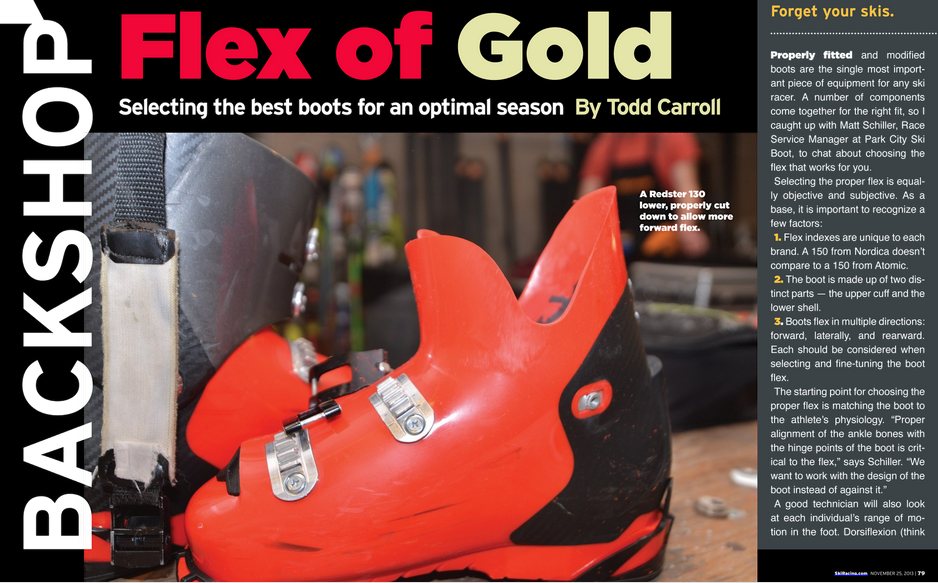 Selecting the best boots for an optimal season
Properly fitted and modified boots are the single most important piece of equipment for any ski racer. A number of components come together for the right fit, so I caught up with Matt Schiller, Race Service Manager at Park City Ski Boot, to chat about choosing the flex that works for you.
Selecting the proper flex is equally objective and subjective. As a base, it is important to recognize a few factors:
Flex indexes are unique to each brand. A 150 from Nordica doesn't compare to a 150 from Atomic.
The boot is made up of two distinct parts – the upper cuff and the lower shell.
Boots flex in multiple directions: forward, laterally, and rearward. Each should be considered when selecting and fine-tuning the boot flex.
The starting point for choosing the proper flex is matching the boot to the athlete's physiology. "Proper alignment of the ankle bones with the hinge points of the boot is critical to the flex," says Schiller. "We want to work with the design of the boot instead of against it."
A good technician will also look at each individual's range of motion in the boot. Dorsiflexion (think of trying to touch your toes to your knees) and plantar flexion (pointing your toes like a ballerina) dictate how a boot-fitter will set your forward lean.
Learn more about how to achieve the the perfect boot-fitting by reading the complete article in Issue 3 of the digital magazine here.