UNR's Winter Sports Club seeks to bring back the Wolf Pack
If you like watching knocked-down college teams stand up again, keep an eye on the University of Nevada, Reno (UNR). That's because the UNR Winter Sports Club has been fighting to keep the ski team alive — and now, maybe even win back NCAA status.
The latest nuisance to hit Nevada, which has seen its fair share of unfair ski-team cuts, began in the midst of the 2009 economic downturn, when Nevada state legislation mandated a 34 percent reduction in the operating budget of the university's athletic department. That put the Wolf Pack ski program on the chopping block, and it was officially defunded later that year.
Initially, the university agreed to honor coaches' salaries and athletes' scholarships for the following season. But the team would have to come up with $500,000 to fund their entire operating budget for four full seasons in order to continue on as an NCAA program. Graham Collins, the current president of the UNR Winter Sports Club, says they came up with $340,000 — not enough to become a team in 2010.
As Collins explains, the Winter Sports Club currently includes about 140 members, who have the option of social or competitive status. The 90-some social members receive lessons, equipment, discounted access to many of Lake Tahoe's numerous ski areas, and the chance to network with other winter sports enthusiasts on campus. The remaining members make up the competitive side of the club, which facilitates opportunities for competition in alpine, ski cross, boarder cross, big mountain, freestyle, and nordic disciplines under the USCSA umbrella.
"Our goal is to build a community of skiers and boarders at the university," says Collins. "A lot of people come to UNR because of the Sierras. We have a wide variety of athletes; we have people that do have FIS backgrounds, and we also have people who have honestly never raced in their life."
The club's funding relies heavily on the UNR Ski Swap and Ski Ball, held each fall. The ski team's booster organization coordinates these events, with the funding helping to mitigate the program's yearly operating costs as well as reduce travel and competition expenses at various events.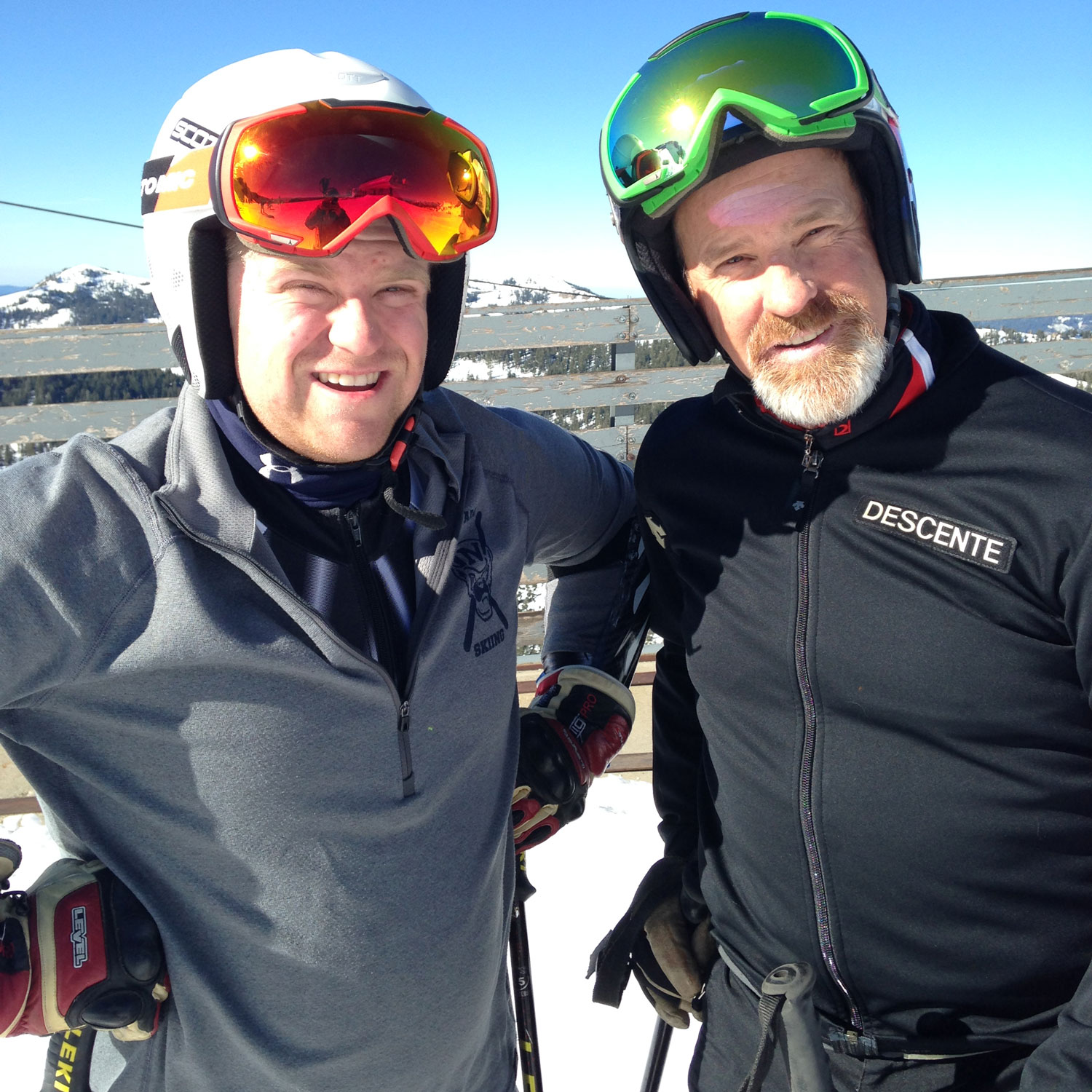 Graham and Ross Collins both believe in the mission of Nevada Skiing
Raising awareness not only in the university's student body but also in the greater Reno-Tahoe area is crucial if the club hopes to be successful in bringing back its NCAA program. In a 2013 interview with the Nevada Media Alliance, UNR's then newly-hired athletic director Doug Knuth shared his thoughts on the situation. "What I know about the industry and what I know about collegiate skiing is that there's tremendous distance," Knuth said. "We have great skiing here, but our nearest NCAA collegiate competition is in Salt Lake, New Mexico, and Colorado, and Alaska, I guess." This geographic challenge creates strain on the university's bottom line. "Do I think skiing is important?" he added. "Absolutely."
"What we do is we respond a lot of times to the interests of the university," explained Knuth. "And so if there was a groundswell of people on the university and [they] went to the president and there was a student movement to bring back skiing, or wrestling, or track, or whatever, I think the university, meaning the president and the regents, would have to listen and provide funding for that."
As it stands today, the UNR Winter Sports Club has no official recognition from the university's athletic department. This means that athletes don't have access to the various amenities offered to recognized teams such as the varsity weight room, sports medicine and academic advising departments. "When we got dropped as a team, our ski team room was gone, and all of our stuff was sold," says Collins.
Ross Collins, Graham's father and the current coach of the Winter Sports Club, echoed Knuth's sentiments. Ross has been a booster for the program, and his oldest son, Shane, was a standout member of the NCAA team in its final years. He emphasizes how important mobilizing all facets of the local community — starting with himself as a coach and also including racers, parents, boosters, alumni, the university and resort businesses — is to their mission.
Recognition by the university is an important first step for skiers who don't have the academic flexibility of other teams because the club is not recognized by the university as an official sport. "We need to have the support of the university, not just financially," says Collins, "but also supporting and validating our activity in the mix of athletics and the educational experience."
Founded in 1936 by skiing icon and Squaw Valley co-founder Wayne Poulsen, Nevada Skiing's first brush with oblivion came in 1981 when another rough economic period forced the cancellation of the team's NCAA affiliation. The team was able to survive as a club with varying levels of support from the university until an extremely dedicated group of alumni and boosters succeeded in bringing back NCAA status in 1994.
In the years since, the program has boasted four individual NCAA champions, 35 individual All-American honors, and seven top-10 finishes as a team at NCAA championships. Nevada's records also include a pre-NCAA era national championship in 1939, as well as Pat Meyers' first-ever NCAA downhill title in 1954.
Rough economic times have also spelled disaster for two other schools in NCAA's Rocky Mountain Intercollegiate Ski Association (RMISA) conference in addition to UNR, with Western State College in 2008 and Whitman College in 2009 falling victim to budget cuts. This leaves RMISA with only eight schools, as opposed to the 15 that make up the Eastern Intercollegiate Ski Association (EISA) since Boston College, Plymouth State University, and Colby-Sawyer College recently made the jump from the USCSA ranks to NCAA competition in 2011.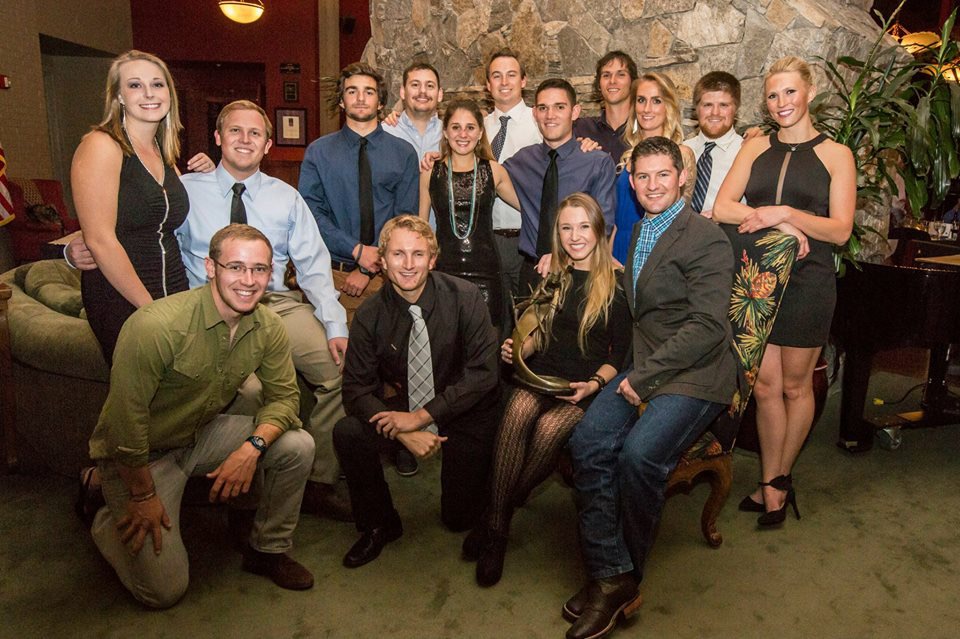 Members of the UNR Winter Sports Club gather off the slopes
An increase in RMISA member schools may very well lead to a more competitive environment, ultimately raising the overall level of collegiate skiing as a whole.
Still, one of the largest obstacles facing the club is the ability to attract local skiing talent to UNR with no real funding or support from the university. It's a hard sell to convince a young athlete to commit to the club when more enticing options can be found elsewhere.
One such athlete is Nico Monforte, a member of USA Ski Cross, alpine racer, Tahoe native, and UNR freshman. He's currently recovering from a leg fracture suffered at last season's freestyle Junior World Championships, but is fully committed to the club's mission.
"I chose UNR mainly to keep skiing in Tahoe and continue using the support system that I've created over the years," says Monforte. "I wanted to go to a school where I could achieve a degree from a top program in a location that would allow me to keep my skiing and have the support of a community." He also points to recent investment in the university's academic departments as a compelling factor in his decision to attend UNR over another institution.
Monforte's also quick to mention the effects an elite NCAA program could have on the local skiing community. "Bringing top college skiers back into the local races would not only bring penalties lower, but also give younger skiers an idea of where they need to be to compete at the collegiate level," he says.
When positive role models are able to compete shoulder to shoulder with young racers, there's a huge opportunity for development, especially when combined with the rich skiing heritage of the Reno-Tahoe area.
Nevada Skiing has come back from the dead before; there's no reason why it can't rise from the ashes once again. Mobilizing the Reno-Tahoe community is crucial to the cause, and nobody can doubt the passion and drive of those involved. "I chose to attend UNR in hopes to help return the ski team to its former glory," Monforte adds. "It is my sincerest hope that I still get that chance."