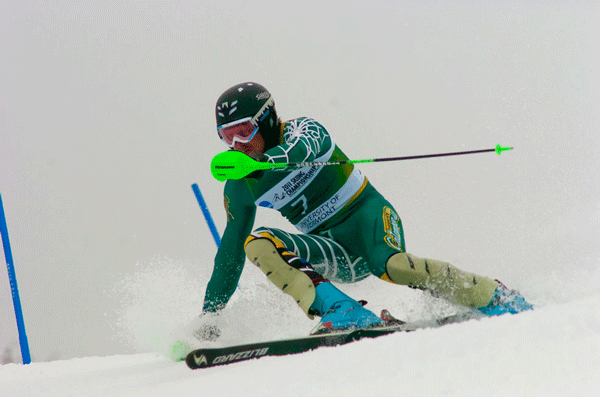 March 12, 2011
By Bryce Hubner
In a dominant wire-to-wire win, the University of Colorado Buffaloes locked up their 17th*** NCAA Skiing title today at Stowe Mountain Resort in Stowe, Vermont. It's the sixth NCAA crown the Buffs have secured during head coach Richard Rokos' 20-year tenure, and their first since 2006.
Excited to once again be out from under the runner-up status Colorado achieved each of the past three years, Rokos noted the difference between second place and winning was just a bit of luck.
"We came here to win, and that's the same goal that we have every time we come to the championships," said Rokos. "The difference this year is that we were able to stay healthy and all our alpine skiers finished both races — most of them cleanly. You have to get lucky, no matter how well you're prepared."
The Buffs tallied an impressive 831 points throughout these championships, 80.5 points better than runner-up Utah, and 188 points better than third-place finishers Dartmouth.
Colorado rocketed to a commanding 46-point lead on the first day of races March 9, nearly doubled it to 84.5 on March 11, and — though relinquishing a sliver of that margin — coolly secured the title with solid finishes by its alpine squads in difficult conditions at the slalom races today.
After tons of snowfall, then rain, then more snow this week, it was destined to be a bumpy ride on Stowe's Mainstreet track, and there was indeed carnage in both men's and women's races.
Only a few athletes looked solid on this day. Two of them were Denver's Sterling Grant and Lindsay Cone, who left the gate at opposite ends of the start order.
Grant has won every single collegiate slalom she entered this winter, including a gold medal at the Winter World University Games in Erzurum, Turkey, on Feb. 5. Today she kept the streak alive, winning the first run and surviving the second to capture the women's 2011 NCAA slalom title.
"Sterling has shown she's the best slalom skier in the country all year," said Denver alpine coach Andy LeRoy. "Today, with those conditions and having to start 30th in the second run, she didn't just show it, she earned it."
For her part, Grant was at once humble and seemed to have never questioned the outcome.
"I've just felt confident all season with my slalom," said Grant. "Every win just built it up more. Today I knew it was going to be bumpy for everyone, so I just stayed focused and punched it … I did what I wanted to do, which was win the NCAA title."
Coach LeRoy was equally excited by Grant's teammate Lindsay Cone, who started bib 29 and finished 10th in the first run, then vaulted to second by race's end.
"Lindsay had a chance to win the giant slalom on Wednesday but crashed — one of her only DNFs in the past couple years," said LeRoy. "I'm really happy with the way she responded today. Again, to ski from 29th to second in these conditions is, really, incredible."
Grant's winning two-run time was 1:54.27, followed by Cone at 1:55.25, and St. Lawrence University's Ashley-Kate Durham picked up bronze in a time of 1:55.61. Vermont's Kate Ryley and Utah's Tii-Maria Romar were fourth and fifth.
In the men's race, Vermont's Jonathan Nordbotten and Tim Kelley sat first and third after run one, sandwiching New Mexico's Petter Brenna. As the second run unfolded, it seemed every other skier was getting bounced from the deteriorating course and tight, tricky combinations. Those who did finish cleanly seemed to be holding back — Kelley wasn't about to be one of them.
"When I was standing in the start second run, it seemed like a lot of the other guys were just skiing to finish," said Kelly. "I don't really know how to [ski conservatively] — it's never worked for me — so I just went for it and attacked because I didn't want hold back at all."
Kelley pushed out of the gate and was spot on through the top sections of the course. Halfway down, a near-crash after sitting back through a flush had the home crowd gasping, but Kelley recovered and crossed the line with the fastest combined time at 1:39.42.
The stage was set for high drama, but Brenna and Nordbotten were unable to capitalize. Both blew out and hiked, making Kelley the last and fastest man standing.
CU's Gab Rivas and New Hampshire's Zach Clayton benefited from two super-solid runs, rounding out the podium with combined times of 1:40.60 and 1:41.59, respectively. Dartmouth's Trevor Leafe finished fourth, improving upon his strong 9th-place in the giant slalom on March 9. Utah's Torjus Krogdahl rounded out the top five.
Though CU's alpiners didn't garner as many podiums as its nordics, Rokos was understandably excited by their results at these championships.
"Today the girls started 12, 14, and 25 and finished 10, 11, and 12. The guys finished second, 10th and 20th — even with Andreas Haug hiking," said Rokos. "Obviously cross country has been the strength of our team for years, and they put a lot of points together again here. But both in the giant slalom and slalom we were able to support our cross country with alpine, and that's why we won."
Colorado is the second winningest team in NCAA skiing history behind Denver, but this was not just another title for the Buffs. CU skier Spencer Nelson — who would have been a sophomore this year — died in a hiking accident this past August. The team dedicated its 2011 season to Nelson's honor at the outset, and coach Rokos put an exclamation point on that remembrance after winning the title today.
"Spencer's dream was to win an NCAA championship, and he was a talented kid — one of few young freshman skiers who qualified for NCAAs last year," said Rokos. "We felt like we should do this for him. His father is here today, and he will be the one who gets the first touch on the trophy."
Excepting an uncharacteristically tough week for the No. 1 University of Vermont, the top five colleges at this year's 2011 NCAA Skiing Championships finished in nearly the same order as Ski Racing magazine's final round of regular-season Power Rankings. Without further ado, 2011's top five:
University of Colorado (No. 2): 831
University of Utah (No. 3): 750
Dartmouth College (No. 5): 643
University of New Mexico (No. 4): 632
University of Denver (–): 592
Make sure you look for complete coverage of the 2011 NCAA Championships — replete with further interviews from coaches and athletes — in Ski Racing magazine, Issue 10.
***It is technically the Buffs' 18th skiing championship title, though only 17 are currently recognized by NCAA due to various ski racing and organizational splits in decades past.
For complete results for all the races at this year's champs, click here.
Photos:
— CU's Gab Rivas on his way to slalom silver, helping Buffs clinch 18th title. Credit: Mark Collier
— Vermont's Tim Kelley en route to bumpy victory. Credit: Mark Collier