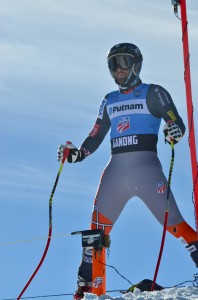 COPPER MOUNTAIN, Colo. — The Speed Center at Copper Mountain again played host to stacked fields in four men's races — two super G and two super combined — under clear, warm conditions on Sunday.
American Travis Ganong got the super G season rolling with a pair of wins in the back-to-back races.
"It's been a really good summer of training and I'm getting to the point where I'm feeling pretty confident," said Ganong. "It was good to race against an international field to see where we stack up. I felt really relaxed and comfortable."
The double wins come a day after Ganong finished seventh and posted a DNF in Saturday's downhills, but he says there's no cause for alarm in that event.
"I think my downhill is definitely faster than my super G," said Ganong. "Yesterday we were skiing on brand-new skis and testing equipment. It wasn't as important of a race for us because both Marco Sullivan and I are ranked in the top 30, so there was no way for us to score points.
"Today was more of a race day for us because we could both score an FIS point result and solidify our spot for Lake Louise. Today was a qualifier for the World Cup in Lake Louise."
These early season events have been made possible by the Speed Center at Copper Mountain, now in its third season, providing the athletes with an unprecedented early-season racing opportunity prior to the speed events at Lake Louise.
"It's really good to know before the first World Cup race how your summer of training went and how you stack up against the best in the world," said Ganong.
Rounding out the podium in the first SG were Canada's Morgan Pridy (+0.12) and Austria's Max Franz (+0.88). Tim Jitloff, in fourth, had perhaps his best-career super G result against a field of that caliber.
In the later SG, Pridy again claimed second (+0.43), as Vincent Kriechmayr of Austria snuck into the top three, tied with Franz (+0.55) for the last spot on the podium.
The slalom leg of the super combined was originally planned for the upper, flatter part of the hill, but officials ultimately sent the racers down the lower, steeper part of the course. Difficulties with the chairlift and timing dragged the races late into the afternoon.
Pridy took the first of the two super combined races. The Whistler local, who's made just three career World Cup starts, outpaced Natko Zrncic-Dim (+0.64) of Croatia and Nick Daniels (+0.99) of the U.S., who rounded out the podium in second and third, respectively.
Pridy again had a solid performance in the later super combined, skiing to a third-place result behind Kriechmayr and Squaw Valley's Daniels, who finished in first and second, respectively.
Super G No. 1 — Copper Mountain, Nov. 10
Super G No. 2 — Copper Mountain, Nov. 10
Super Combined No. 1 — Copper Mountain, Nov. 1o
Super Combined No. 2 — Copper Mountain, Nov. 1o