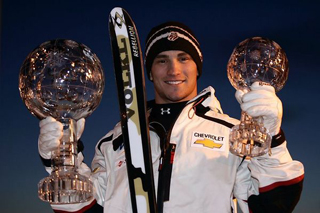 According to a story by the Denver Post, American moguls skier and former professional football player Jeremy Bloom (27) has decided to retire from freestyle skiing after a recent attempt to rejoin the U.S. Ski Team for a chance at his third Olympic team in Vancouver. The Loveland, Colo. native will leave the sport to focus on his Wish of a Lifetime Foundation for low-income elderly.
"I'd love to go to the Olympics, I love everything they stand for, but I went back to skiing last year and it just didn't feel the same," Bloom told The Denver Post's John Meyer. "The idea of training six to eight hours a day, which used to be my favorite thing in the world to do, all of a sudden became a lot of work. The passion wasn't there anymore."
After joining the U.S. Ski Team at age 15, Bloom began competing on the Freestyle World Cup in 2000 at the age of 18 and went on to win 10 World Cup competitions, a World Championship title in 2003, a World Cup moguls title in 2002 and an overall World Cup title in 2005. He also had top-ten finishes in both the Salt Lake City and Torino Winter Olympics.
Bloom's football career took him from being a kick returner at the University of Colorado to time with the Philadelphia Eagles and Pittsburgh Steelers.
Bloom's change of heart happened over the summer as he trained to one more Olympic push. "It just didn't happen," Bloom said. "I really felt like the timing was right, and I'm really excited about the next opportunities and challenges in my life."
Bloom told the Post that working on his foundation broadened his interests away from just athletics. "It really had a profound effect on me," Bloom said. "It affected my motivation to win gold medals and win football games. Part of it was experiencing that, and part of it was just a natural progression away from sports. I wasn't going to fake it."
Bloom is also working as a TV commentator for ESPN. "He showed he was best in the world, winning a world championship and two season-long World Cup titles," said USSA CEO Bill Marolt. "He will continue that success in his business and sportscasting career, and we look forward to working with him to tell the story of our sport."
Image by USSA