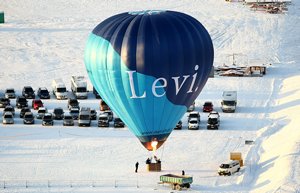 In the land of Reindeer and saunas, they enjoy a bit of good natured competition. The slaloms at Levi, Finland have a traditional feel to them somehow; First comes Soelden's opening GS's and then Levi's slaloms. But the fact is Levi's only hosted four November slaloms, one for each gender in 2006 and again last season. The site was scheduled to open November in 2007 as well, but the races were moved to Reiteralm, Austria due to a lack of snow. Snow this season is reported by FIS Race Director Hans Pieren to be the best in years.
Levi has also hosted four womens slaloms not held in November, two in 2004 and two in March of 2006. No one skier has yet won twice at Levi. Jean-Baptiste Grange and Lindsey Vonn got the wins last season. Austrian couple Benjamin Raich and Marlies Schild won in 2006.
Depending on who you talk to, Levi is either the best ski resort in Finland (Wikipedia) or the worst (Tripadvisor). This year's stop had the added excitement of a threatened worker strike, though that dispute was resolved last week when it was agreed to exempt Levi from the threatened strike of the Finnish Tourism and Restaurant Industries Federation and the service union PAM.
The course, the Levi Black, was "adjusted" before last season's races, with some "waves" built into the upper section and a slight bump added close to the bottom. It didn't change that much.
Levi is not an intimidating race hill. It's relatively flat with a
steeper pitch. "It's a pretty basic strategy," says U.S. skier Tim
Jitloff. "You gas it all the way to the break over and then try to be
intelligent."
The race site is 170km north of the Artic Circle, which at this time of year means limited day light. "They do turn the lights on," says Jitloff. "By the second run it gets dark and they gotta turn those things on… The amount of light up there is pretty minimal. It's kind of creepy."
If the races are a solid indicator of how the slalom season might unfold is a question considering the lack of data to consider. But three of the last four winners at Levi also won that season's slalom title: Marlies Schild and Benjamin Raich in 2006 ('07 season) and Grange last year. Vonn wound up third in last season's slalom standings.
As for predictions, we know defending overall champion Aksel Svindal will not win as he won't compete, already traveling to the U.S. to rest his bruised leg and get his time clock acclimated (He's in Florida working with a trainer). Likewise Vonn would be -perhaps- an unlikely winner due to a switch in skis. Although she has her race set-ups ironed in for the other disciplines she was still selecting slalom skis last week.
Marlies Schild also presents some questions, as she is returning from an injury that has kept her off a race hill since March 2008. Coaches have declared her "ready," so we'll see what that means. Kathrin Zettel is suffering with the flu and will miss the event.
Bode Miller, second at Finland last season, will compete, but has only been seriously training about a month so expectations should be tempered there. Grange is coming off an indoor European championship win. While that may not tell us much, it at least indicates he's in good shape and ready to race.
Maria Riesch of Germany and Maria Pietilae-Holmner each have good history at Levi as does Raich, but the hill has not produced many strings of strong results. Of the top five men from 2006 there were no repeaters in 2008. Only Nicole Hosp made both top fives for the women and she will not race this season after her injury at Soelden.
We like Riesch and the homestanding Tanja Poutiainen to show well among the women, Grange and Ivica Kostelic among the men just based on last season's final standings. In the shameless homie mode we'd like to think having her own personal injected training hill at Vail will prove to have been the benefit needed for Vonn and that Miller is far enough along in his conditioning to be able to drive hard a minute at a time.
However viewed, Levi's slaloms are indicative of a World Cup season well and truely underway. – Hank McKee
World Cup photo by GEPA.
Levi World Cup 2008 – top 3 Men's from World Cup Levi on Vimeo.