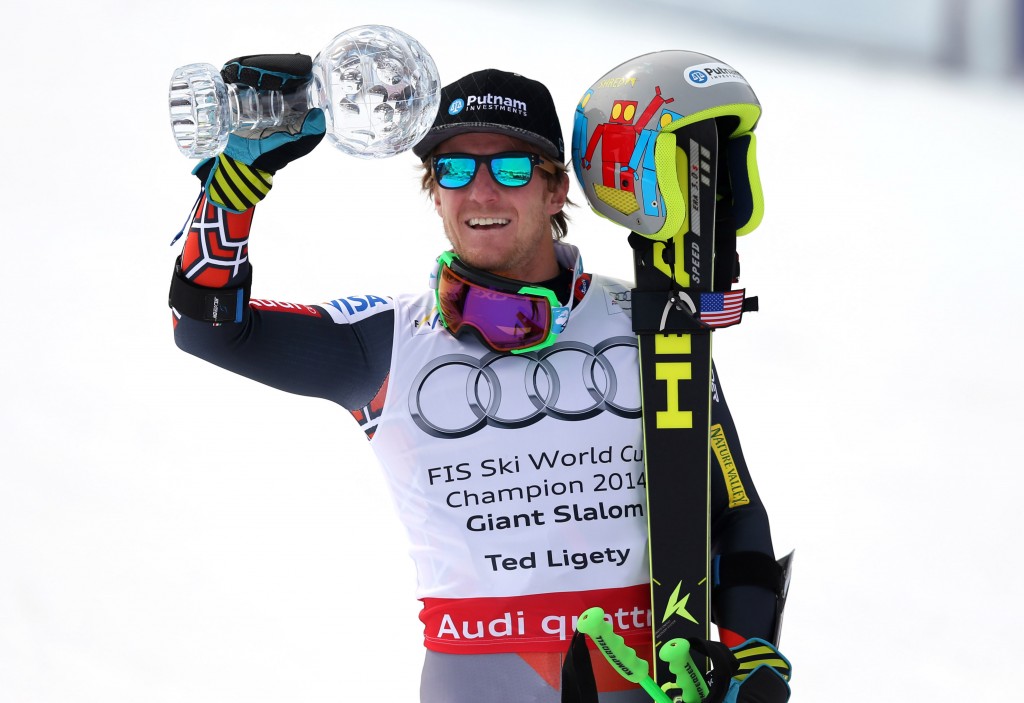 It can't get much closer than that for a season-long chase. Ted "Shred" Ligety did all he could do to regain the World Cup giant slalom title by winning the final GS of the season in Lenzerheide, Switzerland Saturday (March 15). But standings leader Marcel Hirscher wasn't about to give up his points lead without a fight. In the end, first Alexis Pinturault and then Felix Neureuther squeezed between Ligety and Hirscher, pushing the Austrian down to fourth place by a hundredth of a second. That created a tie atop the GS standings at 560 points each. The tie-breaker, wins over the season, went to Ligety four victories to two. It is the fifth giant slalom crystal globe for Ligety and his second straight.
"I won by the skin of my teeth today," said a joyous Ligety. "I owe Felix a few beers over this one."
Just eighth after the first run, Hirscher had flat out attacked in the second heat. His aggressiveness seemed to work against him in the flatter mid-section of the Lenzerheide track, and he finished behind Pinturault by three hundredths. That left the door cracked open, but the five guys starting between him and first leg runner-up Ligety failed to bump him down the finish order. With the crowd buzzing, the standings displayed a recalculated time and again Ligety did what he does best, which is ski giant slalom better than anyone else in the world. He stuck with what has served him so well, arcing turns with a round approach that avoided the worst of the ruts; though he started to lose ground to Pinturault near the end of the run, he managed to hold onto a 0.03 lead. But Hirscher, in third, still held the standings lead.
Neureuther, the first run leader, skied last on the day when warm weather had allowed the snow surface to soften dramatically, leaving some large, deep ruts. Better regarded as a slalom racer, Neureuther was showing the GS form that brought him his only win in the discipline, at Adelboden back in January. He couldn't overtake Ligety, or Pinturault, but he edged Hirscher by just 0.01, sending the recalculation buzz into overdrive.
"I watched (Hirscher's) run and knew he would be tough to topple," said Ligety. "I'm glad it worked out for me by a hundredth."
This year was the first time in what feels like forever that Ligety's GS has showed any weakness. He failed to finish two World Cup giant slaloms, at Val d'Isere and Adelboden. He was third at Alta Badia. Those three straight glitches allowed Hirscher to grab a substancial lead in the standings. After Adelboden, Ligety was third in the GS standings, 120 points short of Hirscher. He needed wins at St. Moritz Feb. 2, Kranjska Gora March 8, and in the final race of the season to overtake the remarkably consistent Hirscher.
"I am super thrilled," Ligety said. "This is a big goal every year."
See more photos from this race in our gallery here. 
THE SCOOP
Men's World Cup giant slalom, Lenzerheide, Switzerland, March 15, 2014
Equipment – skis/boots/bindings
1 Ligety, Head/Head/Head
2 Pinturault, Salomon/Salomon/Salomon
3 Neureuther, Nordica/Nordica/Marker
4 Hirscher, Atomic/Atomic/Atomic
6 Dopfer, Nordica/Nordica/
7 DeAliprandini, Salomon/Salomon/Salomon
8 Kristoffersen, Rossignol/Rossignol/Rossignol
9 Olsson, Nordica/Nordica/
10 Missillier, Salomon/Salomon/Salomon
Men's World Cup giant slalom, Lenzerheide, Switzerland, March 15, 2014. … It is the 34th race of the mens 35 race schedule… the eighth and final GS. … It is the 40th World Cup race hosted by Lenzerheide and sixth of the season.
It is the 23rd career World Cup win for Ted Ligety… his 22nd in GS. … It is his seventh win of the season including the Olympic GS gold medal. … It is the 270th U.S. World Cup win… the 62nd in GS. … Ligety is one behind Michael Von Gruenigen for second on the all-time World Cup GS win list. … It is his second World Cup win at Lenzeheide.
It is the 22nd World Cup podium for Alexis Pinturault… his tenth in GS. … It is his ninth podium of the season including a bronze Olympic GS medal. … It is his second podium at Lenzerheide this season having won the super G March 13.
It is the 28th World Cup podium for Felix Neureuther… his third in GS. … It is his sixth podium of the season. … It is his third podium at Lenzerheide in three completed races at the site.
It is the eighth best career World Cup placing for Tim Jitloff… his fourth best of the season. … Although he collected five podiums over the season, Bode Miller did not win a World Cup race.
Marcel Hirscher (f0urth in race) regains the lead of the World Cup overall standings 1122-1091 over Aksel Lund Svindal (DNF). … Alexis Pinturault is third overall with 999pts. … Ted Ligety is fourth with 969pts, Bode Mller (15th in race) is seventh with 633pts and Erik Guay (did not compete) tops Canada in 13th with 440pts.
Ted Ligety wins the giant slalom standings on a tie-breaker four wins to two over Marcel Hirscher (560pts each). … Pinturault is third with 458pts. … Philipp Brown leads Canada in 48th place with seven points.
Austria leads the men's Nations Cup 517-3622 over France. … Italy is third with 3135. … The U.S. is fourth with 2758 and Canada 10th with 1057pts.
RESULTS