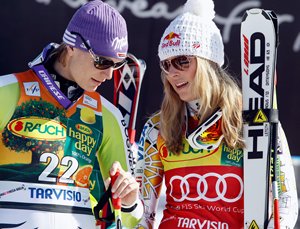 Lindsey Vonn says she's feeling "more prepared," "more confident," and is looking forward to concentrating on the World Cup this coming season. Aside from a short break immediately following the end of the 2010-11 season, Vonn has been building toward regaining the World Cup overall title she held in 2008, 2009 and 2010.
"Honestly, I really didn't stop working out," Vonn said. "I spent probably three weeks off with my brother and family and Thomas, but I was still working out. It wasn't a legitimate program, but I was very motivated after last season. I didn't want to take as much time off as I did last year."
The motivation was supplied by Maria Riesch. After three seasons on top of the ski racing World, Vonn overcame a 200 point deficit at the end of last season only to get edged by long-time friend and rival Riesch (now Maria Hoefl-Riesch) by three points. Vonn's Cup point total of 1725 was the second highest of her career and is easily the most ever garnered by a second place finisher.
To say that was distasteful to her would be understatement.
Within a month of the final race of the season Vonn was back in the gym, in San Diego, with a team of Red Bull trainers. Then she headed over to Europe for another month long session with Red Bull.
"That was two months straight," she says, "with a little break for Wimbledon and the ESPYs."
Then it was off to New Zealand, a week ahead of the U.S. Ski Team camp "to get the equipment dialed in. … We got lucky with snow conditions." Which translates to: good hard ice.
The testing was confined to GS and slalom skis and the GS testing, in particular, seems to have gone well. "GS is in a really, really good spot," Vonn said. "The set-ups are holding on ice. It's tough
on ice. Without stability it's hard to be confident."
There is still some work left on the slalom set-up. "That's been been my weakest spot," Vonn says. "I've been playing with a lot of different things. We're testing everything, skis, boots, plates, ski construction. Six pair of skis each day and when you add boots to the mix that's a lot of combination to try."
Still, all in all, Lindsey Vonn is ready to go retrieve her World Cup overall title. "I feel like I'm more prepared this season. I feel that by not really taking fitness time off I feel like I'm in a better place than last year and am more confident at this point of the season, looking forward."
Without a World Championship or Olympics on the schedule 2011-2012 is all about the World Cup. "There will be a lot of travel this year but the focus is on the World Cup. I am looking forward to a new season."
The unsaid part is that matter of regaining the overall crown.
Vonn and Hoefl-Riesch by Gepa
Cover of Vonn on course by Gepa