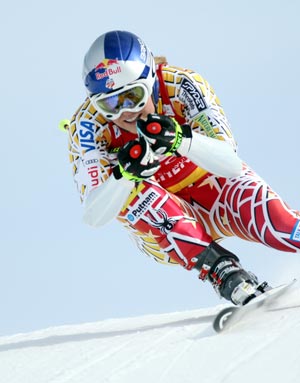 The U. S. Olympic Committee announced today (Jan. 25) that ski racer Lindsey Vonn has been named 2010 Sportswoman of the Year for the second year running.
With another dominating year on the slopes, Vonn won her second consecutive SportsWoman of the Year award. 2010 included a pair of Olympic medals as she won gold in the downhill and bronze in the super G at the 2010 Olympic Winter Games in Vancouver. She became the first American woman to win an Olympic gold medal in the women's downhill. Vonn also produced a record-breaking season with 11 World Cup wins en route to capturing four World Cup titles. She claimed her third consecutive World Cup overall title, third consecutive World Cup downhill title, second consecutive World Cup super G title and won the World Cup super combined title. Her performances earned also earned her ESPY awards for both "Best Female Athlete" and "Best Female U.S. Olympic Athlete."
"The 2010 Olympic season was incredible, but what made it so special is that I was able to share it with so many American fans," Vonn said. "It was amazing to see the support and excitement they showed for ski racing and that's definitely carried into this winter. It means so much to the athletes to hear from them. Win or crash, they keep us excited to compete."
Several of Vonn's USA 2010 Olympic teammates were also honored. Figure skater Evan Lysacek (Naperville, Ill.) was selected SportsMan of the Year; the USA I four-man bobsled team was honored as Team of the Year; mono-skier Alana Nichols (Farmington, N.M.) was named Paralympic SportsWoman of the Year; sled hockey player Taylor Chace (Hampton Falls, N.H.) was named Paralympic SportsMan of the Year; and the 2010 U.S. Paralympic Sled Hockey Team has been awarded the Paralympic Team of the Year honor.
"All of these athletes represent the best in Olympic and Paralympic sport for Team USA," said USOC CEO Scott Blackmun. "Their excellence on the field of play is matched by their positive influence in their communities and across our country. Their personal achievements last year and throughout their careers are remarkable, and I am thankful that we have such outstanding ambassadors of excellence."