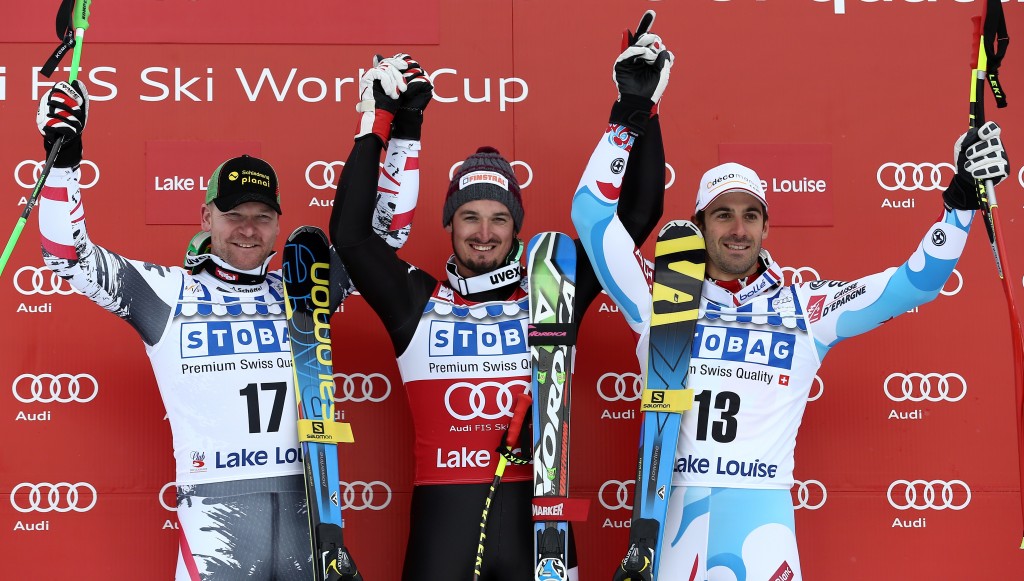 There are not a lot of ways to gain separation in Lake Louise on the 'Men's Olympic Downhill' track. The course did show more teeth than in previous years with a variety of micro terrain that required focus from top to bottom. Still, the top four finishers were within .23 of a second, all skiing beautiful runs while capitalizing on the benefit of favorable visibility.
Italy's Dominik Paris collected the win, the third of his career. Austrian Klaus Kroell shook off a shoulder injury for second with Frenchman Adrien Theaux, the early leader, hanging on for third.
Fourth went to the defending champion, and pre-race favorite Aksel Lund Svindal of Norwat. "So close to a good day," he reported. "It was a tight race between four, but (I was) on the wrong side of the top four."
Kroell indicated he had not anticipated anything better than a top 15 because of continuing problems with the left shoulder he injured last season at World Cup Finals. He said the weather gods had favored him with "partial sun and the wind from the right side." He also allowed that he was "extremely surprised," particularly since he has struggled in the training season with his boots.
"That was an insane match with Kroell," said Paris, who also caught a few lucky breaks. "Except for the Schlusstor I have caught everything super."
Theaux was the early leader, having put up a significant margin as the 13th starter. An eighth place result for Canada's Erik Guay makes him the first male athlete to meet the alpine criteria for nomination to Canada's Olympic team (two top-12 World Cup finishes).
"I'm really satisfied with the result, and also to have qualified for Sochi in the first race of the season," said Guay. "I think my result today was an absolutely respectable start to the season, all things considered. A month ago I didn't even know if I was going to be able to race here."
It was a more disappointing day for the Americans, with top finisher Bode Miller in 16th place and Steven Nyman in 19th.
U.S. men's coach Sasha Rearick said the course was "the bumpiest I have ever seen it. There was no point to relax and link turns." However, he is pleased with the progress Miller has made in his return to competition.
"Bode's result was OK, he made some mistakes in a few critical spots and that cost him some time," said Rearick. "In general though, I'm happy with the progression he's made after missing all of last season."
Lake Louise is known for its weather issues, and while the winners said they may have benefited from wind, the bigger issue was visibility. "The guys in the teens definitely got the best visibility," Rearick noted.
Kroell started 17th, Theaux 13th, Svindal 16th and Johan Clarey, who finished fifth, started 15th. Paris was the 20th skier out of the starthouse.
Miller looked solid through much of the run, but got kicked around by the bumpy course. Rearick said Nyman had also skied very well but had no chance at the point he ran due to conditions and erred right before the final flat.
The Scoop
Men's World Cup Downhill, Lake Louise, Canada, Nov. 30, 2013
It is the third of 34 races on the men's 2013-14 World Cup schedule. … The first of nine scheduled downhills. … It is the 91st World Cup race held, at least in part, at Lake Louise… the 57th downhill and the 20th men's downhill. … Aksel Lund Svindal is the defending champion. … It is the first of two men's races set for Lake Louise this season.
It is the third career World Cup win for Dominik Paris. All of them in downhill. He also won in Bormio Dec. 29, 2012 and Kitzbuehel Jan. 26, 2013. … It is his fourth result at Lake Louise, his previous best being an eighth Nov. 24, 2012.
It is the 23rd career World Cup podium for Klaus Kroell… 20th in downhill. … He has recorded one other podium at Lake Louise, a third place downhill finish Nov. 24, 2012.
It is the ninth career World Cup podium for Adrien Theaux… his fourth in downhill. … It is his second podium at Lake Louise, having also finished third in super G Nov. 27, 2011.
It is the 36th top 10 World Cup downhill finish for Erik Guay… and his tenth top 10 at Lake Louise. His best finish at the site is a second in DH Nov. 29. 2003
It is the 20th World Cup scoring finish at Lake Louise for Bode Miller. … It is the 18th career World Cup scoring finish for Steven Nyman… the sixth at Lake Louise. … It is the 13th career scoring finish at Lake Louise for Jan Hudec topped by a DH win Nov. 24, 2007. … It is the second best of four Lake Louise results for Travis Ganong, and his best DH result at the site. … It is the first DH result at the site for Erik Fisher. … It is the ninth Lake Louise score for Manuel Osborne-Paradis.
Marcel Hirscher (did not race) maintains the lead of the World Cup overall standings 160-124 over Ted Ligety (did not race). … Paris matches Aksel Lund Svindal (fourth in race) for third in the standings with 100pts.
Austria leads the men's Nations Cup 563-468 over France. … Italy is third with 266pts. … The U.S. is fifth at 186pt and Canada tenth at 55pts.
Results