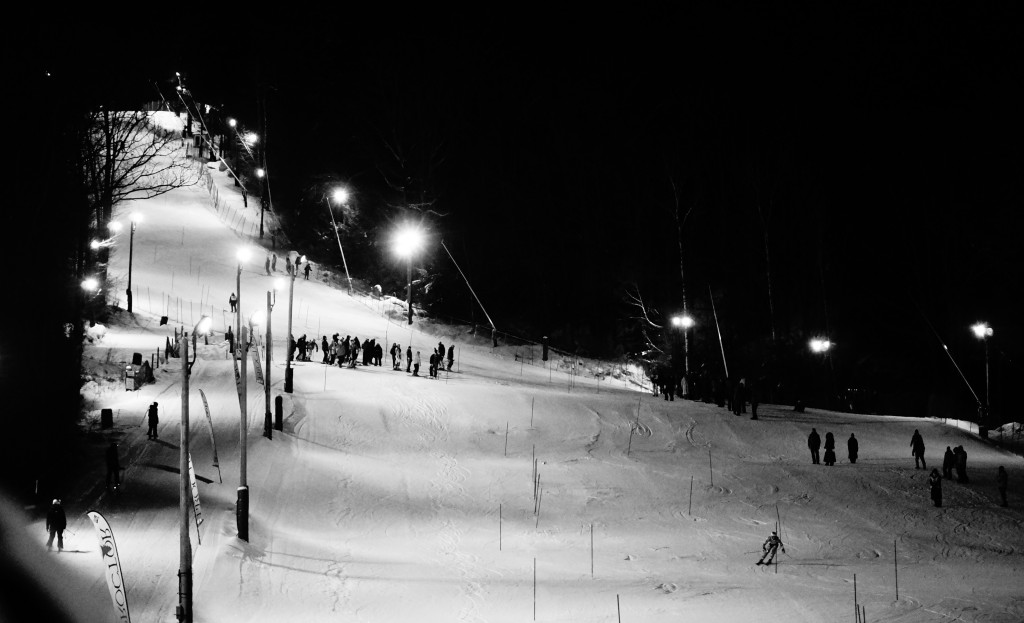 ANDOVER, N.H. — Proctor Academy threw American ski racing's biggest New Year's Eve party Tuesday evening (Dec. 31) with its annual Night Slalom Holiday Classic featuring incoming USSA chief executive officer Tiger Shaw as a forerunner and two U.S. Ski Team members setting the pace in a deep field of top collegiate and international racers.
Under bright lights at the quaint Proctor Ski Area in Andover N.H., the race is quickly becoming a classic in more than just name. It's one of only a few night FIS races hosted in the United States and the only FIS race in the country run on New Year's Eve. This was only the second iteration of the race at Proctor, which has steadily improved its 140-meter FIS-approved hill, adding state-of-the-art snowmaking, grooming and lighting in the past four years.
"Needless to say," head of the alpine skiing program Dave Salathe said, "the race got really popular, really quick."
The prospect of missing out on holiday revelry didn't dampen interest. More than 300 athletes wanted in on the challenge. With a start list that eventually capped out at 87 women and 121 men, athletes descended on Blackwater from all over New England as well as international destinations such as Chile, Argentina, Ireland, Italy, Czech Republic, Japan, and Canada
And if racers were looking for a party to bid farewell to 2013 and ring in 2014, Proctor rolled one out, with Shaw garnering rousing cheers on his first run through the gates in years, a tent at the finish, and a fireworks display between the first and second runs followed by a rendition of the national anthem.
"This is a terrific way to spend New Year's Eve, New England ski racing at its best," Shaw commented at the finish.
The weather was New England at its winter best: a clear, dark sky, frigid cold and hard snow surfaces.
On the men's side, contenders included the U.S. Team's Robby Kelley, 2013 Eastern Cup champion and Middlebury standout Andrew McNealus, Middlebury star Hig Roberts (fresh off competing for Team USA at the World University Games where he garnered a seventh in the giant slalom), and perennial UVM top-finisher Sean Higgins, among others.
It was anybody's race after the first run with Roberts in the lead, ahead of McNealus in second, Canadian Mathieu Bertrand of Dartmouth in third and Kelley in fourth, all separated by half a second. Finishing sixth in the first run, Higgins laid down what seemed like the unbeatable second run and overall time. But McNealus and then Roberts snuck past him, with Roberts taking the win, by a hair-thin margin of two hundredths of a second. Higgins had to settle for third. Kelley, who was a close fourth on the first run and within striking distance of the win, made a costly error in the second run, and fell out of the top ten.
On the women's side, the U.S. Team's Julia Ford had her hands full with Dartmouth's Lizzie Kistler, young Czech Republic skier Katerina Kotrlova (of Killington Mountain School), and Dartmouth's fast Kikut twins, Anna and Sara.
Ford seemed poised to take the evening after winning run one, with Kotrlova in second and Kistler in third, all within three tenths of a second. But Kistler took command of the second run, winning it by almost four tenths of a second over Ford, giving Kistler the overall win. Ford ultimately finished second and Kotrlova third.
Top U18 finishers were Burke Mountain Academy's Aleck Sullivan for the boys, finishing 25th, and Stratton Mountain School's Alice Merryweather for the girls, in eighth.
Men's Results