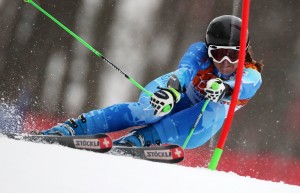 ROSA KHUTOR, Russia — The weather was downright nasty during the the women's Olympic giant slalom on Rosa Khutor Tuesday — snowy up top, rainy down at the bottom, with anything and everything in between. Many had feared it was only a matter of time before the Mountain Cluster experienced these types of conditions at what had been a mostly sunny Olympic Games.
American medal hopeful Mikaela Shiffrin made no secret about it; she was going for gold in this race. And she wasn't too far off at the end of the day — a half-second to be exact — in fifth position, behind Slovenian Tina Maze, who picked up her second gold medal of the 2014 Games.
Meanwhile, Austrian Anna Fenninger's silver medal will go nicely with her gold in the super G from a few days ago, while the defending Olympic champion in this event, Viktoria Rebensburg of Germany, skied a huge second run to round out the podium with bronze.
Reports from the course were mixed. Some racers complained about the visibility; others said it was fine. Most said the snow was not a problem, but adjustments needed to be made in their skiing — they couldn't push it as hard as they'd like.
"I felt pretty good," Shiffrin said of her second run. "There were a couple turns that I scrubbed some speed. They weren't quite as clean."
The upbeat 18-year-old said the weather was not unlike tough conditions in Vermont, where she grew up racing.
"(When I was in the start), I was thinking gold medal," Shiffrin added. "I made up some time. …  As I said before, it boiled down to a couple of turns, mostly on the pitch I think where I just slid my skis a little bit more and other girls arced it."
Looking purely at the numbers in the first run, there appeared to have been an advantage for those running early. Tina Maze ran first, and she finished first. Sweden's Jessica Lindell-Vikarby ran second, and she finished second. But then there was Italian Nadia Fanchini who snuck in the third fastest time skiing from 10th — she was disappointed to ultimately drop out of the medals, winding up fourth on the day.
For Maze, it was a heck of a time to start skiing giant slalom again. "Ms. GS" from a winter ago has had just one encouraging result this season in the discipline, third in St. Moritz. Other than that, she's yet to finish in the top 10 in a World Cup giant slalom. She skied just the 11th fastest second run, but her lead after the first proved to be enough to hold off the field.
"It's a great day for me, but not an easy day. As you can see, the weather is playing games with us," said Maze. "I don't care if it's raining, if it's sunny. The slope was really good. … In the first run, I knew I had to risk everything and then just fight to come down as fast as I could in the second run."
Fenninger may have impressed even herself with her showing at the Olympics.
"I'm really stoked for my second run," she said. "If someone had said to me, 'You can go and win two medals,' I would have said, 'That would be nice.' After the first (run), I knew at the start I'd have to take a lot of risks. And I did."
Julia Mancuso, who started 17th, couldn't hang in the course first run, bringing an end to her Olympic participation for 2014. She skis off with a bronze medal in the super combined.
"I learned especially from the super G that it's the Olympics and you have to go for it," said Mancuso. "Definitely with the snow surface not being consistent and you can't really see it, it's hard with timing. … When the snow is like this, you really have to be precise. You can't get out of body position or it really gets the best of you."
Mancuso also said she skied into the first gate a little too straight and punched all the water onto her goggles, which affected her visibility for the rest of the run.
While Mancuso didn't give a definitive answer as to her plans for the future or possibilities for competing at the 2018 Olympics, she did say she's been having fun.
"Coming back from not a great season, it kind of put things in perspective for me about what skiing is about," said Mancuso. "Coming into these Olympics I really wanted a medal. I got a bronze and I, for sure, still want gold. If I can continue skiing well, especially on the speed side, I can get to a place where I can still be fighting for gold medals. At the beginning of the season, I felt there was no way I could come back, but having that magical day makes me want to keep going. … Who says what's a good age (to retire), just got to go for it."
In Olympic tech events, the top 30 finishers from the first run are flipped for the second just like the World Cup, but those outside the top 30 also had a chance to race, including Americans Resi Stiegler and Megan McJames, who ultimately finished 29th and 30th, respectively.
"It was a tough day out there. Obviously, it's quite wet … it's quite impressive the girls that did well today," said Stiegler. "I think there were a couple racers who got maybe less rain. … The course was actually in great condition, the way that they prepared it. It was unbelievable with the amount of rain and craziness that we have going on."
Skiing before a crowd that filled roughly a quarter of the stands in the finish area, racers completed their runs in a soaking rain that was sporadically heavy and mixed with sleet.
"I feel like I really stepped it up second run and had a much better second run," said McJames, for whom GS is her best discipline and who qualified for these Games without the aid of the U.S. Ski Team. "Today, the run is not going to be pretty. It's who can throw it down the hill the best."
In a tough day for the Canadian squad, both Marie-Michele Gagnon and Marie-Pier Prefontaine failed to finish the first run. The top result came from slalom specialist Erin Mielzynski who posted a respectable 21st-place finish.
Three-time Olympic gold medalist, Maria Hoefl-Riesch, pulled out of the race before the start with a sore throat. However, she is expected to make an effort to defend her slalom title later in the week.
For Shiffrin, as well as most other technical skiers, the week continues with her primary event, the slalom on Friday to close out the women's Olympic alpine competition for 2014.
"I was really thinking that my first GS win would come, and that would be such a cool thing," Shiffrin said. "It's just something I accept. I got fifth today. There are four girls who skied better than I did and I'm really excited to analyze their skiing and analyze mine and try to go win Are (Sweden)."
See more photos from the race here.
THE SCOOP
By Hank McKee
Women's Olympic giant slalom, Sochi, Russia, Feb. 18, 2014. … It is the seventh of ten Olympic alpine races, the fourth of five for women. … It is the 33rd Olympic GS… the 17th for women. … Austria has won four (but none by women), Canada two, Croatia one, France three, Germany three, Italy five, Liechtenstein one, Norway one, Switzerland seven, Sweden two and the U.S. three (Mead Lawrence '52, Armstrong '85, Mancuso '06).
It is snowing and raining at 32.4 degrees Fahrenheit at the start, 35.8 at the finish. … Race is moved up one and a half hours to a 9:30 start. … second run delayed 15 minutes by heavy fog and heavy snow, at 1:00 p.m. it is 31.5 degrees at the top of the course and 36.5 at the bottom.
It is the fourth Olympic medal for Tina Maze and her second gold, both from Sochi. … It is her second consecutive Olympic GS medal having earned silver in 2010. She had not won a GS race previously this season.
It is the second career Olympic medal, and second at Sochi, for Anna Fenninger, the super G gold medalist. It is her eighth podium result of the season, but only her second in GS.
It is the second Olympic medal for Victoria Rebensburg; she won the GS gold in 2010. … She matches her best result of the season, scored at Soelden Oct 26.
It is the first Olympic race for Mikaela Shiffrin. … It is her third best GS result of the season. … It is the second Olympic result for Erin Mielzynski after a 20th in slalom in 2010. … It is the third career Olympic placing for Resi Stiegler, in three different disciplines. … It is the second Olympic placing for Megan McJames and is two positions better than her 2010 GS result.
The alpine medal count has: Austria 2 gold, 2 silver 1 bronze; Canada 1 bronze; Croatia 1 silver; Germany 2 silver, 1 bronze; Italy 1 silver, 1 bronze; Norway 1 gold, 1 bronze; Slovenia 2 told; Switzerland 2 gold, 1 bronze; USA 1 silver, 2 bronze.
RESULTS