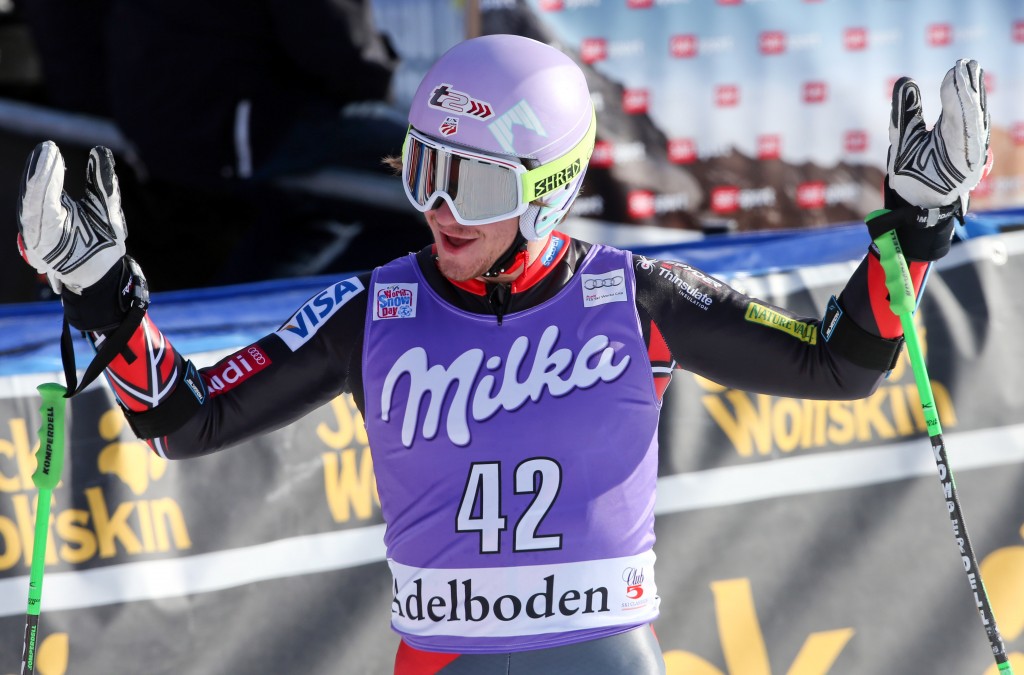 Nobody has ever accused Vermonter Robby Kelley of being conventional. From the way he was first named to the U.S. Ski Team, after spending a freshman year at the University of Vermont and just missing the cut for the Catamounts' NCAA Championship team, to his latest video where he skis down the race trail at his family's ski area, Cochran's, in the middle of the summer — swishing his way through chest-high flora as if it's waist-deep powder — Kelley frequently takes the road less traveled. So when he was left off the U.S. Ski Team roster for the 2014-15 season but was offered an opportunity to pay his own way as an invitee to the team, he once again decided to take the nonconformist route.
"I'm going to be skiing on my own this year and traveling around with my brother quite a bit. I'll be training with him and I'm fundraising on my own, so no U.S. Ski Team this year. … I'm fully on my own, but I'm really excited about it," Kelley said. "I'm pretty happy that I can be fully in charge of where I'm going to be traveling and the races I'm going to be doing or if I'm going to be training."
Robby's older brother, Tim, just completed a season of skiing independently, and one could say it went impressively well considering the challenges athletes face when training and competing on their own. Tim was offered opportunities to train with the U.S. Ski Team in Europe and then won a time trial at the Chamonix Europa Cup, granting him his first World Cup start since he was a national team member in 2010. At the National Championships slalom race in Squaw Valley, he was hot on David Chodounsky's heels but couldn't make up the nearly half-second differential, and ultimately finished as runner-up. But that was the precise encouragement he needed to give it a go for a second year, and now he'll have his younger brother along for the journey.
Since making his World Cup debut in 2012, younger brother Robby has scored points on the circuit twice: at Adelboden in January 2013 with a 23rd-place result and at the same race last season finishing 28th. He is the only American with World Cup points in giant slalom who was not named to the U.S. Ski Team for the coming winter, though he is currently ranked on the start list 53rd out of 55 behind Ted Ligety (1), Tim Jitloff (16), and Bode Miller (23).
"The way Warner's done it the past couple of years and Megan McJames, I hope that if I'm skiing fast enough I'll get put into races. I expect to be skiing fast enough, so hopefully I can still get opportunities even though I'm not a member of the (national) ski team," Robby noted. "I created the (World Cup start) spot for the country, so I hope they'll let me use it if I'm skiing well."
Robby has found greater success in giant slalom while Tim's focus has been slalom, though both have solid fundamental skills that crossover into the other technical discipline.
"I actually want to focus a lot more on slalom this year. I feel like I'm pretty fast in training, and I'd like to get that going in races now with a little more mileage," Robby remarked. "I'm going to be fully NorAm this year to try to win the titles and have a guaranteed spot for myself in slalom and GS, but I'd also like to do as many World Cups as I can."
To get a head start on the season, Robby is in New Zealand for the next five weeks training with his brother and Espen Lysdahl along with former UVM coach Johnny Davidson who is now overseeing a team of Norwegian post-graduates.
"I think there are 16 races while I'm down there. I don't know if I'll do them all, but there are definitely a lot of races going on," Robby said, also noting that his points took a hit last season and he hopes to lower them during his time in New Zealand.
This plan for success does not come cheaply, so Robby has launched his new website to share information with fans about his travels but also to fundraise in a slightly unique manner. While many national team athletes chose to use the crowdfunding platform and U.S. Ski Team partner RallyMe to raise money, Robby has built out his own site with a shopping cart where fans and supporters (and businesses) can purchase anything from a $25 T-shirt to a $15,000 head sponsorship. He's utilizing skills picked up in graphic design courses during his freshman year at UVM to offer custom sponsor patches on his speedsuit and training jacket, and then, of course, there are bottles of Slopeside Syrup up for grabs as well.
"I'm trying to make it less like I'm asking for money and more than I'm providing something that I can sell to people. I've been working on the designs to make cool T-shirts and teamed up with Podiumwear so I can sell custom space on a GS suit and the head and bib sponsors. So rather than just donating, you can get something for your money," Robby said. "I'd like to be able to provide people with stuff all throughout the year, and RallyMe has a time constraint. Also, they take an extra 4 percent or so of money raised, so this way all the money goes toward me."
If nothing else, brothers Tim and Robby Kelley can take solace in the fact that two of the top-7 World Cup slalom skiers right now, Mario Matt and Patrick Thaler, were also released from their respective national ski teams at one point in their careers.