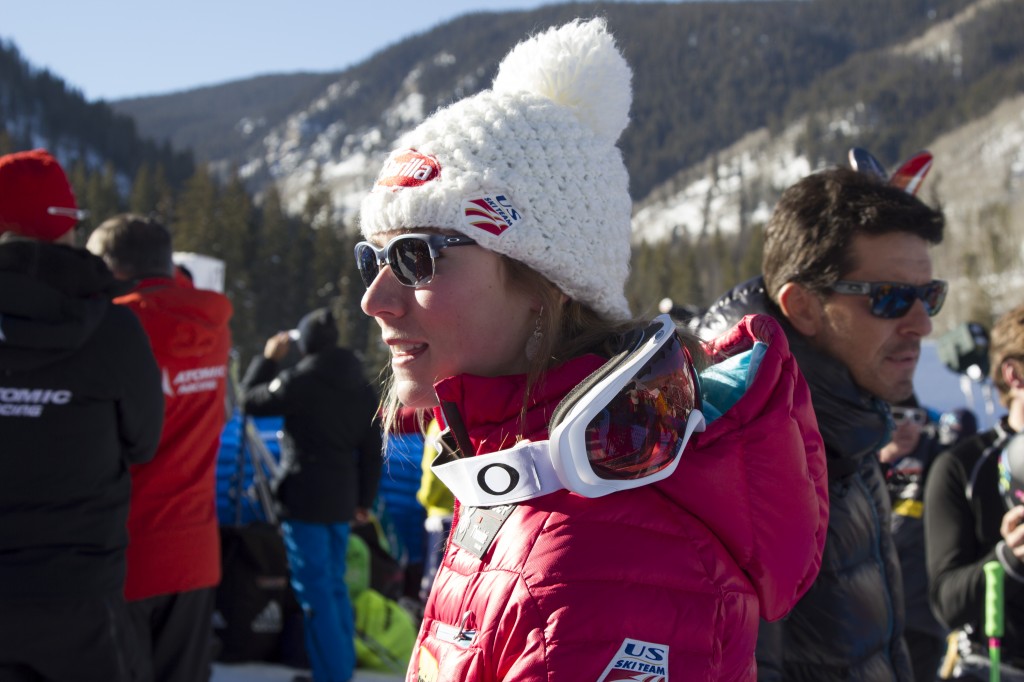 BEAVER CREEK, Colo. — The U.S. women's alpine team badly needed a good result today in Beaver Creek, and Mikaela Shiffrin certainly delivered it for the hometown crowd.
The 18-year-old from Eagle-Vail, Colo. (right down the road from the race hill) picked a good time to snag her first career GS podium, finishing second, on the lower part of the men's Birds of Prey track.
Shiffrin couldn't quite catch Sweden's Jessica Lindell-Vikarby, who surprised the field with the fastest run of the morning and won the race by a mere nine-hundredths of a second. Lichtenstein's Tina Weirather punched hard in the second run to find the final spot on the podium, while Maria Pietilae-Holmner, third in the first run, ultimately finished fourth.
"It has been a long time since I have been on the podium," said Lindell-Vikarby, who won a super G at Garmisch in 2009. "I'm pleased to be up there again. I've been working hard to do really good results in GS. … It's a new experience for me (to be in the lead) after the first run. … I just tried to breathe and relax and do my run."
Prior to today, most observers agreed it was only a matter of time before Shiffrin, last season's slalom champ, cracked onto the podium in GS.
"Winning is always tough at this level," said Shiffrin. "This hill is my favorite hill. It feels so good to make good turns and to arc. … I'm obviously really happy with a podium."
Racing against a complete World Cup field, it was the first time on the GS podium for all three racers. Shiffrin ran second to last, reflecting her first run finish. She provided a great show for the local fans, picking up 0.35 of the 0.44 deficit midway through the run, but wasn't quite able to make up the final 0.09, which was the ultimate margin of victory for Lindell-Vikarby.
Asked what it will take to get a win in GS, Shiffrin said, "It takes (nine) hundredths. Every race, it takes something different. Sometimes you're sick. Sometimes you're tired. Sometimes there's more pressure because it's the home crowd."
The day capped off a great weekend of racing for Weirather, who took second in the downhill on Friday. "It was always my goal to get a podium in giant slalom. I think it's the most important discipline, so I'm very happy," she said.
The big winner earlier in the week and pre-race favorite, Lara Gut, leaned in on the upper pitch and did not finish the first run.
It was also a strong day for the Canadian team who had three skiers qualify for the second run for the first time in a GS race in recent memory. Marie-Michele Gagnon cracked the top 10 in the first run and finished 13th on the day. She was quick to praise the favorable course conditions.
"The snow is perfect, it's hero snow. I love that snow, it's the kind of snow I'm good on," noted Gagnon. "It's anybody's race today, like (Maria Pietlae-Holmner) coming from the back. … It's kind of like Levi, anybody can do well. I love fair races like that."
Gagnon's teammate Marie-Pier Prefontaine made a power move in the second run to finish 9th. Slalom specialist Erin Mielzynski qualified for the second run in a giant slalom for the first time in her career and skied into 16th place.
"My biggest thing right now is figuring out how to race," said Mielzynski. "I'm probably more excited than I should be. My goal is to stand on the podium with one or two other Canadians at some point in my career, so the leader box is the first step. It's special because (Marie-Pier) said I think it's the first time we've had three girls in the second run of GS since she made the team, and she was 16 then, so it's pretty special."
After squeaking into the flip, finishing 28th first run, Julia Mancuso missed a gate in her second run and did not finish.
See the photo gallery from the race here.
The Scoop
By Hank McKee
Women's Giant Slalom, Beaver Creek, Colo., Dec. 1, 2013
Skier, skis/boots/bindings
1 Lindell-Vikarby, Rossignol/Rossignol/Rossignol
2 Shiffrin, Atomic/Atomic/Atomic
3 Weirather, Atomic/Tecnica/Atomic
4 Pietilae-Holmner, Rossignol/Rossignol/Rossignol
5 Hoefl-Riesch, Head/Lange/Head
6 Marmottan, Rossignol/Rossignol/Rossignol
7 Brignone, Rossignol/Lange/Rossignol
8 Mowinckel, Rossignol/Rossignol/Rossignol
9 Prefontaine, Rossignol/Rossignol/Rossignol
9 Worley, Rossignol/Rossignol
Women's Giant Slalom, Beaver Creek, Colo., Dec. 1, 2013. … It is the fifth of 32 races on the women's 2013-14 World Cup schedule, the second of eight slated giant slaloms. … It is the 53rd World Cup race hosted by Beaver Creek, the 12th GS and the first women's GS. … Four of the 12 have been won by Americans. … It is the third and final women's World Cup race at Beaver Creek this season.
It is the second career World Cup win for Jessica Lindell-Vikarby, the previous win in super G at Cortina d'Ampezzo Jan. 26, 2009. … It is the first GS win for Sweden since Anja Paerson at Ofterschwang Feb. 4, 2006.
It is the tenth World Cup podium result for Mikael Shiffrin. … Her first in GS. … She had never finished second in a World Cup race previously. It is her second podium of the season.
It is the ninth career World Cup podium result for Tina Weirather. … the second of the season. … and second at Beaver Creek having placed second in the DH Nov. 29.
Marie-Pier Prefontaine matches her career best World Cup placing, also in GS from Arber-Zwiesel Feb. 6, 2011. … Marie-Michele Gagnon matches her 23rd best career Cup result. … It is her second best GS result of the season in two races. … It is the first GS scoring result for Erin Mielzynski of 17 total World Cup results.
Lara Gut (DNF in race) maintains the lead of the World Cup overall standings 300-220 over Shiffrin. … Maria Hoefl-Riesch (5th in race) is third overall with 193pts. … Gagnon is the top Canadian in tenth with 91pts. … Lindell-Vikarby leads the GS standings after two races 132-120 over Shiffrin. … Weirather is third with 105pts. Austria leads the women's Nations Cup 725-587 over Switzerland. … Germany is third qirrh 407pts. … The U.S. is sixth at 269 and Canada tenth with 175pts.
Results — Women's World Cup Giant Slalom, Beaver Creek