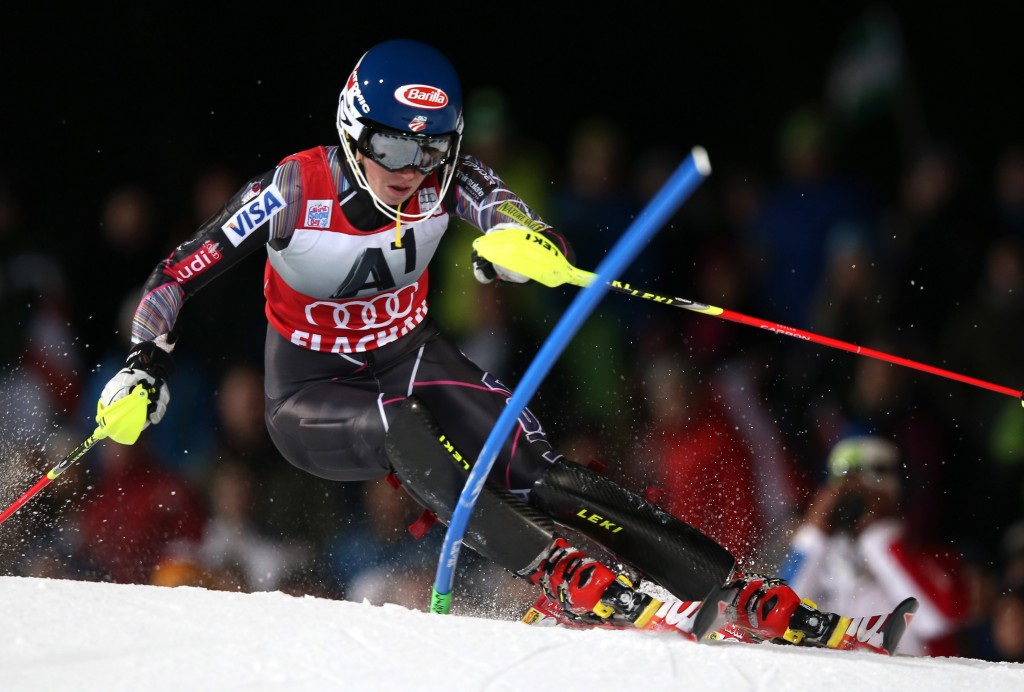 When Mikaela Shiffrin heads into the second run with nearly a full second advantage over the rest of the field, suspense is at a minimum. But it's slalom; anything can happen.
The 18-year-old picked up her third win of the season at the Flachau night event in Austria. Shiffrin tore up the first run, taking a 0.90-second advantage over the rest of the field. It was nearly flawless.
She made a few errors in her second run; however, they were nothing from which she couldn't recover to hold on to the lead. Shiffrin ultimately finished with a combined time of 1 minute, 45.83 seconds, just more than eight-tenths faster than the field.
"The first run I really let it go and gave myself a little bit of a cushion for the second run," said Shiffrin. "I saw Frida (Hansdotter) and Marlies (Schild) ski the first run and I thought I don't know if I can beat that," added Shiffrin. "So, I just tried from the very beginning to ski as fast as I could. … Second run, I had a couple moves where I kind of hit the rut, and I was like, 'No! Just stay in the course!' So, I was really psyched with that."
Shiffrin said after the race the first run was "some of her best skiing."
In second place, Frida Hansdotter, skiing a straight line, was actually able to pick up a few tenths on the American in the second lap. For the Swede, it's remarkably her eighth-career second-place result — the win still eludes her. Hansdotter was joined on the podium by teammate Maria Pietilae-Holmner, who was quick out of the start and finished strong to snatch up the lead from the Austrians.
"The two Swedish girls, Maria and Frida, they really fought the second run," said Shiffrin. "I think every victory is special. It always means something if the conditions are tough or whatever it is — it's always nice to be on top."
Conditions were actually warmer for second run, which was held in wet snow and rain with tough visibility due to mist and fog up high (kind of like New England).
The other story of the day was the domestic shootout among the Austrian women — at least six of them vying for four Olympic slalom spots. The Schild sisters, Marlies and Bernadette, as well as Michaela Kirchgasser, Nicole Hosp, Kathrin Zettel and Carmen Thalmann are all in contention for an invite.
Kirchgasser and Hosp, who charged from 15th place after the first run, certainly made statements and helped their cause, finishing fifth and sixth respectively. Meanwhile, Marlies, third after the first run, got late and twisted up in the second run. She wound up in the snow as result but was able to finish. Bernadette was also faster the first time through; she finished 11th on the day.
Tour leader Maria Hoefl-Riesch continued her consistent skiing. She was very much in the hunt, tied for third, after the first run, but lost some of her pace later in the evening and dropped back to fourth. It was certainly enough, however, to increase her lead in the overall standings over Anna Fenninger and Tina Weirather, both of whom of course did not race. With the win, Shiffrin now sits atop the slalom standings with 402 points over Hansdotter (258) and Marlies Schild (245).
For the Canadians, Marie-Michèle Gagnon racked up her ninth top-10 result of the season with a 10th-place finish, while her teammate Erin Mielzynski finished 21st. It was the final ladies' slalom World Cup race before the Canadian Olympic team qualification window closes.
Gagnon, who this weekend earned her first-ever World Cup win, had a tough first run, but bounced back in the second: "I'm glad I got the experience of starting first out of the way. I didn't really know how to gauge things and once I got to the bottom I knew I should have been way more aggressive.
"The result ended up being not too bad – 10th place," added Gagnon, who's been racing a busy five-discipline schedule this season. "I'm somewhat satisfied with that but I know I can do better. There are always a lot of positives in every run and every race and I'm learning every time. My progression is slow but deadly."
Mielzynski wasn't pleased with her result: "I'm just really disappointed with how I skied the bottom and how many mistakes I made. I'm tired of coming down and seeing the numbers that I see and not being fast."
For the Americans, Resi Stiegler and Paula Moltzan also raced, but did not qualify for the top 30 final run.
See more photos from the race in our gallery. 
The Scoop
By Hank McKee
Women's World Cup slalom, Flachau, Austria, Jan 14, 2014
1 Shiffrin, Atomic/Atomic/Atomic
2 Hansdotter, Rossignol/Rossignol/Rossignol
3 Pietilae-Holmner, Rossignol/Rossignol/Rossignol
4 Hoefl-Riesch, Head/Lange/Head
5 Kirchgasser, Atomic/Atomic/Atomic
6 Hosp, Fischer/Fischer/Fischer
7 Loeseth, Volkl/Fischer/Marker
8 Zettel, Atomic/Atomic/Atomic
8 Holdener, Head/Head/Head
10 Gagnon, Rossignol/Rossignol/Rossignol
Women's World Cup slalom, Flachau, Austria, Jan 14, 2014. … It is the 20th of 32 races on the women's World Cup schedule. … The fifth of eight scheduled slaloms. … It is the 20th World Cup race hosted at Flachau…. the 13th slalom. … Mikaela Shiffrin is defending race champion.
It is the seventh career World Cup win for Mikaela Shiffrin. … Her third win of the season, all in slalom. … It is the fifth U.S. win of the season and the 264th in World Cup history. … Shiffrin is fourth all-time for slalom wins among U.S. skiers, 2nd among women behind Tamara McKinney's nine.
It is the eighth career World Cup podium for Frida Hansdotter. … all of them second place finishes and all in slalom. … She also finished second to Shiffrin at Flachau last season. … It is her second podium of the season.
It is the seventh World Cup podium result for Maria Pietilae-Holmner, her third podium of the season and second in slalom.
It is the 26th career World Cup top 10 for Marie-Michele Gagnon… her ninth of the season. … It is the 20th career scoring finish for Erin Mielzynski… her fourth of the season.
Maria Hoefl-Riesch (fourth in race) maintains the lead of the World Cup overall standings 781-709 over Anna Fenninger (did not race). … Tina Weirather (did not race) is third with 673pts. … Shiffrin is fourth overall with 614pts. … Gagnon leads Canada overall in seventh place with 453pts.
Shiffrin extends her lead of the slalom stanings to 402-258 over Hansdotter. … Marlies Schild (26th in race) is third with 245pts. … Gagnon is fourth with 206pts.
Austria leads the women's Nations Cup 3291-1831 over Switzerland. … Sweden is third with 1649pts. … The U.S. is sixth at 1030 and Canada seventh with 717pts.
Results