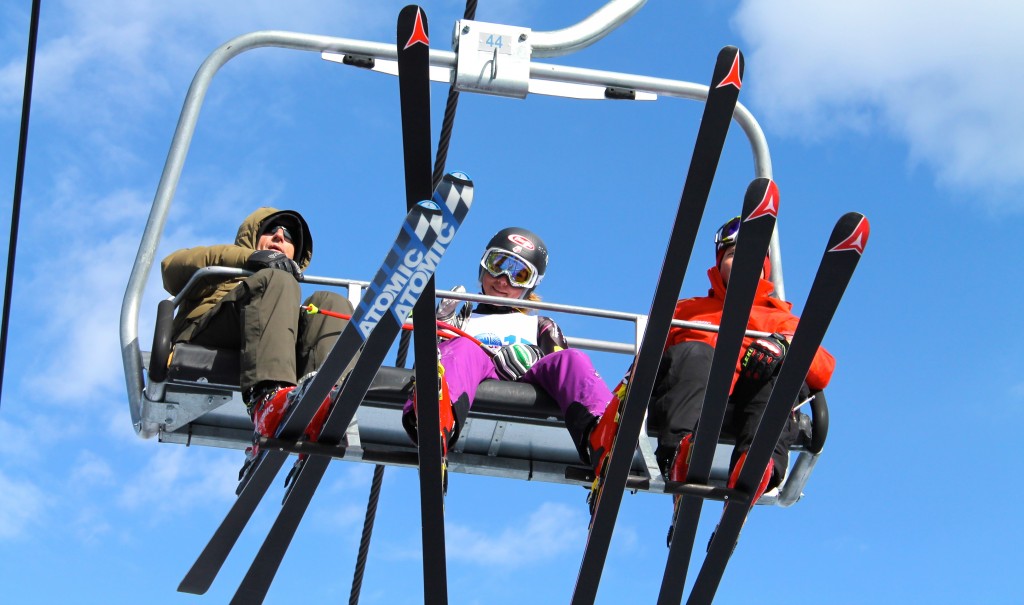 The women's alpine team got another look at the 2015 World Championship speed course at Beaver Creek this week. The ladies trained two days of super G early in the week, prior to getting snowed out on Thursday.
On the roster were speed team members Stacey Cook, Laurenne Ross, Leanne Smith and Julia Ford. As she did at the end of last season, tech ace Mikaela Shiffrin also got a chance to strap on the long boards and run speed at the Beaver Creek venue, not more than 10 minutes from her home in Eagle-Vail.
It's been reported that Shiffrin will add super G to her program next season. Not so fast, says her coach.
"No, that is not definitely the plan," said women's technical coach Roland Pfeifer. "She is going to be doing (super G), but not definitely. It's all about how she is feeling next year, how the summer camps will go, how the strength training will go, how she is improving, what she is accomplishing. And then we see how strong she is, and then we'll make the decision."
Pfeifer added, because of Shiffrin's familiarity with the Raptor course at Beaver Creek, the World Championships would be a great place for her to race super G. "If she is able to qualify for super G, then it's an option to do at the World Championships not just GS and slalom, also do the super G. But as of today, I think just do super G in Beaver Creek, since she knows the venue. But I'm not really optimistic that she does other super Gs."
With the impending addition of the event, Pfeifer says he will continue to oversee Shiffrin's entire program, including speed. "We totally agree on that," he said.
The women's speed program is in a transition period at the moment. Head Coach Chip White stepped down after the World Cup Finals and his successor, Stefan Abplanalp, has yet to join the team. It was a bit shorter speed camp scheduled at Beaver Creek compared to last April — just three days this year.
The ladies trained from the super G start to roughly the area deemed "Heckle and Jeckle" just above the bottom flats. Volkl athletes Laurenne Ross and Julia Ford took the opportunity to test new skis.
"We had two really good days of super G on Raptor," said Ford. "The snow was really nice — typical Colorado snow, and that hill is really challenging, so it was good to get on it."
Ford did not join the team for its more extensive training camp last spring, but she did have a chance to race the track during the December test events, which kicked off the World Cup speed season.
"It was one of those races where I had never been on the hill before," Ford said. "The hill is funky. It pulls you in different directions that you don't want to be going in. After the super G, especially, it's one of those courses where you wish you could go do it again or have some more training time. To be able to take some laps was really nice."
In the absence of a head speed coach, the team was led by assistant coaches Wade Bishop and Pascal Hasler.
"We were just kind of getting another feel for (the hill) … working on some technique and trying to get our feet back underneath us," said Ross. "I was also really working on testing skis on winter snow because it's hard to test skis during the spring and summer and fall because the snow — even when you go down south — it's kind of springy."
As for the hill, while minor adjustments were made after last year's training camp — a few additional trees were cut — the girls seemed to all be in agreement that Raptor is ready to host the World Championships in February of next year.
"It feels like it's good to go," said Ross. "I don't really see what they could do to make it better. It's a pretty sweet hill. You can change little parts to make it different, but it's really unique and I think it's going to be ready for February."