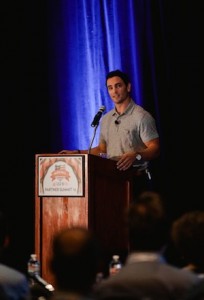 Park City, UTAH — It was standing room only at the USSA Partner Summit in Park City this week with nearly 200 industry professionals in attendance.
Chief Marketing Officer Mike Jaquet led the discussion at the Center of Excellence — the focus being on digital strategy, such as the use of social media, and plans for the upcoming Olympic season. Whereas the 2012 installment of the annual meeting sought to inspire with a heavy dose of Vancouver nostalgia and Sochi hype, 2013 hosted a somewhat more practical and functional discussion.
Jaquet unveiled the organization's new motto heading into the Olympic season: "Believe in U.S." — which will serve as call for support and donations, as well as a hashtag and social media theme in the run-up to the Games.
The day also featured two former athletes who have gone on to succeed in business and non-profit work: mogul skier Jeremy Bloom, who now heads Integrate, an advertising technology provider, and Wish of a Lifetime foundation, along with Australian racer Andy McKeon, who now serves as Global Customer Marketing Lead at Facebook.
Bloom gave an emotional presentation chronicling his career as both an Olympic skier and football player — falling short of his career goal to win both a gold medal and a Super Bowl ring.
"One inch was the difference. It was the single lowest moment of my life," Bloom said of his sixth-place result in Torino. "We've all been there."
Bloom went on to describe his subsequent drafting by the Philadelphia Eagles and later role as a philanthropist and entrepreneur, ultimately concluding that success isn't a straight line, as many perceive it, but a more squiggly route through a series of trials and tribulations.
Facebook's McKeon complemented the day with a more practical, strategy-oriented presentation of social media and it's ever-evolving role in marketing and our society at large. He said London was the "social games," and Sochi will be the "mobile games," encouraging the crowd of mostly marketing professionals to focus on mobile integration.
The meeting concluded with a panel discussion led by media personality Uncle E featuring athletes Steven Nyman, Tom Wallisch, Jen Hudak and Nate Holland.
"We're hammering and we're getting ready for the Olympics," said Nyman. "(Sochi) is a long course. It continually turns the whole way down the hill. Compared to any course, it's probably (most like) Bormio — it's a legit downhill. Sometimes the Olympics are thrown in some far corner and the downhill doesn't really compare to some of the World Cup downhills. This will be a true test of strength and endurance."
Story by Geoff Mintz
Photos: Sarah Brunson/USSA