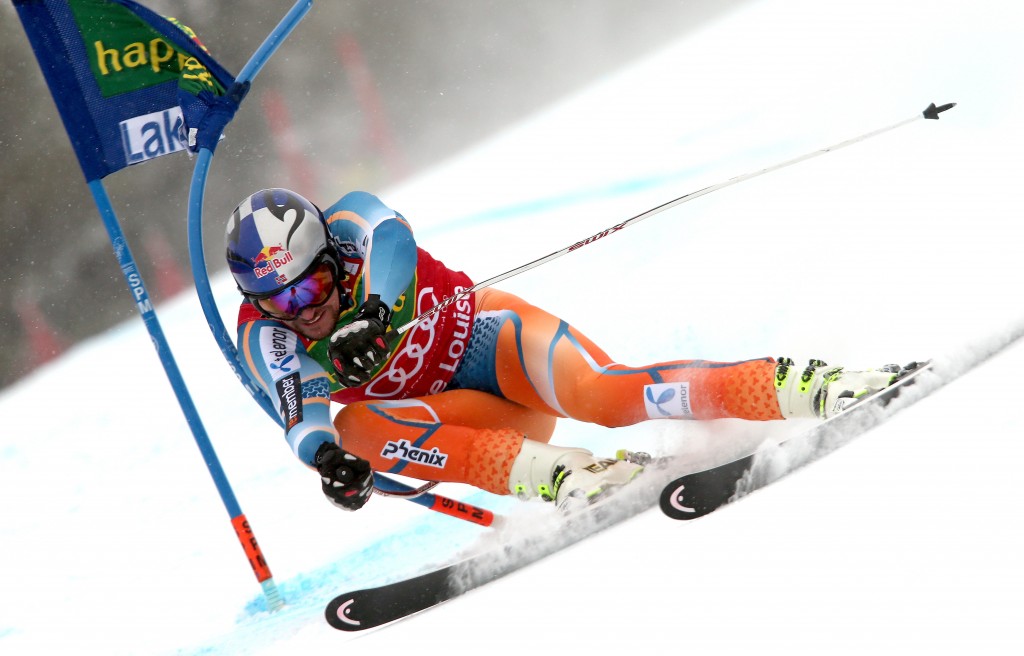 The Austrians crunched five men into the top 10, but it was Norway's Aksel Lund Svindal claiming the Lake Louise super G for the third straight year in Sunday's (Dec. 1) Winterstart race.
On a bumpy, straight course with a light snow falling most of the day, Svindal utilized a pair of very fast Head skis to burst to a small lead through the first interval time, but then slipped back as he could not match the aggressive approach of previous skiers. The defending super G champion pulled it together over the final flat to cash in a .24 of a second margin at the bank for his fifth SG win (and third straight) at Lake Louise.
The Austrians gave chase, but could not gain the edge. Matthias Mayer posted second, Georg Streitberger was third, Hannes Reichelt sixth, Max Franz seventh and Joachim Puchner eighth to easily take the team title out of the event.
Canadian Jan Hudec, a winner at Lake Louise in the 2007 downhill, was the lone North American to crack the top 10 in tenth with teammate Manuel Osborne-Paradis 12th.
The top U.S. finish came from the 40th starter, Travis Ganong, who skied solidly to secure 22nd. Bode Miller, the top-seeded super G skier for the U.S., finished 23rd.
"The middle part was very difficult," said Svindal, "but below I was very good."
Svindal has long held an affection for Lake Louise, having claimed his first World Cup victory at the site, also in super G back in 2005. He has one more reason to like it now, having surpassed Kjetil Andre Aamodt to become the winningest Norwegian in World Cup history with 22 victories.
Also pleased with the outcome was Mayer, the 23-year-old son of Olympic medalist Helmut Mayer.
The Scoop
Men's super G, Lake Louise, Canada, Dec. 1, 2013
Skier, skis/boots/bindings
3 Streitberger, Head/Head/Head
4 Innerhofer, Rossignol/Rossignol/Rossignol
5 Kueng, Salomon/Salomon/Salomon
6 Reichelt, Salomon/Salomon/Salomon
7 Franz, Atomic/Atomic/Atomic
8 Puchner, Atomic/Atomic/Atomic
8 Fill, Atomic/Atomic/Atomic
10 Hudec, Rossignol/Lange/Rossignol
Men's World Cup super G, Lake Louise, Canada, Dec. 1, 2013. … It is the fourth of 34 races on the men's 2013-14 World Cup schedule. … The first of six scheduled super G's. … It is the 92nd World Cup event hosted (at least in part) by Lake Louise. … The 34th super G and 16th for men. Aksel Lund Svindal won the Lake Louise SG in each of the last two seasons.
It is the 22nd World Cup win for Aksel Lund Svindal, establishing the Norwegian record. … It is his 11th super G win, second among men all-time behind only Hermann Maier's 24. … It is his sixth win at Lake Louise, extending his men's record.
It is the second career World Cup podium for Matthias Mayer, the first also a second place result in super G, collected at Kitzbuehel last Jan. 25. His top seven results have all come in super G.
It is the fifth career World Cup podium for Georg Streitberger and fourth in super G. He tops his previous best result at Lake Louise by one position, scored in downhill in 2008.
It is the 20th top 10 World Cup finish for Jan Hudec, his fifth at Lake Louise. … Manuel Osborne-Paradis made the top 12 of a World Cup race for the 27th time, the third time at Lake Louise. … It is the 22nd time Erik Guay has scored in a World Cup race at Lake Louise.  … It is the second best of five scoring results at Lake Louise for Travis Ganong. … It is the 21st scoring result at Lake Louise for Bode Miller.
Aksel Lund Svindal takes over the lead in the World Cup overall standings 200-160 over Marcel Hirscher (did not race). … Ted Ligety (DNF in race) is third at 124pts. … Austria controls the men's Nations Cup 825-498 over France. … Italy is third with 371. … The U.S, is fifth with 203pts and Canada seventh with 116pts.
Results