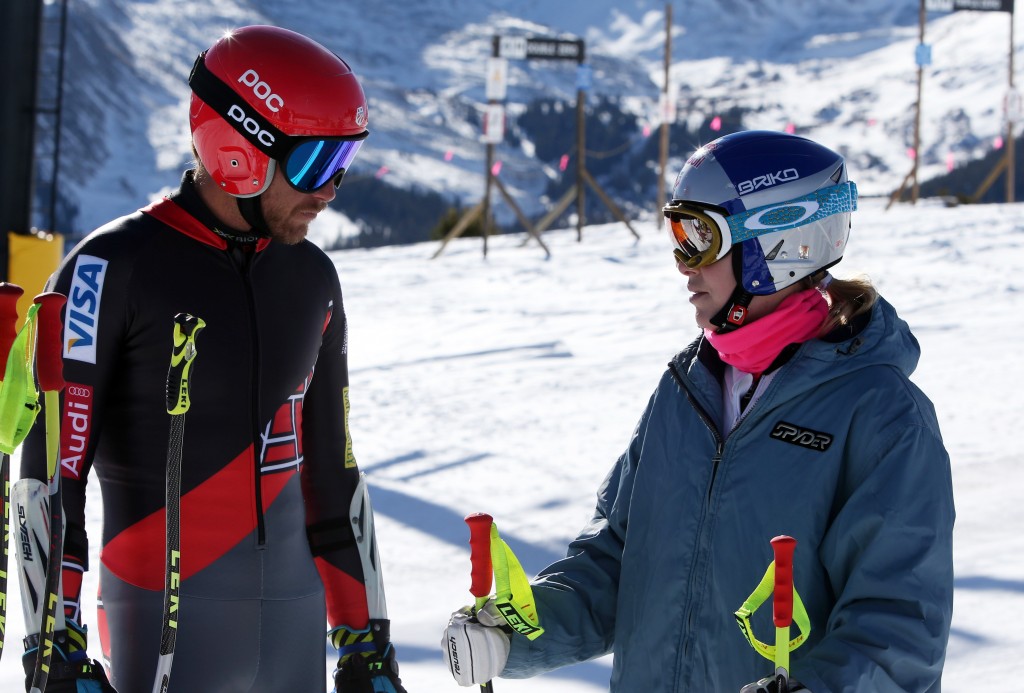 Perhaps what is most surprising about the U.S. Ski Team alpine nominations for the 2014-15 season is not the list of athletes who have been offered spots on the team, but rather, who was left off. The household names of Bode Miller, Ted Ligety, Lindsey Vonn, Julia Mancuso, and Mikaela Shiffrin are a given. But developing athletes who are working their way up the ranks face nomination criteria hurdles at every level. This year the number of skiers who have not been reselected, and who in many cases fell painstakingly close but still shy of the requirements, is extraordinary.
A whopping 19 members on last year's U.S. Ski Team roster have found themselves missing from the 2014-15 nominations. The national team will shrink from 53 total athletes to 40 (16 females, 24 males), making the total yield 13 fewer skiers. Last year's A Team carried 14 nominated skiers while next season's will have 13. The B Team grows from last year's 16 to 17 in 2014-15. So the greatest bloodletting has occurred with the C and development squads from 2013-14, where only 8 of the 23 have either met published criteria or qualified via injury discretion.
The named women's development team for next season, Stephanie Lebby and Breezy Johnson, will continue to train and compete with members of the National Training Group (NTG) as they did last winter. New nominees on the men's side include development team athletes Erik Arvidsson, Sam Morse, and Kipling Weisel, three juniors who excelled from club programs last year.
But what is to become of the developing talent pool washed away by, in almost all cases, adhering to strict nomination criteria without utilizing coaches' discretion?
"A lot of the athletes who have been cut, we're still going to provide them with a lot of training opportunities, racing opportunities, coaching. We believe those guys can get to the level they need to be at to be on the national team," noted head men's coach Sasha Rearick. "There are certain athletes who have been cut [in the past] and made it back onto the team. … depending which level they're at, these athletes are going to have the opportunity to train with the Europa Cup tech or speed team and have full access to training camps as long as they are committed to working hard and making progress."
Invitees to camps and projects will have to pay their own expenses, but members of the C and development teams (and in some cases the B Team) have also paid annual team fees in the past as well. Some may opt to continue competing with private clubs or coaches or may even enroll in college programs.
"If they feel they need to find other training camps or other coaches to make the gains to get back to that level, I fully support that. We're currently talking with some of those people right now and want to put together the best plan for the athletes," Rearick added.
Two cases where discretion did come into play were for veteran speed skiers Marco Sullivan and Steven Nyman. Given their respective birth years of 1980 and 1982, they were required to meet A Team criteria of either a 2014 Olympic medal or one top-25 discipline ranking on the World Cup Start List (WCSL). Sullivan finished the season 28th in downhill while Nyman was 35th, but they have been nominated to the B Team based off of coaches' discretion.
"The guys who we've named to the team I feel are our best and most consistent performers at every level. … They're the guys who are executing, getting the job done this past year and in years prior. Marco Sullivan, you look at his career and what he's done for American ski racing and also the year he had last year where he was consistently skiing pretty well, at the same time got unlucky in a couple races, just off the mark. He's still top 30 in the world. For sure, he has 100 percent support of the entire group of guys to be named to the team," said Rearick. "And Steve Nyman, in a similar situation. He was skiing well early in the season, took a big crash and was a little out of sorts but came back skiing stronger. Both guys, when you look at their historical performances over the years, they've built up a credibility that we fully support them being named to the team."
Resi Stiegler, whose career has been marred by injuries followed by valiant recoveries, struggled to find the flow last winter. Her best World Cup result was 14th in the Are slalom, and she finished the season ranked 30th on the WCSL, five positions short of being renamed to the national team. Despite her World Cup podium result in 2012, two top-20 results in 2014, and a standing in the top 30 in the world, she was not granted a discretionary selection after 13 years on the U.S. Ski Team.
Downsizing the national team at the end of an Olympic cycle, when sponsorship dollars are frequently at an all-time low, is nothing unique to America. The Swiss, who rely heavily on regional teams working as feeders to their Europa and World Cup squads, cut their total national team by eight heading into next year. It may be lower than 13, but the Swiss already have an existing infrastructure in place, their regional team system, to absorb the same caliber of athlete the U.S. team cannot carry next season.
While details of the future of the individuals who have not been renamed to the national team remain to be fully revealed, the selection criteria for 2015-16 yet to be published could prove critical to the decision making process for several of those athletes.
U.S. Ski Team 2014-15 Alpine Nominations (all teams will be officially named in the fall)
A Team
David Chodounsky (Crested Butte, Colo.) Crested Butte Ski Team
Stacey Cook (Mammoth Mountain, Calif.) Mammoth Mountain Ski Team
Travis Ganong (Squaw Valley, Calif.) Squaw Valley Ski Team
Jared Goldberg (Holladay, Utah) Snowbird Sports Education Foundation
Tim Jitloff (Reno, Nev.) Park City Ski Team
Ted Ligety (Park City, Utah) Park City Ski Team
Julia Mancuso (Squaw Valley, Calif.) Squaw Valley Ski Team
Alice McKennis (Glenwood Springs, Colo.) Rowmark Ski Academy
Bode Miller (Franconia, N.H.) Carrabassett Valley Academy
Mikaela Shiffrin (Eagle-Vail, Colo.) Burke Mountain Academy
Leanne Smith (North Conway, N.H.) Mt. Washington Valley Ski Team
Lindsey Vonn (Vail, Colo.) Ski & Snowboard Club Vail/Buck Hill
Andrew Weibrecht (Lake Placid, N.Y.) New York Ski Education Foundation
B Team
Bryce Bennett (Squaw Valley, Calif.) Squaw Valley Ski Team
Tommy Biesemeyer (Keene, N.Y.) New York Ski Education Foundation
Ryan Cochran-Siegle (Starksboro, Vt.) Cochran's/Mt. Mansfield Ski & Snowboard Club
Nick Daniels (Tahoe City, Calif.) Squaw Valley Ski Team
Mark Engel (Truckee, Calif.) Sugar Bowl Academy
Tommy Ford (Bend, Ore.) Mt. Bachelor Ski Education Foundation
Abby Ghent (Edwards, Colo.) Ski & Snowboard Club Vail
Colby Granstrom (Lake Stevens, WA) Mission Ridge Ski Education Foundation
Nolan Kasper (Warren, Vt.) Burke Mountain Academy
Anna Marno (Steamboat Springs, Colo.) Steamboat Springs Winter Sports Club
Paula Moltzan (Lakeville, Minn.) Buck Hill/Ski & Snowboard Club Vail
Steven Nyman (Sundance, Utah) Park City Ski Team/Sundance Ski Team
Laurenne Ross (Bend, Ore.) Mt. Bachelor Sports Education Foundation
Brennan Rubie (Salt Lake City, Utah) Snowbird Sports Education Foundation
Katie Ryan (Aspen, Colo.) Aspen Valley Ski & Snowboard Club
Marco Sullivan (Squaw Valley, Calif.) Squaw Valley Ski Team
Jacqueline Wiles (Aurora, Ore.) Pacific Northwest Ski Association/White Pass Ski Club
C Team
Katharine Irwin (Vail, Colo.) Ski & Snowboard Club Vail
Nicholas Kraus (Northboro, Mass.) Stratton Mountain School
Lila Lapanja (Incline Village, Nev.) Diamond Peak Ski Team/Sugar Bowl
Development Team
Erik Arvidsson (Woodside, Calif.) Squaw Valley Ski Team
Ronnie Berlack (Franconia, N.H.) Burke Mountain Academy
AJ Ginnis (Waitsfield, Vt./Kaprun, Austria) Green Mountain Valley School
Sam Morse (Carrabassett Valley, Maine) Carrabassett Valley Academy
Kipling Weisel (San Francisco, Calif.) Sun Valley Ski Education Foundation
Breezy Johnson (Victor, Idaho) Rowmark Ski Academy
Stephanie Lebby (Big Bear Lake, Calif.) Squaw Valley Ski Team
Alumni (not selected) 
Michael Ankeny
Jack Auty
Will Brandenburg
Kieffer Christianson
Robert Cone
Daniel Duffy
Drew Duffy
Samuel DuPratt
Tanner Farrow
Erik Fisher
Julia Ford
Will Gregorak
Robby Kelley
Wiley Maple
Megan McJames*
Brian McLaughlin
Keith Moffat
Foreste Peterson
Resi Stiegler
Sandy Vietze
* While Megan McJames competed as a member of the 2014 Olympic Team, she was not a member of the 2013-14 U.S. Ski Team.
Article edited on May 8, 2014 after the U.S. Ski Team amended its published nomination list.