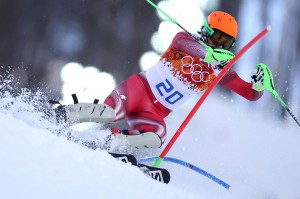 ROSA KHUTOR, Russia – Okay, be honest now. Who had the Sandro Viletta-Ivica Kostelic-Christof  Innerhofer trifecta in the men's super combined at the Winter Olympics?
Switzerland's Sandro Viletta, 28, won the combined by skiing a pretty good downhill leg and making a gutsy slalom run, on a very tough set, when others couldn't.
Viletta's two-run time was 2 minutes, 45.20 seconds, giving him the gold by 0.34 seconds over silver medalist Ivica Kostelic of Croatia, and 0.47 seconds over Christof Innerhofer of Italy,who took the bronze.
Coming into the Olympics, Viletta had one career World Cup win (in super G at Beaver Creek in 2011) and his best finish at the Olympics or World Championships was fifth — in the super combined at Schladming last season. He had also been fourth in a super combined earlier this winter, at Wengen. Downhill gold medalist Matthias Mayer's World Cup win total when he arrived in Sochi was zero, and he, too, had never been on the podium in his now golden discipline.
While some had complained about the slalom course, Viletta said with a smile in his post-race press conference that it had been "a perfect set for me!" In conquering the slalom course and winning the race, he picked up the first-ever super combined gold for Switzerland.
Kostelic earned his fourth Olympic medal, all of them silver. And he pointed out in the press conference that the family total is now 10 medals, including the six won by his sister, Janica, who had four gold and two silvers at Salt Lake City and Torino.
Innerhofer got his second medal of the Games, adding combined bronze to his silver medal in downhill. It's his second career big event with multiple medals: he won gold, silver and bronze (in super G, super combined and downhill, respectively) at the Garmisch World Championships in 2011.
Some small mistakes that added up, and some more significant tactical errors, were to blame for the showing by the two American favorites, Ted Ligety and Bode Miller. Miller finished sixth, 1.40 seconds back, after struggling down a course set – by Ivica Kostelic's father, Ante – that many of the skiers found hard to figure out.
Ligety, who wound up 12th, 2.09 seconds out, said he simply hadn't gone hard enough, worried too much about the snow, which turned out to be grippy and very skiable despite the warm temperatures, and about the set, after he watched several skiers go out early, including France's top-ranked slalom skier Alexis Pinturault.
U.S. athlete Jared Goldberg was 11th after a pretty darn good slalom run, and was generally pleased with his effort in his first Olympic race. "I was happy to have made it down and to have been pretty fast," he said. "There were tons of combos and it wasn't easy at all. Inspection was really key. … I'm super psyched to be top 15. I've been skiing really well and been there in World Cup, and to do it here with all the pressure, I'm super excited about that."
The other U.S. entrant, Andrew Weibrecht, straddled a gate and went down face first about halfway through the course.
In the finish, Miller was as tough on himself as the course was on most of the skiers, saying he needed to ski a better downhill, and a much better slalom. "I was pretty lousy," he said. "I thought the snow held up pretty well. It just was really pretty challenging right out of the start. … There was a lot of differences in distance, so one turn has to be a little longer and the next one is really short. And then he sets you across the fall line. For me, I don't have enough confidence in my slalom to go out and just pin it."
He said he "made a lot of little errors. The errors today are really weird, too. You don't really notice them watching the big screen, but when you're skiing you feel them. When you hit hard – the snow was really responsive – the skis just pull back underneath you and you just feel your speed go. You saw guys try and not do that, and they go flying out of the course. I think I just had too many bobbles today."
There was a lot of talk in the finish about the course set, but Miller didn't want to criticize Ante Kostelic. "He sets really challenging courses and that's just one of his traits and everybody knows it. But everybody wants to race and everybody wants to know who's the best. You get a medal regardless if it's tough or not. I won Vancouver [he was the defending Olympic combined champion from 2010] on one of his sets … he set that combined slalom, too. So, I don't mind it. … Today was tough and it was tough for everybody. I don't think anybody came down that thing feeling awesome."
Clearly, Ted Ligety felt something less than awesome. "The snow was a lot better than I thought it would be and the course set was a lot easier than I thought it would be," he said in the finish. "To put it simply, I choked. That's disappointing, and it would have been easier to be a lot faster, but it didn't go that way. … I could have gone way, way harder. … I skied definitely way too conservatively. That's really frustrating, for sure. I would have much rather blown out being on the line of being fast than done what I did today."
He watched one guy go out on TV, and then Pinturault went down, so he "didn't think it would take a run that's 100 percent to come down and get a medal. When it's snow like this … that 15 percent less that I went costs you a ton of time."
Ligety, who won this event in the World Championships last season, said the disappointment today wouldn't change his mind-set for the events still to come in these Olympics. "There are still a lot of events left and there's still a lot of racing – and they're all totally different events than today. I'm still confident in my ability in giant slalom – and on super G and slalom even."
Sasha Rearick, the U.S. men's head coach, agreed with Miller and Ligety. "Bode's totally right, he needed a better downhill run to be in the game today. Coming down and being in that middle group [in the downhill] was tough today, it was a big challenge. And then in the slalom he just didn't find the rhythm of the course. In order for him to ski athletic and dynamic he needs to be in rhythm with it, and we didn't find it today. As a team we skied defensive, and we're looking forward to attacking the super G and the GS that are coming up in the next few days."
Friday's podium was certainly not the one that most people were betting on coming in to the Games. But if we've learned anything over time about the super combined, it's that there are no sure things.
Men's combined press conference
The Scoop
By Hank McKee
Men's Olympic super combined, Feb. 14, 2014. … It is the fourth of 10 alpine events at the 22nd Winter Olympic Games. … It is the 20th Olympic combined held… the tenth for men. … Austria, Germany, Norway and the U.S. have each won two men's combined races and France, Germany and Italy one each. Both of the American past gold medal winners, Miller and Ligety, are on the start list for this race. Warm temperatures, 45 degrees in the downhill finish this morning and 55.8 degrees in the slalom finish this afternoon.
It is the first medal and third Olympic finish for Sandro Viletta. … He was 14th in combined and 15th in GS in 2010. … No Swiss had previously won an Olympic combined.
It is the fourth Olympic silver medal for Ivica Kostelic. … the tenth Olympic medal for the Kostelic family and the fifth for the family in combined. Father and coach, Ante, set the slalom course.
It is the second Olympic medal, both in these Games, for Christof Innerhofer.
It is the tenth Olympic result for Bode Miller, ninth in the top 10. … It is the first Olympic result for Jared Goldberg. … He matches his best result of the season, also in combined, from Kitzbuehel Jan. 26. … He also matches the Olympic combined results of Krista Schmidinger ('92), Resi Stiegler ('06) and Andrew Weibrecht ('10). … It is the fifth Olympic placing for Ted Ligety and third in combined. … It is the first career Olympic finish for Canadian Morgan Pridy.
The Swiss take the lead of the alpine medal standings with two gold and one bronze. … Austria has a gold and a silver, Italy a silver and bronze, Germany has a gold, Slovenia has a gold, Croatia has a silver, Norway and the U.S. one bronze each.
RESULTS – Men's Super Combined