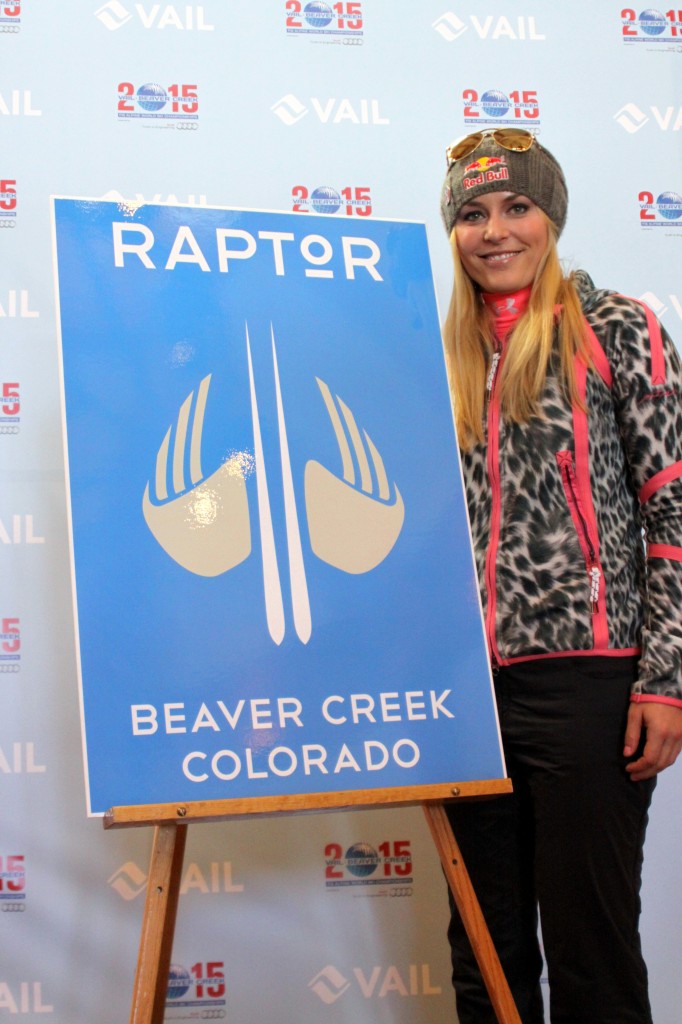 Lindsey Vonn is on pace to complete one of the greatest comebacks in the history of ski racing. She sits just four World Cup wins away from becoming the winningest female alpine racer of all time. Another Olympic gold medal and a World Championship victory on home snow would certainly cement her legacy.
No pressure, right?
That was the message Friday as Vonn spoke with reporters after training GS on Vail's Golden Peak.
The focus of the talks was on ski racing; however, there is a small bit of obligatory boyfriend news to report: Yes, they are "trying to sort it out" so that Tiger can come to some races this year.
At Copper Mountain earlier in the week, Vonn hopped on downhill boards for the first time since her season-ending knee injury at the World Championships in Schladming last February. Her remarks on Friday were consistent with her body language during training on Wednesday.
"My downhill is definitely not where my super G is," said Vonn. "My super G is some of the best super G I've ever skied, but downhill still needs a little bit more time. Thankfully, I have a couple more weeks until Beaver Creek."
Vonn hopes to get some training time in on Raptor, the new women's downhill course in Beaver Creek, before the World Cup test events Nov. 26-Dec. 1. Any such training would have to take place prior to five days before the first scheduled training run, per FIS rules, so local organizers are working hard to accommodate the request.
"I'm definitely bummed that I missed out on the training that the rest of my teammates got to do last spring, but from what I've heard, the new course, the Raptor, is definitely challenging and technical," said Vonn. "I'm looking forward to getting out there and trying it out. I know they're working really hard to get the snow ready so I can hopefully get a couple days on there before the Europeans show up.
"It would be huge for me if I could win Beaver Creek," added Vonn. "Obviously, that is expecting a lot in my first race back, but I feel like I don't have any pressure, honestly. It's not like two years ago when we had the race in Beaver Creek. I'm coming back from injury. I'm not really nervous."
As for her knee, Vonn says it feels 100 percent, that she's not doing anything differently in her skiing than normal. In fact, she's been lobbying her doctor, Bill Sterett, to allow her to remove the knee brace, but he has thus far put his foot down on that one.
"It's in my best interest to play it safe," said Vonn. "I said as long as I don't have to wear it for the Olympics, I'll be fine. But, yeah, my knee feels really good."
Vonn has said from day one of her comeback that competing and winning in Sochi is the most important objective but on Friday took a slightly different tact, saying she already fulfilled that dream in 2010.
"I already have a gold medal, so the pressure is off," said Vonn. "I already accomplished that, so everything from here on out is just icing on the cake. … I think for me, just making it to the Olympics and doing the best I can is going to be a victory for me, considering my knee injury."
Vonn was also caught off guard when asked which would be more meaningful, winning in Sochi in 2014 or winning in Beaver Creek in 2015?
"I would say it would probably mean more to me to win the World Championships at home," she said before the 2015 backdrop. "I've already gotten the Olympic gold medal in Vancouver and I obviously want to win again in Sochi. But I think to be able to win at home … that would probably mean the most to me."
For Vonn, competing in 2015 has been a long-term goal for many years. She will reevaluate her career after that point, but says she does not currently have any concrete plans for retirement.
"I think this injury has only motivated me to continue racing longer," said Vonn. "I feel like there's a lot more I have to accomplish."