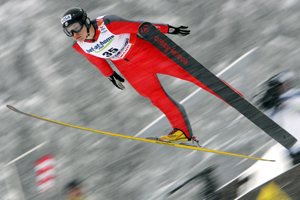 VANCOUVER, BC– For the next two days all eyes will be focused on a courtroom, in The British Columbia Court of Appeals in Vancouver as the continuing saga of Women's Ski Jumping USA may reach its climax. The women are in court today and Friday, in front of a panel of three judges, who will rule on on-going litigation regarding their rights to compete at the 2010 Olympic Winter Games in Vancouver. Currently, ski jumping at the games has been limited to men, although last year for the first time the FIS added ski jumping for women as a full medal event at the World Championship.
Lead council for the group, Mr. Ross Clark, will attempt to build on the previous trial judge's findings of discrimination and VANOC carrying out a government activity – the Olympics – that, in Canada must comply with their human rights law. "We don't agree with the trial judge's findings that the IOC is the final authority," Mr Clark said Wednesday.
On hand in the courtroom will be the President of Women's Ski Jumping USA, former Salt Lake City mayor, Deedee Corradini, along with world champion ski jumper Lindsey Van, national team member Jessica Jerome–both of Park City, UT and pioneering women's jumper Karla Keck, who tried to open the door a decade ago.
A large crowd of network media from around North America are on site to cover this ground breaking ruling. An international contingent of foreign press is also on hand here to cover this historic ruling.
Today and Friday, when a ruling should be announced, court will come to session at 10 am each day and last until 4:30 PM local time.
By Peter Q. Graves
Image: Lindsey Van jumps to her World Championship victory last season. (GEPA)