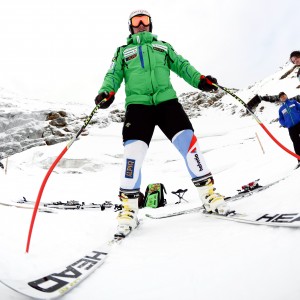 Bode Miller headlines a solid cast of lead men who will return to the World Cup this season following injury. Apart from their desire to go fast on skis, this upcoming winter Switzerland's Beat Feuz, Johan Clarey and Julien Lizeroux of France, Austrian Klaus Kroell, and wild man Bode Miller will all have another thing in common – they will all be returning from injury.
While the comeback ladies were highlighted by FIS News last week, this week introduces the men who are attempting to return to the World Cup circuit after injuries.
There's no denying that 2011/12 was a dream season for Beat Feuz, who finished runner-up to overall World Cup winner Marcel Hirscher. The then 25-year-old collected his first ever podium at the beginning of the season in Lake Louise and went on to achieve 14 more by the last race. As if this was not enough, he threw five victories in the mix, clocking the fastest times at classics such as Val Gardena and Wengen but also proving unbeatable at the 2014 Olympic downhill slope in Sochi.
Just as he was preparing for the 2012 season opening in Soelden, what had been minor knee pain became a major infection, forcing Feuz to spend five weeks in the hospital, miss the entire 2012/13 season, and even question the continuation of his career. But this August he was finally able to put his skis back on and in September he began training in the gates.
"On the super G skis, I don't really feel much pain in the knee, while in giant slalom I can still feel a little bit of pain," Feuz said.
It is still unclear when Feuz might be back racing, but he is scheduled to start training again with the Swiss team in October.
Just two days before Johan Clarey was scheduled to compete in the super G race at the World Championships in Schladming, it became obvious that the acute back pain he was feeling was more serious than anyone thought. After an evaluation, the doctors realized that the extent of his back injury would not only force him out of the World Championships, but also required an emergency surgery. Three months later, Clarey was back on skis, he spent the summer training with the team and is expected to make a full recovery in time for the new season.
After missing half of the 2011/12 and the whole 2012/13 season due to a knee injury suffered during the test events in Sochi and aggravated during the races in Bansko in 2012, Bode Miller is aiming to return in time for his fifth Olympic Games.
"It was tough for me to miss a season of ski racing, but this decision was easy for me when I look at my opportunities next year. My knee should be stronger than any time since before I injured it in 2001. This was a big year for me, getting married, so I've been able to enjoy that and extra time with my daughter," Miller said about his decision to sit out the whole last season.
Since then Miller has joined the team for training camps in South America and is expected to rejoin the Tour this winter.
The Kitzbuehel slalom in January 2011 was the last competition Julien Lizeroux entered; and despite the long road back from a knee injury that refused to get better, he has never given up hope. This summer the French veteran seems close to a comeback, training with the team since May. He is doing a 100 percent physical training program while adapting some exercises and focusing on slalom when training on snow. Will he be ready to race again this season?
"As far as plans, there are none. I just want to enjoy every day I feel good. As we have a really strong tech team, I will train with them in Ushuaia, Saas Fee and Tignes until October and I will try to be ready for Levi's slalom," he said when asked about next season.
Klaus Kroell, crashed during the final super-G race of the season in Lenzerheide and was diagnosed with a fracture of the left humerus and humeral head. The 32-year-old speed specialist underwent surgery the same day and should be fully recovered in time for the upcoming season.
After 14 weeks off snow due to an ankle injury, Germany's Felix Neureuther is back on snow and training to be ready next season.
And while all of the above racers are on the way back from an injury, in recent weeks Jens Byggmark of Sweden suffered a knee injury, which required surgery, and he will not be competing this season.
Release courtesy of FIS News
Photo: Beat Feuz trains in Soelden in Sept. 2013 (credit: GEPA/Oliver Lerch)