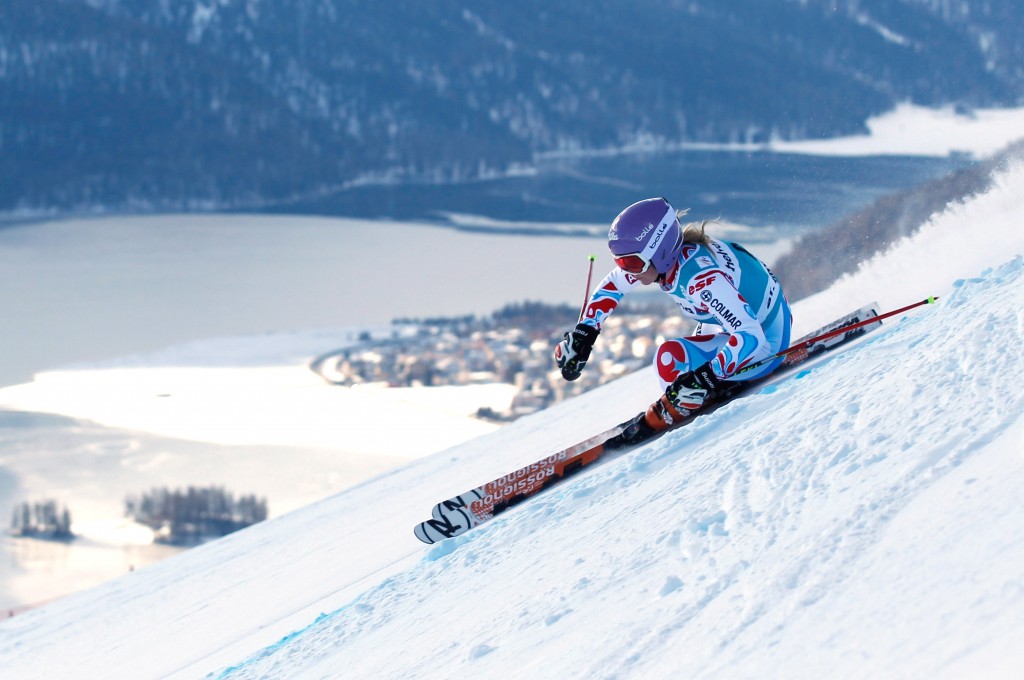 The third giant slalom of the World Cup season will be partially remembered for who did not make it to the second run. Mikaela Shiffrin, Lara Gut, Tina Weirather and Elisabeth Goergl were among the ladies unable to complete their first attempt on a wide-open St. Moritz course riddled with fallaway terrain and demanding turns.
After two runs, however, it was France's Tessa Worley taking home the deserved victory. Worley, who also had a strong super G result (ninth) on Saturday, was fastest in the first of two GS runs. The Schladming GS gold medalist went into the afternoon with a three-tenths advantage over Sweden's Jessica Lindell-Vikarby. Worley struggled to find the line in the first half of the run, relinquishing most of the lead, but found her rhythm on the bottom portion to charge home for the win.
For Lindell-Vikarby, things are looking very good. Coming off a winning giant slalom performance over Mikaela Shiffrin in Beaver Creek, the Swede skied another solid second run top to bottom, proving she's no one-hit wonder this season.
Lindell-Vikarby was also able to topple last winter's overall champ and giant slalom ace, Tina Maze, who in the second run of this contest resembled her former self perhaps for the first time this season. Maze has won twice before in St. Moritz, and she knew her second run was going to be competitive, emotionally pounding her chest in the finish area. Ultimately, it was the second-fastest second run, just three-hundredths slower than the standard set by Worley, who finished with a combined time of 2 minutes, 7.62 seconds.
However, with a whopping 21 racers skiing the second run within one second of Worley's pace, the morning — if skiers survived it — proved to be the deciding factor in the race.
"It feels really awesome because this beginning of the season wasn't great for me in GS, and I'm just so happy today," said Worley after the win. "The snow was so good that you just wanted to go really far on your edges, and I think sometimes it was a bit tricky because with all those bumps and everything, yeah, you needed to be very focused and (use) tactics."
In the first run, six of the first 17 ladies crashed and did not finish. Running bib No. 1, Shiffrin leaned in on a fallaway turn and slid out for a rare DNF. Head Coach Alex Hoedlmoser said the conditions, especially in the morning, were slick and racers who were not solid over the downhill ski wound up sliding out: "It was tricky and those things happen. (Shiffrin) is skiing well and there's no reason to be concerned."
For the rest of the Americans, there's some pretty good news to report. Julia Mancuso earned her best result of the season: 12th. The veteran was pressuring better above the gate, but not quite attacking the course enough to crack the top ten.
"It's very positive that we are actually headed in the right direction with the setup this year," said Hoedlmoser of Mancuso, who has struggled on and off with dialing in her equipment since switching to Head last season. "She feels really comfortable on this type of setup right now, and now it's just building confidence on that … It was a big step forward today."
Meanwhile, unsupported American racer and last season's overall NorAm champ, Megan McJames, earned her first World Cup points since 2010. A couple bobbles in the second run may have killed some speed, but skiing to 23rd place from bib 45 was not too shabby for the Utah native.
"Obviously I am excited to be back in the points again," said McJames. "I have been skiing fast over the last month, and I knew that all I needed was to put two runs together. It was really rewarding to myself and my staff to be able to it here in St. Moritz."
Marie-Michele Gagnon, who has been on a tear lately, was sitting in fourth after the morning and was poised for a possible podium; however, she got into trouble five turns into the second run, and it went downhill from there, figuratively. The Canadian skied far too direct a line, and a series of tactical errors ultimately forced her down onto her hip. She failed to complete the second run, skiing out just a few gates before the finish.
"It's such a disappointment to see a fourth place or a podium go away. I left in on the hill today," said Gagnon.
"Four gates from the finish. Can you believe it? She was either going to finish third or fourth," noted head Canadian women's coach Hugues Answermoz. "She wanted to win. She didn't want to just finish, she wanted to move ahead and she attacked – she took chances."
With Gut and Weirather skiing out in the first run, the day's results are positive for Maria Hoefl-Riesch, who skied a very steady, relaxed second run to finish 11th on the day. More importantly, however, the German creeped up on the Swiss in the overall standings: Gut hangs on to the lead, 482-461, over Hoefl-Riesch in second. Saturday's winner Tina Weirather walked away empty-handed on Sunday, but she still sits in third with 445 points.
See the photo gallery here.
Watch Worley's winning run (available only in the U.S.)
The Scoop
by Hank McKee
Women's World Cup Giant Slalom, St Moritz, Switzerland,
Equipment – Skier, skis/boots/bindings
1 Worley, Rossignol/Rossignol/Rossignol
2 Lindell-Vikarby, Rossignol/Rossignol/Rossignol
3 Maze, Stoeckli/Lange/Atomic
4 Zettel, Atomic/Atomic/Atomic
5 Marmottan, Rossignol/Rossignol/Rossignol
6 Pietilae-Holmner, Rossignol/Rossignol/Rossignol
7 Fanchini, Dynastar/Lange/Look
9 Marsaglia, Voelkl/Rossignol/Rossignol
Women's World Cup Giant Slalom, St. Moritz, Switzerland, Dec. 15, 2013. … It is the tenth of 32 races on the women's 2013-14 World Cup schedule… the third of eight scheduled GS's. … It is the 43rd World Cup race hosted at St. Moritz. … the fifth GS and fourth women's GS. … Tina Maze and now Tessa Worley have each won two GS's at the site.
It is the eighth career World Cup win for Tessa Worley, all in GS with the previous scored at Soldeu-Grandvalira Feb 12, 2012. … She previously won at St. Moritz Dec. 12, 2010. … She is now second among French racers all time in GS breaking a tie held with Francois Macchi and Jean-Claude Killy. … She still chases Carole Merle with 10 GS wins.
It is the fifth career World Cup podium for Jessica Lindell-Vikarby… her third in GS. … It is her second of the season having won the Beaver Creek GS Dec. 1. … She hd not previously scored a top 10 finish at St. Moritz.
It is the 64th career World Cup podium result for Tina Maze… her 26th in GS… her ninth scored at St. Moritz and fourth in GS at the site. It is her second podium of the season, the other a third in slalom at Levi. A season ago she had 699 points with six podiums at this time.
It is the 144th time Julia Mancuso has placed among the top 12 in a World Cup race. … the tenth time at St. Moritz. … It is the eighth top-20 placing for Marie-Pier Prefontaine… her second score of the season. … It is the first World Cup scoring result for Megan McJames since Jan. 24, 2010 in GS at Cortina.
Lara Gut (DNF 1st) maintains the lead of the World Cup overall standings 482-461 over Maria Hoefl-Riesch (11th in race). … Tina Weirather is third with 445pts. … Mikaela Shiffrin (DNF 1st) is top U.S. skier in seventh with 220pts. … Marie Michele Gagnon (DNF 2nd) is top Canadian in 15th with 157pts.
Jessica Lindell-Vikarby leads the GS standings 212-146 over Kathrin Zettel (fourth in race) … Worley is third with 139pts. … Shiffrin is fifth with 120pts and Gagnon 15th with 46pts.
Austria leads the women's Nations Cup 1581-1106 over Switzerland. … Germany is third with 764. … The U.S. is sixth with 522pts and Canada tenth with 294pts.
Results